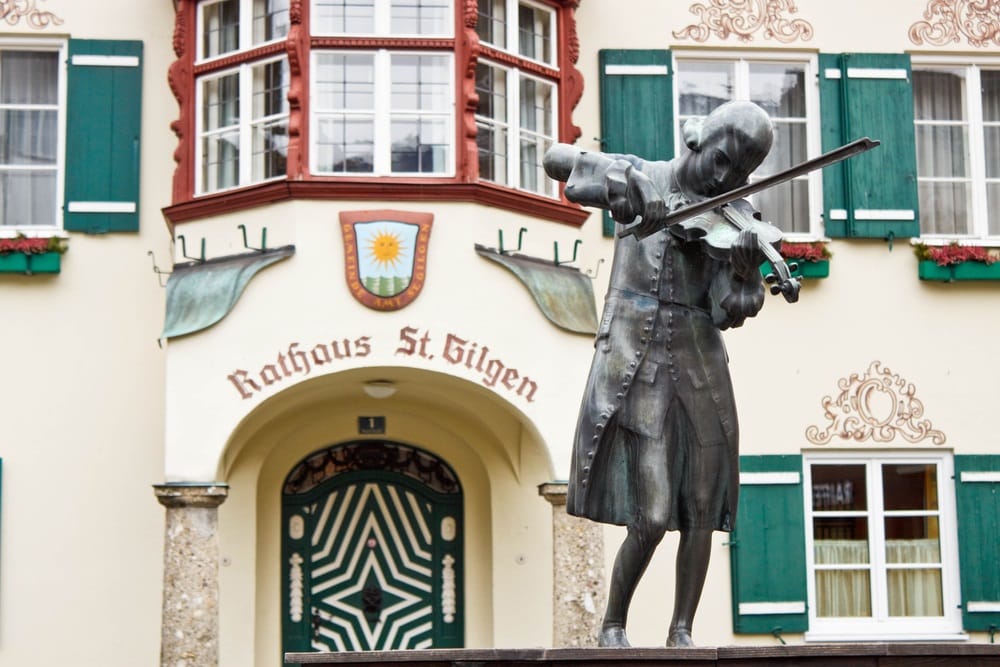 One of the greatest composers in Western music history, Wolfgang Amadeus Mozart was a versatile child prodigy. Not only did Mozart begin composing at the age of five, but he was also a multi-instrumentalist, widely known for his ability to play the violin and the piano.
When he was only six, he went on a family tour to perform across the continent. His father Leopold, who was a prominent violinist, recognized his children's musical abilities and trained them in the clavier and violin.
He took Wolfgang and his sister Maria Anna (also called Nannerl) to perform in many important musical European cities, including Paris, London, and Munich. He later lived in many of these and other major cities throughout his life, including Vienna, Salzburg, and Prague, where he worked as a teacher, performer, and composer.
Even though the Classical era may be regarded as "serious" in terms of academic study, the young, comical Mozart had several performing tricks up his sleeve. It is recorded that even as a child he was able to perform on the piano while blindfolded and with crossed hands. His humorous character is also portrayed in the biographical movie Amadeus.
What Instruments Did Mozart Play?
Organ
Mozart first started learning the organ in Ybbs and later learned how to use the pedal board by standing on top of it at the age of seven. His talents brought him to play in the Church of the Holy Ghost in Heidelberg, the Cathedral of Antwerp, the church of St. Bavo in Haarlem, and the church of St. Thomas in Verona. Throughout his life, Mozart continued working, playing, and composing for churches and courts that would sponsor him.
Wolfgang was also a talented improviser and would demonstrate his skills during the mass. He reported that during his performance in the Court Chapel in Manheim, he turned different parts of traditional Christian worship into complex fugues, which astonished members of the congregation. Another report from Thomas Attwood, a student of Mozart, said that his teacher added pedals to his own fortepiano out of his fascination of the polyphonic structures of the music of Johann Sebastian Bach.
Viola
Some say that out of all his instruments, Mozart preferred the viola. His viola was crafted in Northern Italy, and it is now owned by the Mozarteum Foundation in Salzburg. Interestingly, Mozart only composed for the viola in ensemble. However, the literature he produced includes violin and viola duets, string trios and quintets, and trios for piano, clarinet, and viola.
In many of his works, Mozart gives special attention to the viola part. Often, he gives the viola independent melodies and also pushes the musical and range capabilities of the instrument. While he composed no works for solo viola, Mozart's Sinfonia Concertante, a famous violin and viola duet with orchestra, is a prominent work featuring the viola. Another interesting work is the Kegelstatt Trio, featuring colorful interplay between a viola, clarinet, and a piano.
Harpsichord/Clavichord
The harpsichord was the keyboard instrument of the Baroque era and is also said to be Mozart's preferred keyboard instrument for performing, accompanying, and composing in different genres and styles. The clavichord, on the other hand, had dynamic capabilities, but could never really be used in a large performance as it was still a quiet instrument. One can find some of his pieces written for Klavier that are usually played today on the piano.
The evolution of the keyboard instruments progressed quite rapidly over the short course of Mozart's life. While one might think that Mozart immediately switched instruments following the development of the pianoforte, he is documented to continue playing all three keyboard instruments throughout his life. The harpsichord was still a popular instrument for operatic collaboration, and the clavichord, with dynamic differences that were not extreme, was ideal for practicing in the home.
Violin
Even his father, Leopold Mozart, who wrote the famous technical treatise Versuch einer gründlichen Violinschule, was himself amazed at Wolfgang's playing abilities. Mozart played on three major violins in his lifetime: his childhood violin, his Costa violin, and his concert violin. All three instruments are kept by the Mozarteum Foundation. After Wolfgang's trip to Paris, however, the young composer decided to concentrate on a career in the keyboard instruments. He performed mainly on the piano while living in Vienna during the final decade of his life.
Mozart composed a wide body of literature for the violin, from chamber music to pieces for the larger ensemble. Of these works, one famous strings quintet is Eine Kleine Nachtmusik ("A Little Night Music"). Other important works include the five concertos he composed in 1775 at age 19 and the 36 sonatas for violin and piano.
Fortepiano
With the development of the fortepiano, keyboard artists had a greater range of dynamic expression available to them. While Mozart continued to play on the harpsichord and the clavichord, his keyboard music is most commonly heard today on the modern piano. The fortepiano which he used is normally attributed to the builder Anton Walter. The instrument was donated to the Mozarteum foundation by Mozart's son in 1856.
Mozart was especially attracted to the piano and played on it during the final years of his life. During the years 1782 and 1785, he composed several piano concertos and performed them for the public. Many of Mozart's pieces for the piano are easily recognizable and appear in popular culture and CD anthologies of well-known classical music. One piece, the third movement of Piano Sonata No. 11 in A Major, K 331, also known as Rondo Alla Turca, is found in commercials and movies. The Piano Sonata No. 16 in C Major, K545 is immensely popular with novice pianists and sometimes bears the name Sonata Facile (easy sonata). Finally, Mozart also wrote for four-hands literature for the piano.
Because of his early training travels, Mozart became quite competent in the various musical styles of different countries and could imitate them while performing. His knowledge of these styles and various instruments allowed him to push the contemporary musical ideas in opera, orchestral music, chamber music, and solo works.
Sources:
https://mozarteum.at/en/mozarts-instruments/
http://www.viola-in-music.com/biographyofWolfgangAmadeusMozart.html
Mozart and the Organ: Piping Time Author(s): Katalin Komlós Source: The Musical Times, Vol. 143, No. 1880 (Autumn, 2002), pp. 59-61 Published by: Musical Times Publications Ltd. Stable URL: https://www.jstor.org/stable/1004551
Mozart and the Viola Author(s): J. Arthur Watson Source: Music & Letters, Vol. 22, No. 1 (Jan., 1941), pp. 41-53 Published by: Oxford University Press Stable URL: https://www.jstor.org/stable/727826
https://www.britannica.com/biography/Wolfgang-Amadeus-Mozart
https://www.nytimes.com/2006/08/30/arts/music/30moza.html