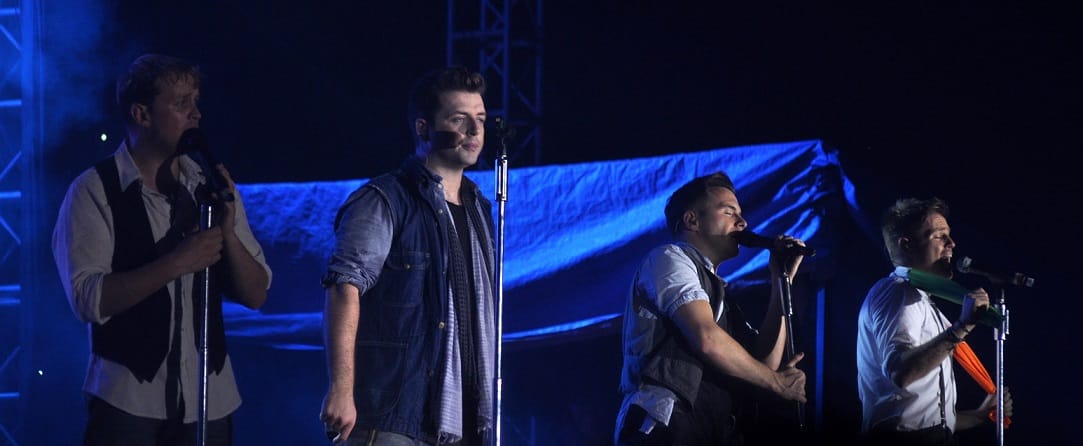 Biography of Westlife
The island of Ireland has always had a strong musical tradition. Although largely known for its traditional music that has remained popular and vibrant throughout, Ireland has also grown by leaps and bounds when it comes to Irish pop music. Thanks to venerable acts such as U2, which has remained the nation's most popular and successful recording artist, Irish music has permeated every corner of the globe.
DISCLOSURE: This post may contain affiliate links, meaning when you click the links and make a purchase, I receive a commission. As an Amazon Associate I earn from qualifying purchases.
Popular and well known musical acts from Ireland include the Dubliners, The Cranberries, Simple Minds, The Script, and of course, Westlife. Known for their brand of ballads and pop songs, Westlife grew to become one of the world's most successful boy bands. Back in the late 90s and early 2000s, the Westlife sound was one of the most easily recognizable on the radio.
When the group started out back in the 90s, they were often compared to Boyzone, another highly acclaimed boyband from Ireland. As a matter of fact, Boyzone's Ronan Keating helped to get the band started at the very beginning of their careers. During their 14 years of performing across the globe, Westlife managed to release an astounding 26 Top 10 hits which consisted of 14 number one singles in the UK alone.
For many years, Westlife was managed by Louis Walsh who is credited with helping the boy band attain much of its success. Although one of the founding members, Bryan McFadden, left the group early on, the four that remained continued on seamlessly to produce hit after hit. Westlife disbanded amicably in 2011 after 11 top five albums and after 44 million copies of albums sold around the world.
Background and early beginnings
Westlife was created by five original group members in Sligo, Dublin in 1998. Sligo was also the hometown of Boyzone, another highly successful boyband that was formed in 1993 that was responsible for paving the way for Westlife. Three of the original band members, Kian Egan, Shane Filan and Mark Feehily had performed together in their high school production of Grease, the musical. After finding success on the musical, the trio decided to form a band and named it 6 as 1 but they later changed it to I.O.YOU.
In 1997, I.O.YOU. released their first single, "Together Girl Forever" in 1997, but it did not do as well as anticipated. After limited success, Shane Filan's mother contacted Boyzone's manager at the time, Louis Walsh who agreed to manage the group alongside Ronan Keating. Unimpressed by the limited success of their first single, the management team decided to change the lineup of I.O.YOU.  Three of the members, Graham, Michael and Derek were asked to leave and auditions were held to find new members.  Eventually, the three were replaced by Brian McFadden and Nicky Byrne and Westlife band was formed officially.
Performance
Albums
Achievements
In 1998, Westlife secured their first big opportunity opening for Boyzone and Backstreet Boys in Dublin and later on in the year, they toured together with Boyzone across the UK and in various venues in Ireland. Westlife became such a phenomenon during these first stages of their career that it was awarded the Best New Tour Act" at the Smash Hits Awards that November.
In April 1999, Westlife released its first single 'Swear It Again' and it became the bestselling debut single that Ireland had ever seen. As a result of the overwhelming support, their eagerly awaited album was released in November 1999. Although they were hugely successful in the UK and Europe, they were unable to beat American pop stars such as Britney Spears and boybands like Backstreet Boys, and NSYNC.
In the UK, however, Westlife was all the rage; both Coast to Coast, as well as A World of Our Own performed extremely well and went multi-platinum. In March year 2000, Westlife made UK music history when they released 'Fool Again'.  In the same year, Westlife collaborated with Mariah Carey on cover versions of Against All Odds and My Love by Phil Collins.  Both singles were featured in Coast to Coast. In 2001, Westlife released another cover version of Billy Joel's 'Uptown Girl', which was released for the Comic Relief charity. 'Queen Of My Heart' which was also released that year earned Westlife their ninth chart-topper.
In 2002, Westlife released their very first Greatest Hits album, which was followed up by Turnaround in November 2003. In 2004, Brian McFadden announced that he was leaving the band to concentrate on his growing family.  A year after leaving the group, McFadden started working on his solo project titled Real to Me; his first single did well and it topped the charts in 2004.
After McFadden's exit, the remaining band members continued touring in various parts of the UK and the US. They also released Allow Us to be Frank in late 2004 and Face to Face in 2005, which became their bestselling album in 3 years. Throughout the decade, Westlife continued to release album after album including The Love Album, Where We Are, as well as Back Home.
In 2010, they worked on and released their 10th studio album Gravity but they announced that they were leaving Simon Cowell's outfit Syco citing a lack of support. The group moved on to sign a deal with RCA, which lead to a Greatest Hit album, which would be the band's last.  Greatest Hit also led to Westlife's Farewell Tour, which sold out in minutes after it was made available to the public. The group's last tour was a huge success and was held on 23rd June, year 2012 at the Croke Park Stadium located Dublin in front of a massive crowd of longtime loyal fans and followers.