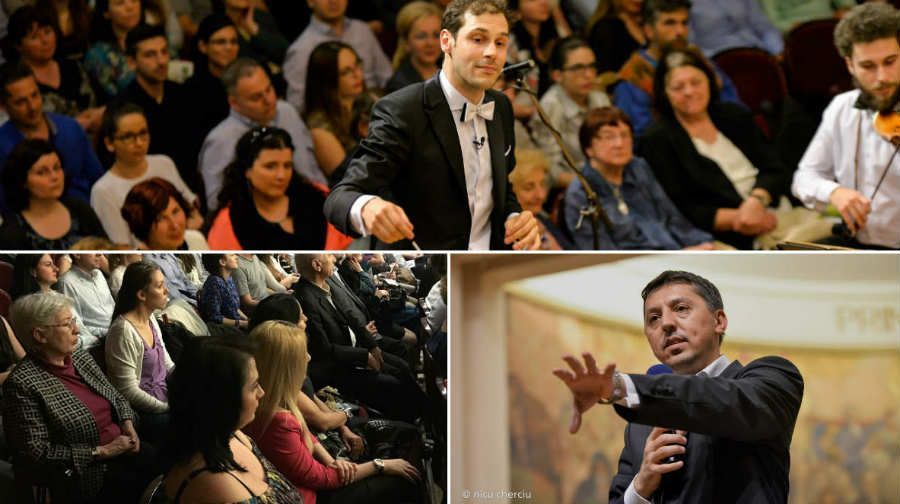 For Symphony of Love, two conductors graced the stage of Auditorium Maximum in Cluj at the same time (worry you must not, there was only one baton) The Young Famous Orchestra conductor, Vlad Agachi and the "public conductor", psychologist Daniel David, professor at Babes Bolyai University from Cluj-Napoca, adjunct professor at Mount Sinai School of Medicine, New York and director of research at the Albert Ellis Institute in New York. "It was an older idea of mine to explain to the public what exactly I would like to feel when I listen to each piece. It was something I missed growing up," Agachi told us. "Then I came up with the idea to do even more for the public, after listening to one of Daniel David's lectures. And so it was born."
Together with the help of Verdi, Wagner, Massenet and Stravinsky, David intended to help people understand and control negative emotions, and, by using the framework of rational-emotive and cognitive-behavioural therapy, turning them, instead, into functional feelings via what he defined as "an amazing spiritual journey through the music of reason."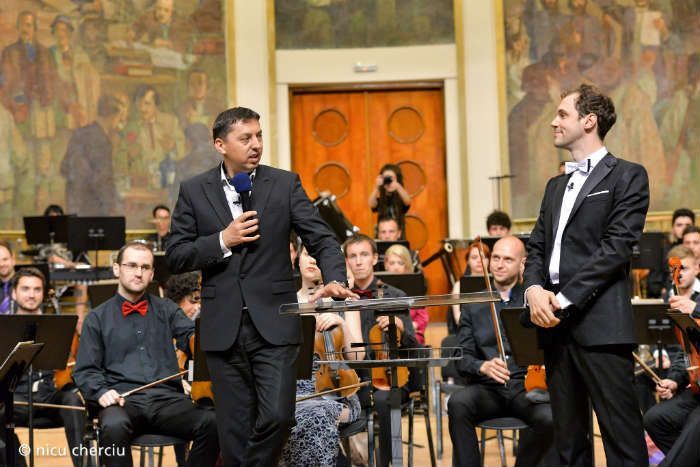 As the concert progressed, with each new piece, David carried out his lecture, suggesting new ways of regaining control over emotions. In the end, both Agachi and David encouraged the public to actively participate in the experiment: people from the audience were invited to be part of the orchestra, to feel and see what it means to be a musician and an orchestra performer. Also, at the end of the evening, the audience were invited to fill out a questionnaire, detailing what mood they were in both before and after listening to the music.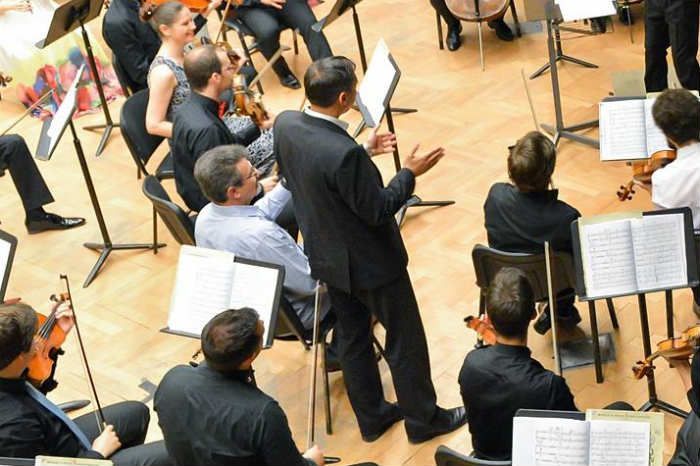 As for the selection of pieces that were meant to support Agachi and David's thesis, they chose the Prelude from Tristan and Isolde to deal with emotions connected to love and sorrow — "It wasn't as much as a LOVE part, it was more of an exemplification of the attachments and loss we call love," he commented on the piece. To illustrate meditation techniques, they had the orchestra play Massenet's Meditation from Thais, with Sabin Penea as a violinist. Of course, since emotions are manifold, the overall tone of the music had to change and thus,  to portray the nature of more "fiery" emotions, the Firebird Suite by Stravinsky transported the audience onto an emotional roller coaster.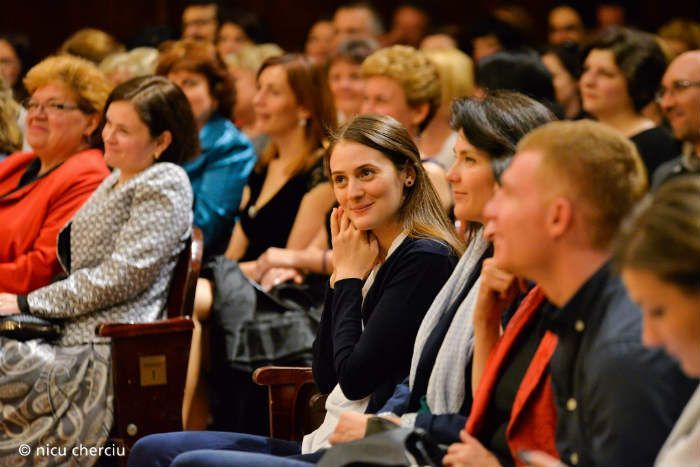 The finale featured Leonard Bernstein's explosive Mambo from his West Side Story suite, which was some sort of tribute in itself: the structure of this very concert had a lose resemblance to Bernstein's educational televised concerts called Young People's Concerts, which, from 1958 to 1972, introduced a whole generation to Classical music. Of course, this time the "educational" part was directed to the soul. Classical music, both Agachi and David proved, is way more than a form of art for art's sake, and, according to a direct witness to the event,  the response of the public proved the duo right. "Some said we should put it on a stadium so that more people can benefit from it," Agachi remarked cheerfully. Of course, he then noted, there were some who didn't understand. But they enjoyed the music anyway.
Photos: Nicu Cherciu