This list is for those those who cringe at opera's lengthy runtimes and lachrymose plotlines but have never actually seen a "fat lady" sing. The following operas consistently rank among the most popular around the world (despite two of them ­The Barber of Seville and Carmen ­having historically disastrous premieres). They tread a fine line between tradition and innovation. If you have not seen an opera, try one of these. At the very least, it will allow your hatred to rest upon a more solid foundation.
The Magic Flute, Mozart
Coming soon to the Opéra Bastille in Paris, where you can find a brief summary.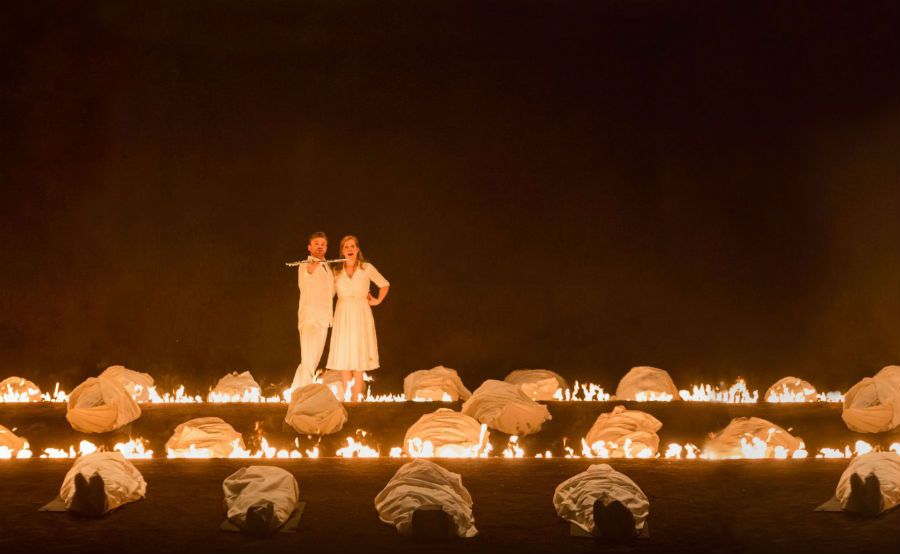 In Great Operas, Michael Steen writes that The Magic Flute is "fully comprehensible to people initiated into the ritual of Freemasonry." For the uninitiated, its divine music, farcical comedy, and hopeful themes shine through the heavy symbolism and strange plot twists to create an enchanting experience. Children are fond of The Magic Flute for its use of pantomime and the broadly comic character of Papageno. This opera also makes use of singspiel (a mix of music and spoken German dialogue) to tell its story. For any glockenspiel enthusiasts out there, you may be interested to know that The Magic Flute contains the first use of glockenspiel in opera. (Source: Great Operas)
Brava Moment: The Queen of the Night's "Der Hölle Rache"
The Barber of Seville, Rossini
Coming soon to the Four Seasons Theatre in Toronto, where you can find a detailed synopsis.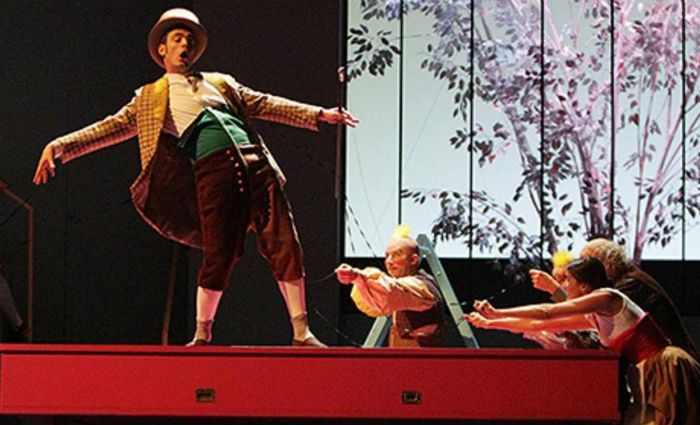 The Barber of Seville is a comic opera that delights in complicating a simple love story with hidden motives, disguised identities, and barber­cupid who isn't running a charity. Indeed, one of the first things we learn about Figaro is that, whether cutting hair or ensuring the course of true love runs smooth, he must be paid for his services. This pragmatic approach to romance creates a comically charged atmosphere heightened by the almost frenetic pace of the music and liberal use of coloratura (elaborate ornamentation of melody in vocal performance). Childhood memories of the Warner Bros. cartoons may be evoked, as Bugs and Co. occasionally set their hijinks to the tune of Rossini's opera. (Source: Great Operas)
Bravo Moment: Figaro's "Largo al factotum"
La Traviata, Verdi
Coming soon to the Royal Opera House in London, where you can find a brief summary.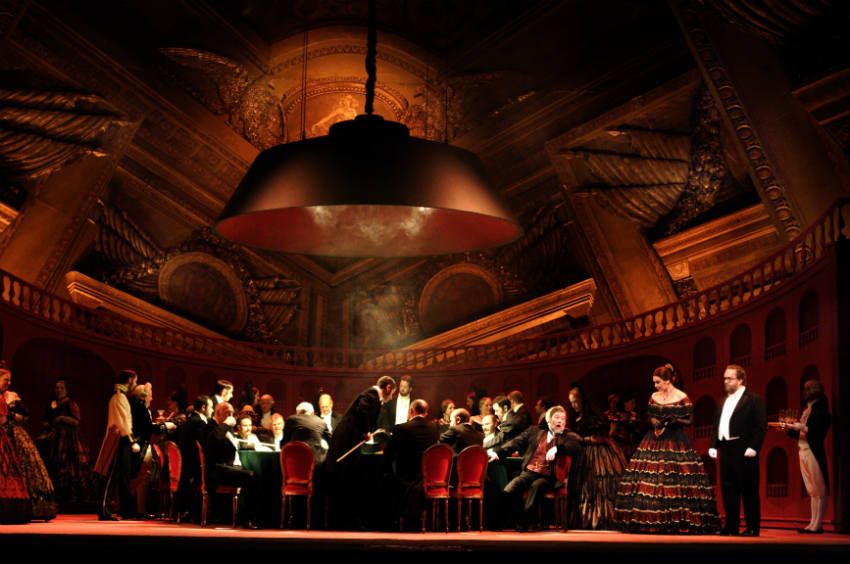 For anyone who has seen Baz Luhrmann's "Moulin Rouge!", La Traviata will ring some bells. It is the tragic love story of a man who falls in love with a courtesan dying of consumption. The opera used a play as its source material and the play came from a novel by Alexandre Dumas (not that Alexandre Dumas, author of The Three Musketeers, but his illegitimate son). Dumas, fils, based his novel on Alphonsine Plessis, a celebrated real­life courtesan known as Marie Duplessis. Marie was rumoured to have had an affair with Franz Liszt, definitely had an affair with Dumas the younger but ultimately died penniless at age 23. The untimely death of Violetta, Marie's fictional counterpart, is foreshadowed from the very beginning of the opera but, as Steen notes, "the characters on stage desperately try to resist what we know is inevitable." (Source: Great Operas) La Traviata is no slow, mournful dirge. It is, to borrow a phrase from Luhrmann's film, "Spectacular, spectacular!"
Bravo/Brava Moment: Alfredo, Violetta, and the chorus sing a Brindisi (drinking song), "Libiamo ne' lieti calici"
La bohème, Puccini
Coming soon to the Teatro alla Scala in Rome, where you can find a brief summary of the production.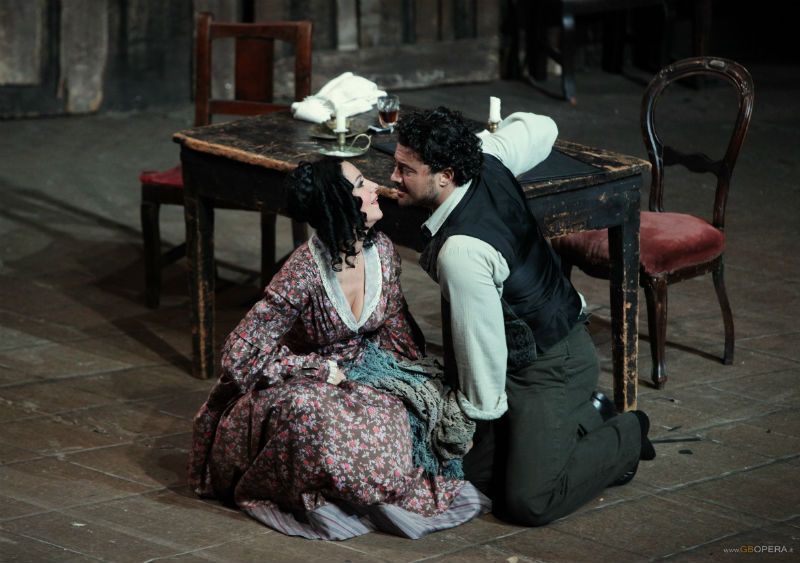 In 1850, Henri Murger's sketches, "Scènes de la vie de bohème," codified the bohemian image. Murger, who lived in the poor, artistic Latin Quarter whence he drew inspiration for these sketches, inspired Giacomo Puccini to create the character of Rodolfo for his new opera. In La bohème, Rodolfo is one of several bohemians struggling to make rent when he falls in love with a neighbour named Mimi. Bells ringing again? Yes, Jonathan Larson's musical, "Rent," is based on this opera. Puccini's odd­couple of librettists, Luigi Illica ­ a former sailor, and Giuseppe Giacosa ­ a suave socialite, infused this story with the same vibrancy and tension that would go on to make successes of Tosca and Madama Butterfly as well. (Source: Great Operas)
Bravo/Brava Moment: Rodolfo and Mimi's "O soave fanciulla"
Coming soon to the Volksoper in Vienna, where you can find a brief summary.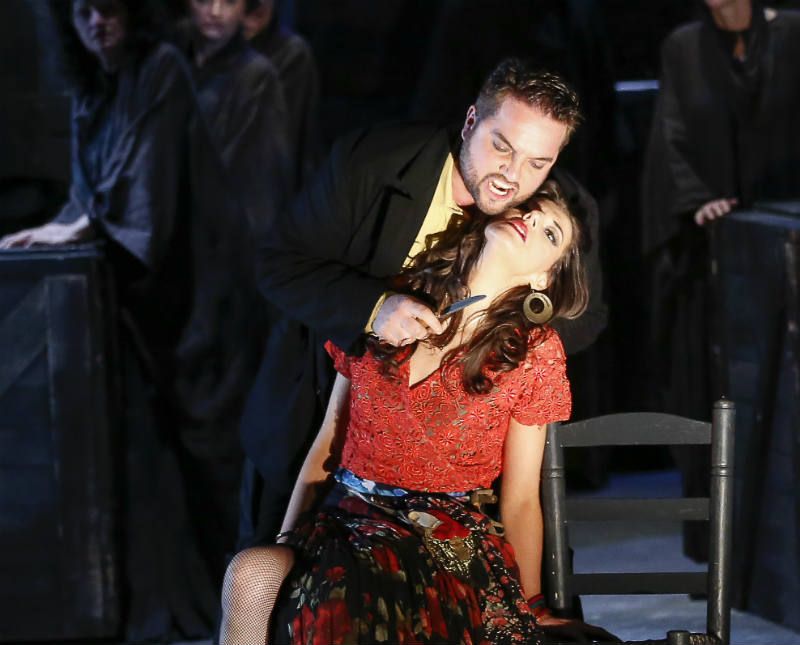 Carmen is synonymous with passion. Scandalous in its time for depicting this passion in a contemporary setting, Carmen influenced generations of composers to come with what Steen calls its "earthy, realistic, "verisimo"" style. Love is both uplifting and wretched in this red­blooded tale of desire and rejection. Instead of embodying lofty ideals, the main characters are distinctly human and deeply flawed. Though the originator of the eponymous role, Célestine Galli­Marié, failed to capture the complexity demanded by the part, her insistence on a solo during a particular scene gave rise to the Habanera, Carmen's most famous aria. (Source: Great Operas)
Brava Moment: Carmen's "L'amour est un oiseau rebelle" (a.k.a. Habanera)