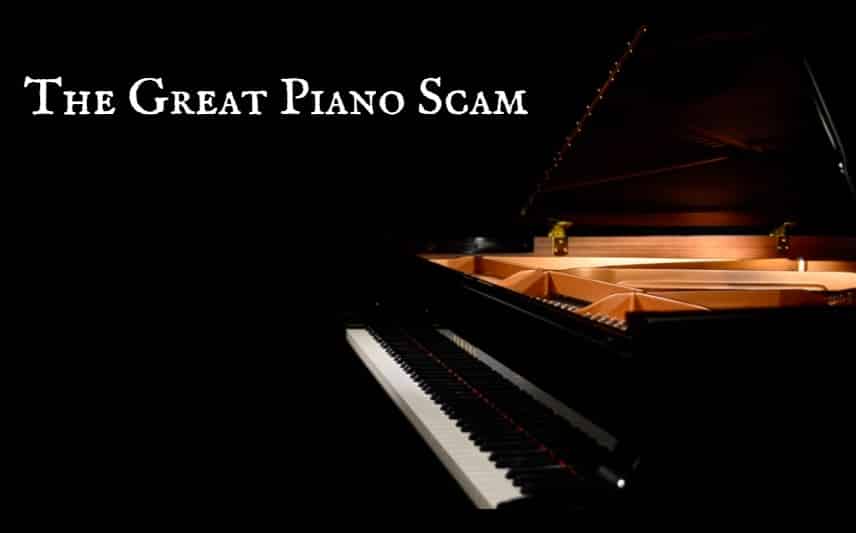 Many scandalous stories have rattled the world of classical music over and the 'Great Piano Scam' is perhaps one of the most interesting. The celebrated Baroque composer JS Bach was the center of more than one controversy. According to a BBC article by Clemency Burton-Hill in April of 2015, Bach's setting of the Gospel of St John proved too controversial to students at Swarthmore College, Pennsylvania in 1995. The problem was that on close inspection the words seemed to contain an anti-Semitic sentiment, with Jews being singled out as the 'enemies of Jesus'.
The Great Piano Scam
The well-known 3rd Symphony by Beethoven that we call the 'Eroica' today, is itself a source of outrage.
Beethoven originally titled the work 'Bonaparte' after Napoleon but on hearing that Napoleon had titled himself Emperor Beethoven violently removed the name from the score.
The name Joyce Hilda Hatto may not ring any bells even if you are a devotee of classical music and piano players. She was born in London in 1928 and was a child of the Blitz. Her studies of the piano began after the Second World War with notable pianist Serge Krish. From there, her reputation began to grow as an exceptional musician.
She pursued her musical career with such significant names in the music world as Nadia Boulanger, Paul Hindemith, and Sviatoslav Richter. For Hatto, Chopin and Liszt formed the centerpiece of her repertoire for which she was heralded as a quite brilliant interpreter. Her understanding of the works of these two composers seemed to draw out the darker elements of their work without the need for over-sentimentality and embellishment. Hatto was also a celebrated champion of many emerging British composers of the day including Arnold Bax, Alan Rawsthorne, and Arthur Bliss.
Surprisingly, Joyce Hatto did not receive the attention and accolades that she perhaps deserved and even though she was apparently amongst the finest pianists of the post-war generation. In spite of numerous premiers, performances and that was critically acclaimed Hatto never became a musician who was championed by those of influence and power. The BBC overlooked her for reasons that are not entirely clear, and a bitterness threaded through the latter days of her career.
1970 was not to be a good year for Hatto as she was diagnosed with ovarian cancer. A thirty-year battle ensued during which she did her utmost to remain a prominent pianist and dedicated private teacher. She accomplished an impressive number of late recordings as cancer went into remission. These recordings include the complete Haydn Piano Sonatas; all of Beethoven, Mozart and Schubert's piano works together with the majority of Chopin's oeuvre and the Prokofiev Sonatas. In 2006 Joyce Hatto sadly lost the fight to cancer and the world lost a remarkable pianist.
The scandal if you like surrounds Joyce Hatto's marriage to William Barrington-Coupe, the A&R manager for one Saga Films and Record Company. They married in 1956 and very soon after Barrington-Coupe took on the role of Hatto's manager and guide. Following the financial collapse of Saga Records, (this collapse was attributed to Barrington-Coupe himself), he created his own label with Marcel Rodd called 'Lyrique'.
Rodd had a record pressing factory to his name and was an ideal partner for Barrington-Coupe. In the 1960s it was not uncommon for artists recordings to be released under pseudonyms and this is exactly where Barrington-Coupe and Rodd began. Another record label called 'Delta Records' was where Barrington-Coupe sold his classical recordings and it is through this label and its releases that the scandal began to emerge. The accusation was that the records he released through Delta were not legitimate, authorized recordings but alleged radio broadcasts of concerts from Soviet Russia.
Barrington-Coupe reportedly used his production and recording skills to re-mix and master the recordings to cover up their origins and pass them off as his own. The cracks in the plan began to show when recordings were spotted having bars of music playing backward, or in stereo even though the recording was made before such technology existed.
Oddly enough Barrington-Coupe did not initially end up in Court because of his doctoring of unauthorized material but because he failed to pay 'purchase tax' on radios he had imported from Hong Kong after his company 'Dial Records' folded following financial irregularities. Such was the seriousness of the charges that Barrington-Coupe caused an expensive and lengthy trial to be called at The Old Bailey, London from where in 1966 he was found guilty of failing to pay nearly £84,000. He spent 12 months in prison as a result.
After Barrington-Coupe was released from prison he and Joyce Hatto were reunited. This was the early 1970s and Hatto was already diagnosed with cancer and suffering to the point where she effectively removed herself from the public platform. Hatto continued to record and as far as we are aware Barrington-Coupe continued to act as a mentor and producer.
During this difficult period of Hatto's life, there are thought to have been over a hundred CD's of her work made. These recordings were released by Barrington-Coupe in 2007 but quickly discovered to be recordings of other pianists that he had somehow acquired. There was no court case and no claim for prosecution this time and Barrington-Coupe freely admitted to fraudulent activity to the head of BIS Records, Robert von Bahr. Bahr had considered for some time pursuing Barrington-Coupe through the law courts but ultimately decided that perhaps this was a well-meant attempt to secure his wife's legacy in the final years of her life.
In spite of the scandal that surrounded the couples work together, there seems little room for doubt that Joyce Hatto was a remarkable pianist and pioneer of her age. Even though at times her performances received a mixed reception form harsher critics, many felt her interpretations of the great romantic composers to be amongst the best of the time. Perhaps as we find ourselves in 2020 we can put aside the errors of judgment that Hatto may have made and celebrate her for the fine, innovative musician she was and leave the 'great piano scam' behind.