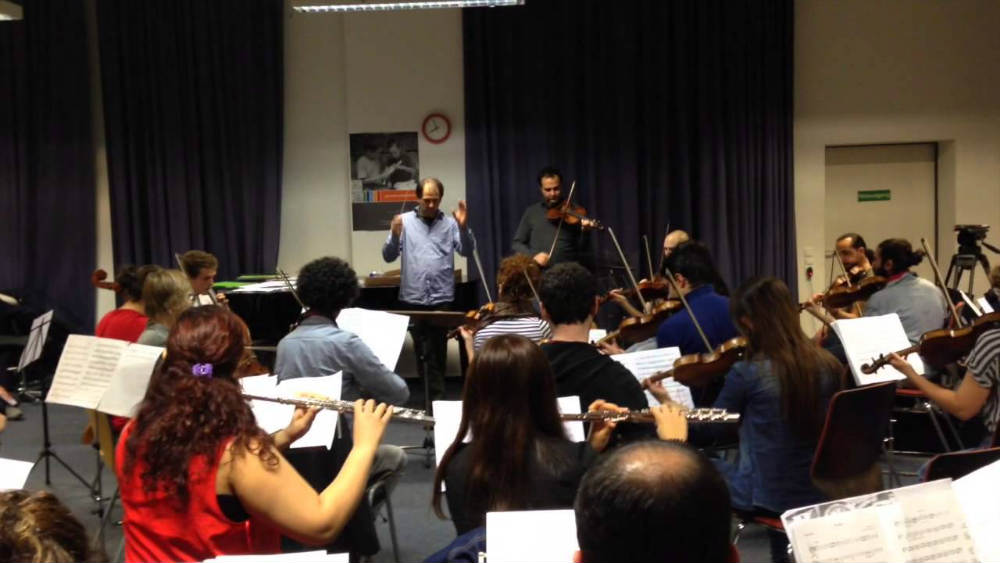 The Syrian Expat Philharmonic Orchestra was set up by Read Jazbeh. When he arrived in Germany two years ago, he started looking for former colleagues who had played together in Damascus and found several via Facebook. The orchestra recently played its first concert in Bremen, and it has other dates coming up. Reacting to the widespread association of his country with war, death and refugees, he said, "we want to change this with our music."
Some of the orchestra's players lost virtually everything when they fled. Dolama Shabah, a trumpeter, was given a used instrument by a local when he arrived in Germany.
For others, simply being able to play in the orchestra with former colleagues brings back memories of home. "It feels like we're back in Damascus when we rehearse. It's very emotional," explained violinist Michella Kasis, who now studies music in France. Other participants in the orchestra come from Sweden, Poland and Germany, and some arrived from Syria just a few weeks ago.
In their debut concert, they performed a combination of oriental pieces, film music and contemporary pieces by Syrian musicians. They didn't have much time to rehearse beforehand, with the conductor Martin Lentz explaining that it was only three days prior to the concert that he knew for sure which musicians would be taking part. Due to the instruments and musicians available, Lentz decided to abandon plans to include classical pieces by European composers. This brief clip below was taken at a practice session a day before the concert.
The performance was well received, with reports of a packed hall and standing ovations. The orchestra hopes to expand its membership to 50 musicians in the future and has other concerts in Germany already planned.
Another Syrian musician who was recently forced out of the country is Ayham al-Ahmad Ahmad.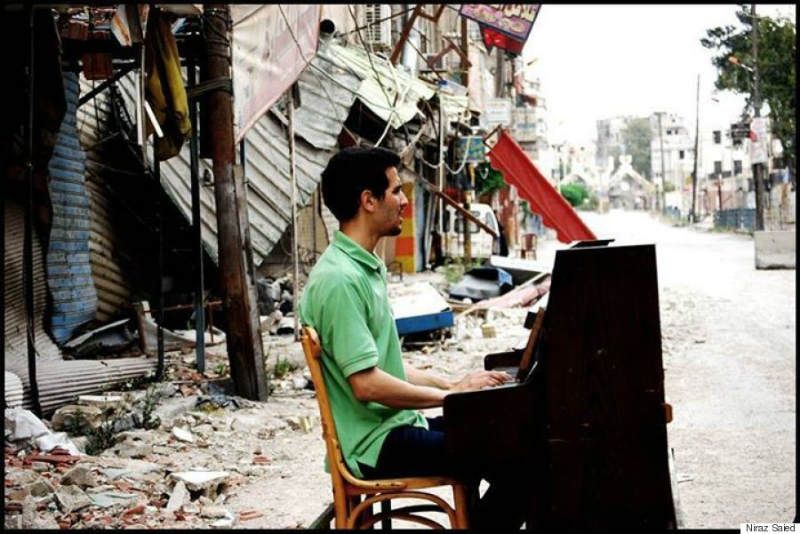 Ahmad made a name for himself online as the pianist from Yarmouk, Damascus. He recorded videos of himself playing piano on the street, sometimes together with a group of children singing songs about the community and the difficulties the people had to deal with. Through his music, he was determined to show that life was continuing despite the terrible conditions faced by those living in the impoverished camp on the outskirts of the Syrian capital.
As he became more widely known and received media coverage, Ahmad began playing concerts via Skype to audiences around the world. Throughout this time, he carried on teaching piano to children living in Yarmouk, even after being compelled to move his family out of the district.
Subsequent developments led him to seek refuge in Europe. "Six months after the partial blockade of Yarmouk, the camp became airtight. Flour and bread were banned, everything was banned from coming into the camp," Ahmad said. "We used to say that they would have even stopped airflow had they found a way to do it. At that time, I started to feel the plight I inflicted upon my kids. Why did I stay? What would I do?"
He tried to take his piano with him when he left the camp, but he failed to get very far. "there was a member of Islamic State at the checkpoint who stopped me and asked: 'Don't you know that the musical instruments are haram [forbidden]'?" Then they burnt my piano," he recalled.
He agreed to film his journey from Syria, including the boat crossing to Greece. He's now hoping to be able to bring his family to safety in Europe when he gets settled.