As the civil war in Syria rages on, a 27-year-old pianist has begun to draw attention for his determination to bring music to a war-torn refugee camp on the outskirts of Damascus.
Ayham Ahmad began taking an old, battered piano on to the streets of Yarmouk in January 2014. The refugee camp was formerly home to over 800,000 mainly Palestinian refugees, but the population has since dropped to around 18,000 due to the war. Ahmad intended to bring some hope to this devastated neighbourhood with music.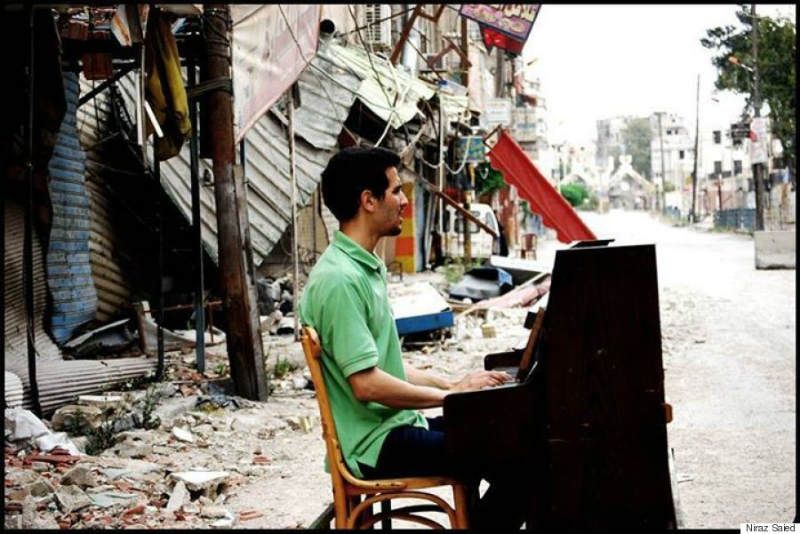 In an interview earlier this year, Ahmad described the response to his piano appearing in the middle of a war zone. "For people to see an actual piano in the street was a phenomenon for them. And to have music spreading in the street in times of war, under siege and in such a place gave an impression that life could still be good," he said.
His determination to keep on playing the piano was even greater due to the opportunities he had lost when war broke out. Ahmad explained in another interview that he was forced to cut short his piano studies in the city of Homs as it got caught up in the fighting, and return to Yarmouk. Even though he was able to continue playing there, it gave him mixed feelings. He talked about playing in his old school yard, and how the last time he had played piano there was when he was 16 and receiving lessons from a Russian professor of music.
Ahmad composed his own songs about the world around him. They described the daily struggle to survive in the camp, as well as the tremendous loss suffered by the departure of so many residents. Another song talked about the large numbers of refugees trying to escape in unsafe boats over the Mediterranean Sea to Europe.
His music found a particularly strong response among children, and there are several videos posted online showing Ahmad leading amateur groups of musicians in song. Here you can see a video of a song dedicated to the refugees who have fled Yarmouk, while this song is about the hunger faced by those who have remained behind and are trying to survive on inadequate food rations.
Ahmad explained that the popularity of his music was because the songs reflected the daily struggle to survive. According to the United Nations, over 100 people have died of starvation in the camp since 2013.
As well as his songs about Yarmouk, he enjoys playing works by composers like Beethoven, Rachmaninoff and Debussy.
After several months, a ban was imposed on Ahmad playing music in the street, forcing him to take his piano on to the roof of his home. And when the weather got bad in the winter, he had the idea of broadcasting concerts over Skype to audiences abroad. "I contacted a friend of mine in Haifa and I asked him to gather a hundred people in a coffee shop, and I played for the audience on the screen through Skype. My second concert was played for an audience in Denmark, and the third was in Sweden," Ahmad explained.
"The message I wanted to convey is that the people of Yarmouk are civilians. They love, adore and listen to music. They're merely people who want to live in peace, not in war," Ahmad said.
Unfortunately, getting this message out has become even harder for Ahmad over recent months. A reporter who spoke to him in April revealed that his piano had been destroyed in a recent attack on Yarmouk by Islamic State militants. He has moved his family out of the neighbourhood, but continues to commute daily to teach music lessons at a local school on a keyboard which he has borrowed from a friend.