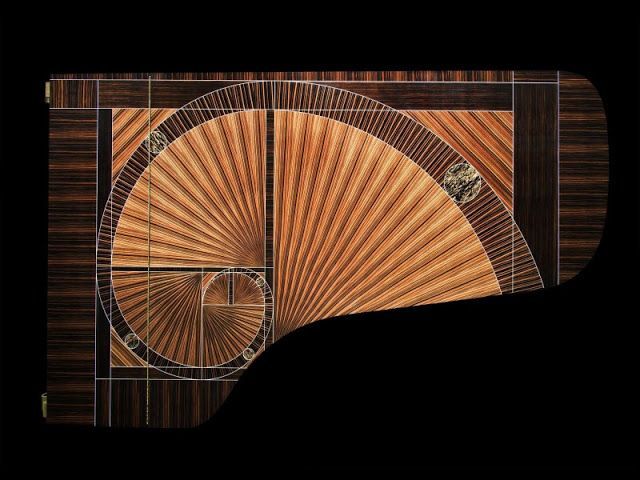 Steinway and Sons has come a long way: it crafted 600.000 pianos and, to mark the occasion, furniture designer Frank Pollaro created The Fibonacci, a piano whose Macassar ebony veneer features the iconic Fibonacci spiral that, in case you are not familiar with mathematics represents a sequence that goes as follows: 1, 1, 2, 3, 5, 8, 13, 21, 34, 55, 89, 144, 233, 377
Each number is the sum of the previous two. Why the spiral, though? If you draw squares whose sides have lengths equal to Fibonacci's numbers and you pack them together and then draw arcs of circles diagonally from one corner of the unit square to the other, and then onto the next one, you will notice that you are actually drawing a spiral, the so-called Fibonacci Spiral.
Well, Frank Pollaro envisioned his spiral as made from six logs of Macassar ebony, and the piano also comes with synthetic ivory inlay and patinated bronze details. That's one of Pollaro style signatures, as he bears a strong fascination to the combination of ivory and dark wood.
"As I considered the number 600,000, the Fibonacci spiral came to mind, " Pollaro is quoted saying in the press release. "The way in which it continues to grow but stay true to its form is very much like Steinway & Sons over these many years. Combining the universal languages of music and mathematics suddenly made perfect sense."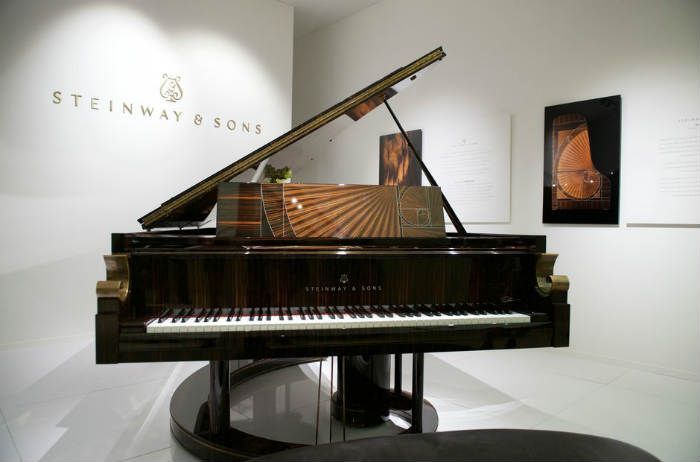 During a VIP reception in April at the Steinway's Show Room, Lang Lang christened the instrument, which, in its "concert grand" version, has a $2.4 million dollar price tag.
Previous milestone models of Steinway include the 100,000th, originally given to the United States White House and now part of the permanent collection at the Smithsonian institute, and the 300,000th, currently residing in the East Room of the White House.
We hope all the "Fibonacci classicals" will sooner or later be played on the namesake piano.