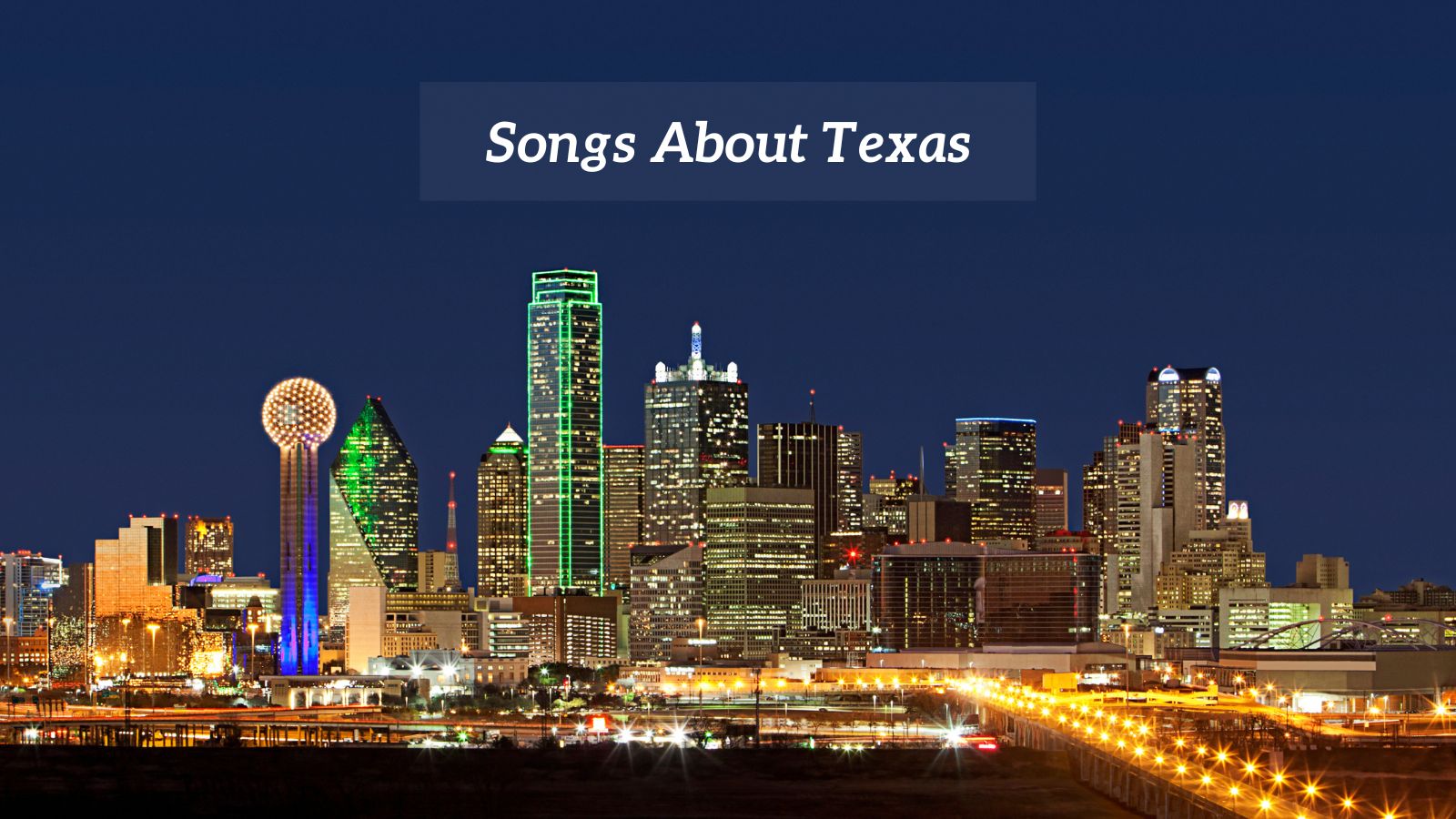 Texas' rich atmosphere is like no other. From BBQ steam fluffing the sunlit air to old-time Western taverns, horse-back riding and liquor drinking, musical artists weave a plethora of evocative imagery into their love songs to the Lone Star State, sometimes using its historic scenery as a stunning backdrop for a greater story to unfold.
We've collected some of the best songs about Texas to give that warm flush of Southern ambience to your day, wherever you are in the world.
Songs About Texas
1. Stevie – Texas Flood
Texas Flood captures the musical mastery of Stevie Ray Vaughan, featuring flawless technicality so stunning that Vaughan's sound is as rare as a flood rampaging through the hot lands of Texas.
This live performance is basically a 9 minute long guitar solo interspersed by raspy vocals, toned like the haze outlining a coming storm.
Stevie keeps his lyrics simple, letting them cut the thick atmosphere summoned through his soloing, whilst describing a torrential downpour threaded with the metaphor of breaking up a relationship;
"There's flooding down in Texas, all of the telephone lines are down, I've been trying to call my baby, I can't get a single sound. Dark clouds are rolling in, I'm standing out in the rain, floodwater keeps a rollin', it's about to drive poor me insane. I'm leaving you baby, and I'm going back home to stay, back home are no floods or tornadoes, and the sun shines every day."
2. Blackberry Smoke – Sunrise In Texas
Blackberry Smoke's country track, Sunrise In Texas, is crafted with a unique metaphor to detail their love for the state.
Their lyrics provocatively illustrate the suffering taking place in America, laying bare the moral injustice which haunts the land of the free;
"There's a man in a cell staring at the walls all around … There's a young girl on the street, ain't got no shoes on her feet, don't know where she's gonna find her next meal."
But Blackberry Smoke contrast this suffering with the concept of 'ignorance is bliss.' The Texas sun burns so brightly, it can blind you from noticing the anguish of those in less fortunate areas of the US and the world.
Sunrise in Texas cleverly describes how, although you might have a blessed life in the state, there's more to life than your own; "There's a world going on outside the world that I'm in, I got sunrise in Texas again.
3. W.A.S.P. – Blind In Texas 1985
W.A.S.P.'s iconic track, Blind In Texas, brings sleazy, leather-clad, L.A. glam rock straight to the heart of the South.
W.A.S.P use their Texas vacation to drown themselves in the state's liquor-rich culture till they're blind drunk, "White lightning moonshine tastes like fire, I drank for free till I couldn't see… I'm blind in Texas, the lone star is hot tonight, I'm blind in Texas, the cowboys have taken my eyes."
Weaving the names of Texas' towns and cities such as San Antonio, Dallas and El Paso throughout their lyrics, W.A.S.P. raise an energy like all-consuming fire ravaging their Western tavern landscape, lush with the eccentric humour inherent to 80s glam rock.
4. Glen Campbell – Wichita Lineman
Glen Campbell's 1968 track, Wichita Lineman, blends the traditional, heart-warming sound of country music with the atmosphere of a dreamy pop serenade.
Clad with sweeping strings and futuristic electronic elements, this song details the soft heartache of a Wichita lineman, working the telephone wires with a dignified sense of duty.
Perched high amid the freezing winds, the lineman longs for his wife back home, whom his relentless work pulls him away from, "I hear you singing in the wire, I can hear you through the whine," whilst embedding a breathtaking line within the chorus, "And I need you more than want you, and I want you for all time."
Undertoning the lineman's hard work and wanting for home, is a resounding line with a morbid interpretation; "And the Wichita Lineman is still on the line." Do you interpret this as reflecting the never-ending workload, or as a lineman's electrocuted body laying dead upon the live wires?
5. Josh Abbott Band – She's Like Texas
Josh Abbott's Band describe every beautiful way a girlfriend can be as graceful, lively and unique as the warm Texas atmosphere.
Listing captivating details that transport you instantly to the state, She's Like Texas is a love song to Texas as much as it is to your partner, "She's as hot as the Padre Island sun, most of the time she's as warm and friendly like the hills that surround Austin."
She's Like Texas is evocative of everything sweet and simple about the South, neglecting to draw in on its downfalls, instead crafting an anthem of love, community and bright-burning positivity;
"She's as bright as the Dallas sky… Her teeth are as white as cotton in the fall.. Her moods can change like weather out in Lubbock, but if you show her love, man she'll return it."
6. Waylon Jennings – Luckenbach, Texas (Back To The Basics Of Love)
This classic country track has been covered a multitude of times throughout the decades for its timeless message denoting adoration for Texas' unique laid-back culture.
Studded with shoutouts to various Texas icons such as Hank Williams, this song is about selling your diamond rings, buying some boots and faded jeans, and returning to an authentic life in Luckenbach, Texas.
Waylon Jennings crafts a track for anyone sick of the glitz and glamour that sprawls across the US coastlines, and is searching for something real and heartfelt, deep in the country, in order to reconnect with a more traditional way of life.
7. Luke Combs – Houston, We Got A Problem
Luke Combs undertones his dedication to Houston with the subtle, creeping pains of heartbreak. Houston, We Got A Problem is devoted to the city, every verse flooded with evocative scenery of Southern culture, painting a lush picture of what it's like to visit Texas for the first time;
"You should've seen the midnight rodeo, the way them saloon doors swing… Something about the air down here that'll make you feel the way all them cowboys do."
But this song is laced with a longing for normality, however much you adore Houston's endless adventure; "I still feel like I landed on the moon, 'cause it ain't got you, Houston, we got a problem… I wish I was an outlaw, but all I can think about is you."
This is a track for anyone escaping to the city to dispel their burdensome heartache, but instead finding themselves followed by anguish, wherever they go.