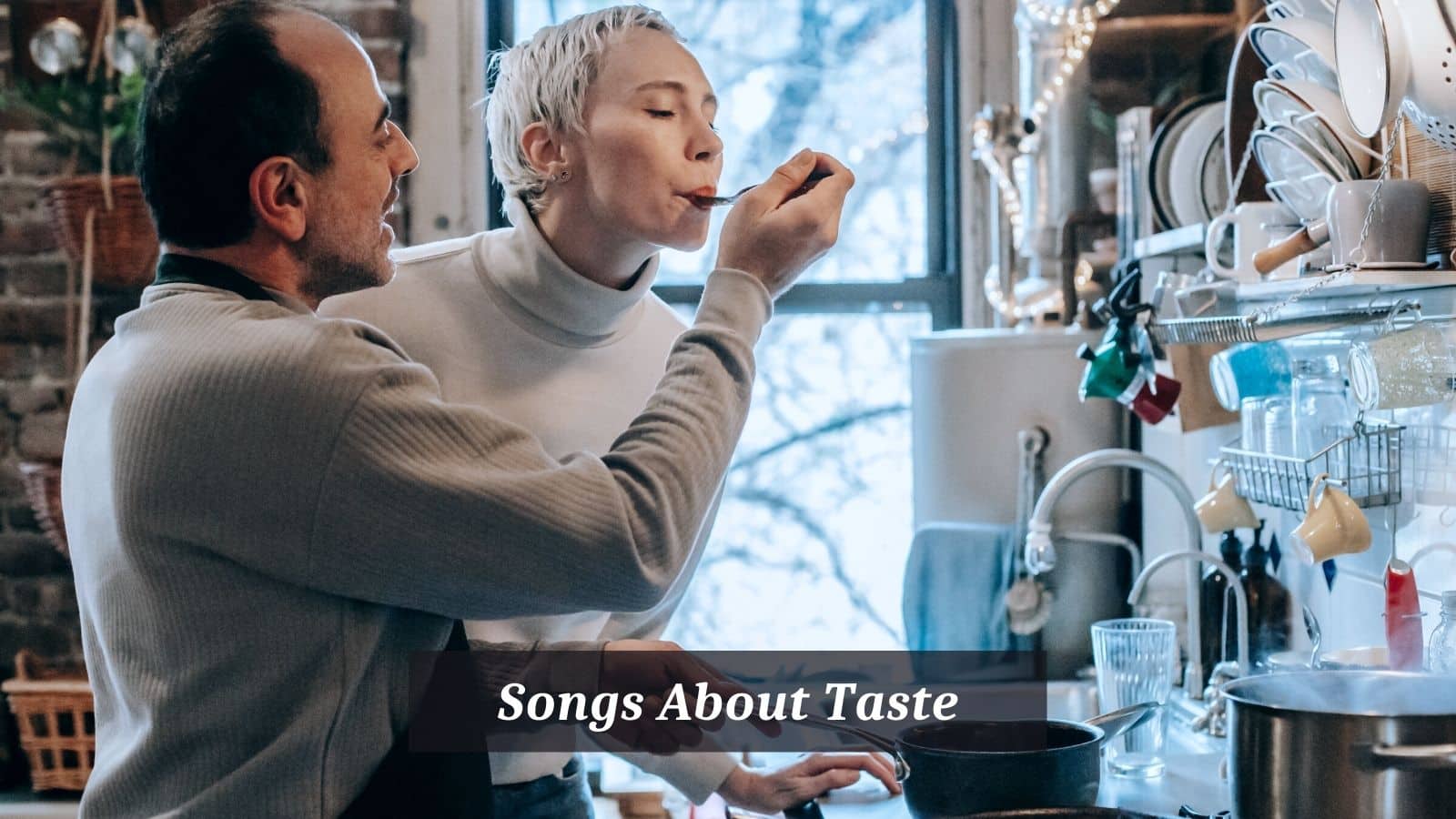 From tracks about the bittersweet taste of love, to songs conjuring the community spirit that comes alongside food and cooking, our playlist of songs about taste picks out the best of pop and rock, each styled with a unique metaphor about sweetness, sourness and instinctive sense.
Songs About Taste
1. The Used – The Taste Of Ink
The Used's 2002 emo rock single, The Taste Of Ink, crafts its titling metaphor as a representation of dark, bittersweet feelings you're attempting to escape;
"I'm tired and I felt it for awhile now, in this sea of lonely, the taste of ink is getting old, it's four o' clock in the fucking morning, each day gets more and more like the last day."
Contrasting the band's depressive outlook is the desire to embrace life to its fullest and rise from the abyss of sadness, conquering your fears and finding contentment in your existence again;
"Being half dead wasn't what I planned to be, now I'm ready to be free, so here I am it's in my hands and I'll savour every moment of this, so here I am alive at last, and I'll savour every moment of this."
The Taste Of Ink for anyone needing a pick-me-up song which actually understands the emotional turmoil you're going through, rather than glossing over reality with a forced sense of happiness.
2. Avicii ft. Conrad Sewell – Taste The Feeling
Avicii & Conrad Sewell's 2016 pop collab, Taste The Feeling, may be a Coca-Cola advert, however its lyrics beautifully transcend its promotional message whilst drawing inspiration from the magic of Coke's trademark feel-good advertising style.
This track is centred in a cute, blossoming love story, following the narrator's scenic feelings towards their crush against the tranquil landscape of adventure;
"No one can stop me when I taste that feeling, nothing could ever bring me down, with every fading sunset, we see the stars aligned, we make the simple moments last for a lifetime."
Taste The Feeling is a song for those sharing joy with family, friends, life-long partner or a brand new crush, appreciating the blessings and worth of their loved ones; "It feels good, in my heart, in my soul, when you're right here beside me, I don't ever want this day to end."
3. Billy Idol – Bitter Taste
Billy Idol's 2021 single, Bitter Taste, is a plush, cinematic pop-rock track with a fine-wine sense of maturity to its concept and attitude, compared to The Used's track above, which hosts a similar theme.
Composed around the wish to escape your demons, Idol's atmospheric, aged voice bestows a captivatingly bluesy sense of storytelling which is utterly addictive, before soaring striking melodies.
This track gives the impression of a more time-worn man still battling his demons and pushing onward despite every disheartening occurrence.
Bitter Taste could easily relate to alcoholism, addiction and recovery, its lyrics hinting at an ultimatum-type scenario where one must consciously make the decision to persevere;
"I'm gonna ride this bike to the edge of town, roll to the bridge with my eyes shut, and spit at the stars, and scream in the dark … Hello, goodbye, there's a million ways to die, should've left me way back by the roadside… I was staring in the devil's eyes… It's a bitter taste."
4. Halestorm – Familiar Taste Of Poison
Halestorm's symphonic rock song, Familiar Taste Of Poison, is crafted with a slow harmonic crescendo, their soundscape gradually swelling with the track's progression, mimicking the painstakingly slow yet inescapably overpowering effect of poison, intoxication and overdose.
Familiar Taste Of Poison carries a metaphor for being romantically doomed and in love with someone who destroys you emotionally, as much as they shower you with addictive levels of passion;
"I tell myself that you're no good for me, I wish you well, but desire never leaves, I could fight this 'til the end, but maybe I don't want to win."
Halestorm's power ballad is a piece fit for anyone struggling to let go of their addictions, or debating if its even worth the fight to escape them.
5. Jason Mraz & Sara Barielles – It Only Takes A Taste
Taken from the musical, Waitress, Jason Mraz & Sara Barielles' blue-skied collab, It Only Takes A Taste, is crafted around a subtle metaphor for realising the moment you've fallen in love.
Composed as a conversation between two new friends, Mraz & Barielles fill their lyrics with sweet, flirtatious anecdotes about baking cakes and connecting with friends and family through cooking;
"She'd make the pies fresh every day, like you, I guess but I must say, if pies were books, yours would be Shakespeare's letters, you remind me of her, but better."
This cute track is destined for anyone with a love for cute bakery vibes and even cuter romanticism; "It only takes a taste when it's something special, it only takes a taste when you know it's good, sometimes one bite is more than enough, to know you want more of the thing you just got a taste of."
6. PSquare – Taste The Money (Testimony)
PSquare's 2014 Afro-pop hit, Taste The Money (Testimony), is a vibrant, instantly uplifting track celebrating the challenge of rising from poverty and attaining your destiny;
"It's good to be saving for rainy days, 'cause it's not easy, life is delicate, so make you see me as evidence … Now I'm giving my testimony, I'm killing the beat and I'm giving them hit, now I'm giving them everything."
Embellished with an array of bright reggae elements, this summertime track is anchored in a clever wordplay about sharing your downfalls and riches with the world; "Na my testimony, testimony, my testimony, I don' chop, I don' taste money, I don taste' money."
7. Rezz ft. Dove Cameron – Taste Of You
Rezz & Dove Cameron's feisty pop collab, Taste Of You, puts an almost vampiric twist on the concept of taste, illustrating the insatiable lust for another;
"What am I supposed to do, but sink my teeth in you? I starve without you on my lips, I die without the taste of it."
Covered in wordplay and suggestive allusions to the different types of deep-seated wanting, Taste Of You is a track for anyone crazed with love-hunger;
"When you're away from me, I'm cravingly impatient, chained up to the bed, inside my head, and I don't care, I'm a bitch if I'm not getting my addiction fed, I'll end up dead."