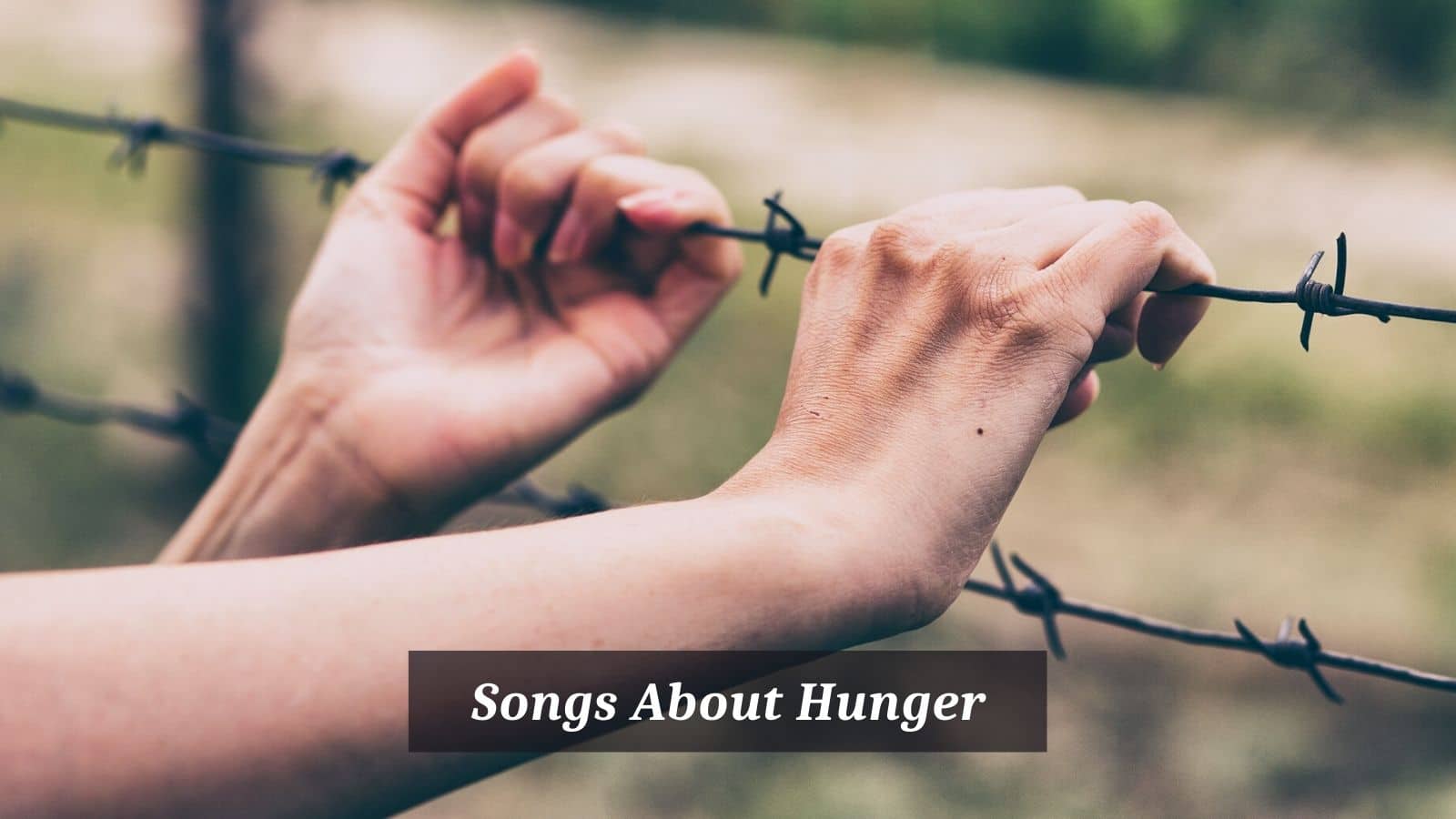 Hunger's appearance in music often relates to irresistible instinct, desire and ravenous lust for something unobtainable. From songs about craving your crush to tracks with a vampiric, blood-thirsty twist, our playlist of songs about hunger crosses the genres and covers it all.
Songs About Hunger
1. Darkthrone – Transilvanian Hunger
Darkthrone's pioneering black metal track, Transilvanian Hunger, ingeniously embodies the abysmally bleak landscape crowning their title.
Styling their lyrics with dread-inducing sparsity, each souring line artfully mirrors the descent into sanguinary hunger from a vampiric perspective, far removed from modernity's glossy interpretation;
"The mountains are cold… soul, cold, careful pale, forever at night … Embrace me eternally in your daylight slumber, to be draped by the shadow of your morbid palace, oh, hate living… The only heat is warm blood."
2. Harry Styles – Hunger
This unreleased Harry Styles demo track is woven with a myriad of food-related lyrics, most notably the striking metaphorical comparison between hunger and emptiness, symbolising the difference between new love and lived-in, burnt-out emotions;
"We had a hunger then, only each other then, couldn't get enough when we started… now it's just emptiness, we were in love, we were starving, we had a hunger then."
Composed around the theme of destructively falling in and out of love, this serene acoustic-based track is for anyone regretting all they've lost, whilst knowing deep down it was for the best; "I could never get sick of you, I just bit off more than I could chew … I lost my taste for the good in us."
3. Florence + The Machine – Hunger
Florence + The Machine's 2018 single, Hunger, reflects upon self-image and self-love, its title worked into a metaphor for the ruining inability to love yourself; "We all have a hunger."
This is a track which empowers the audience in their sense of self identity, whilst exposing the paranoia of not feeling pretty enough under the pressure of society's unachievable beauty standards;
"The way you use your body, baby, come on and work it for me, don't let it get you down, you're the best thing I've seen … And it's Friday night and it's kicking in, in that pink dress they're gonna crucify me."
4. Ross Copperman – Hunger
Released as a fragment of The Vampire Diaries soundtrack, Ross Copperman's cinematic pop track, Hunger, illustrates the burning desire to be with the one you want;
"I'm on fire like a thousand suns, I couldn't put it out even if I wanted to, these flames tonight, look into my eyes and say you want me, too, like I want you."
This track aspires to true, infinite love, composed with an array of morbid yet deeply romantic sentiments embodying a vampiric style of adoration; "One look and I can't catch my breath, two souls into one flesh."
5. Fergie ft. Rick Ross – Hungry
Fergie & Rick Ross' 2017 trap / pop collab is rooted in an eerily dominating ambience inflicting a primal sense of fear or power, depending on your predisposition.
This track compares the heartless feeling of hunger with merciless aspiration, making an interesting distinction between attention-seeking behaviour and satisfying the true desire for respect;
"I make they hands go up when I show up, and I blow it 'til I'm full up, girl up in the mirror, only one I fear, you say you the realest, I told you I'm the illest … sick, sick, mmm, hungry, starving, not thirsty, just hungry, ambitious, still hungry."
6. Temple Of The Dog – Hunger Strike
Temple Of The Dog's 1991 rock release, Hunger Strike, is a protest song against the capitalist structure and the imbalance of wealth and food across the nation.
Their titling 'hunger strike' could refer either to self-inspired protest or forced starvation alike, as the rich gain more than those beneath, leaving the less fortunate in hunger;
"I don't mind stealing bread from the mouths of decadence, but I can't feed on the powerless when my cup's already overfilled … And it's on the table, their mouths are all choking but I'm going hungry."
7. Eric Carmen – Hungry Eyes
Eric Carmen's 1987 hit single, Hungry Eyes, is a classic take on love and lust, its lyrics unravelling the long-secreted truth to the woman whose stolen the narrator's heart, "I've been meaning to tell you, I've got this feeling that won't subside, I look at you and I fantasise, you're mine tonight."
Clad with a plush 80s atmosphere, this track borders upon outright obsession whilst carrying a pure and heartfelt sense of wonder within both lyrics and synth-soaked harmony; "One look at you and I can't disguise, I've got hungry eyes, I feel the magic between you and I."
8. Of Monsters And Men – Hunger
This pop track by Of Monsters And Men is about discarding the remnants of a ruined relationship and moving on independently, empowered by your own need to progress and succeed away from the person who's been holding you back;
"And for the longest time I knew, there was nothing left for us to do … Hungry for the kill, but this hunger, it isn't you."
Hunger draws inspiration from the crippling feeling of being love-starved whilst in a relationship, with OMAM's narrator cycling between thriving and withering to reflect the ever-recurring state of hunger;
"And I grow tall to fill the void, let me go 'cause you are just a shade of what I am, not what I'll be, but in this quiet company, I forget sometimes just how to breathe, fill my lungs with the sound."
9. The Distiller – The Hunger
The Distiller's 2003 rock track, The Hunger, centres itself in the raw and relentless energy of insatiable craving for a lover who's long-since fled your grasp; "I never knew I'd beg down at your feet, hold on tight, I never knew I'd know much more than this, open sky, the wave of pain, the scent of you is bliss."
Hunger is laced with a similar theme of blood-lust and vampirism, hinting at an unbreakable bond between partners made evermore tragic by the macabre, unloving ending; "Hold onto the memory, it's all you've got, I know you'll be there to soak up blood lost."