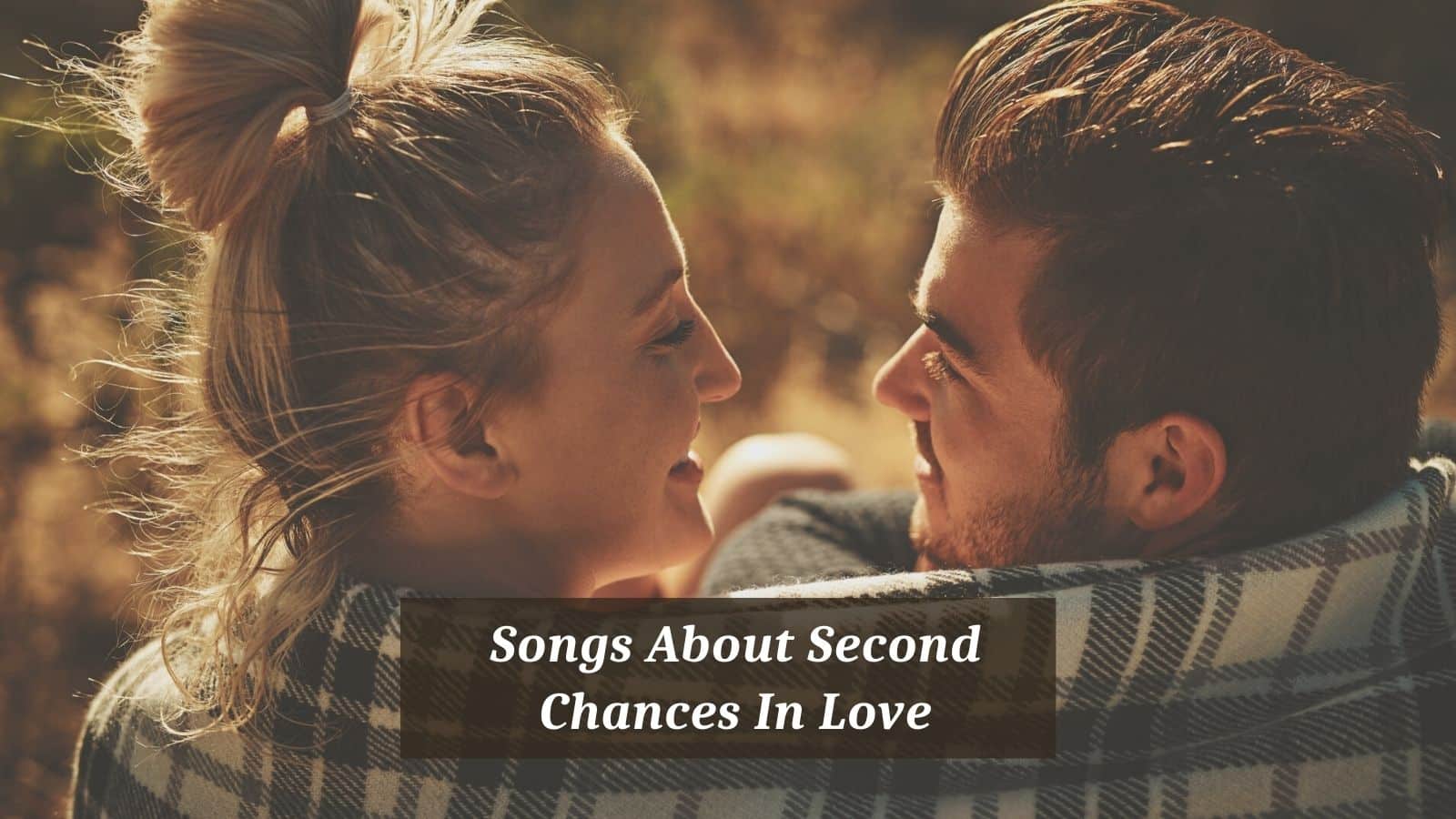 Second chances are a rare blessing in relationships. Our collection of pop and rock songs about second chances in love showcases both sides of the story, whether you're rekindling the romance, or realising it's best to cut ties cleanly and say goodbye.
Songs About Second Chances In Love
1. Tyler Collins – Second Chance
Tyler Collins' 1990 single, Second Chance, is a feel-good track set in an addictively retro R&B / soul sound. Second Chance adopts an uplifting perspective to a world-shattering feeling, her love letter lyrics surmounting jealousy by admitting the truth to her ex;
"Like a fool, I asked you for my freedom, I didn't think you'd leave so easily, saw you just the other day, you were walking hand in hand with someone new, it took me by surprise and then, I realised how much I needed you."
Collins' piece is magnificently romantic despite harbouring a morose theme, its empowered attitude resounding with anyone realising they might have made the wrong choice in leaving;
"Turn back the hands of time to the days when you were mine… I never thought that I would swallow my pride, now you're here so please stay the night, I promise I will make it up to you … A second chance for us, the second time could be better, baby, a second chance for love."
2. Tinchy Stryder ft. Taio Cruz – Second Chance
Tinchy Stryder & Taio Cruz' 2010 pop / rap collab follows the perspective of someone granted a new opportunity to rekindle their love with an ex-flame.
Covered in summertime synths carrying the optimism of both a fresh start and the happiness of returning to who you love the most, Tinchy's verses contrast his inherently youthful harmony with a mature and realistic attitude;
"Them mistakes I will learn from them… Rebuild the bridge that I burned down then… You're older, I'm wiser, let's paint this picture perfect."
Whilst inspiring the strength needed to turn the rare gift of a second chance into a success, Second Chance uniquely delves into what it takes to truly man up and evolve emotionally in order to regain the respect of the person you hurt; "Went from up to down, to I nearly drowned, and now we're back around 360."
3. Shinedown – Second Chance
Shinedown's single, Second Chance, isn't specifically a love song, but its eminent message of second chances relates back to our concept in a round-about way.
Padding their melodic metal track with symphonic string sections mirroring their impassioned theme of rising from the ashes, this track's melancholic yet realistic message suggests that the only way to gain the second chance in love you deserve is to say goodbye and start again elsewhere.
This is a track for anyone who's exhausted all possible solutions to repair their relationship, and finds themself evermore in tune with nature's omens, encouraging them to cut all ties holding them down;
"I just saw Halley's comet, she waved, said, 'Why you always running in place?' Even the man in the moon disappeared, somewhere in the stratosphere … I'm not angry, I'm just saying sometimes goodbye is a second chance."
4. Hugh Grant & Haley Bennett – Way Back Into Love
Hugh Grant & Hayley Bennett's pop collab, Way Back Into Love, captures a warm and youthful message of love, healing and discovery, splitting its verses between male and female vocals and perspectives in a sweet manner reminiscent of the High School Musical soundtrack.
Way Back Into Love illustrates the emptiness that assumes the space of a lover after breaking up, the narrators surmounting their misery with the hope that life will one day shift back into the light;
"I've been living with a shadow overhead, I've been sleeping with a cloud above my bed, I've been lonely for so long … I've been setting aside time, to clear a little space in the corners of my mind, all I want to do is find a way back into love."
Whether you're looking for a second chance with your ex, or a second chance for yourself with a brand new partner, this is the track for you!
5. Kiana Ledé ft. 6LACK – Second Chances
This serene pop / R&B collab by Kiana Ledé and 6LACK grounds itself in the essence of clarity after chaos, refusing to explode into anthem-like energy, instead conserving its soundscape to reflect the maturity of letting go.
Circling around the lines, "No more second chances," Ledé illumines the empowered perspective of a lady that's had enough of her man's manipulation, her open-ended lyrics letting you place your own story within the song;
"You just sent a paragraph and I left you on read, 'cause I know your motives and I'm twenty steps ahead… You missed out on a blessing, I made you the king of my world … It'd be wrong for me to stay, 'cause that means you got your way."
With 6LACK's verses uncovering the ex-boyfriend's perspective, Second Chances is a track for any couple pushed past the point of no return; "Second chances they don't come so I be real, walking out on me is just a hard-to-swallow pill."
6. 38 Special – Second Chance
Blending retro country rock within an '80s pop atmosphere, 38 Special's single, Second Chance, evokes its heartbreak theme with a nourishing, nostalgic approach, both in sound and in lyrics.
This track paints a scene of grey despair after a relationship's end, composed with an array of timeless sentiments surrounding loss and loneliness;
"Since you've been gone I've been in a trance, this heart needs a second chance, don't say it's over, I just can't say goodbye … Since you've been gone I feel my life slipping away… All I made was one mistake, how much more will I have to pay?"
Second Chance is embellished with the blunt question every song so far has danced around, crafting a track for those truly getting to the heart of their problems with their ex; "Why can't you forget about the past?"