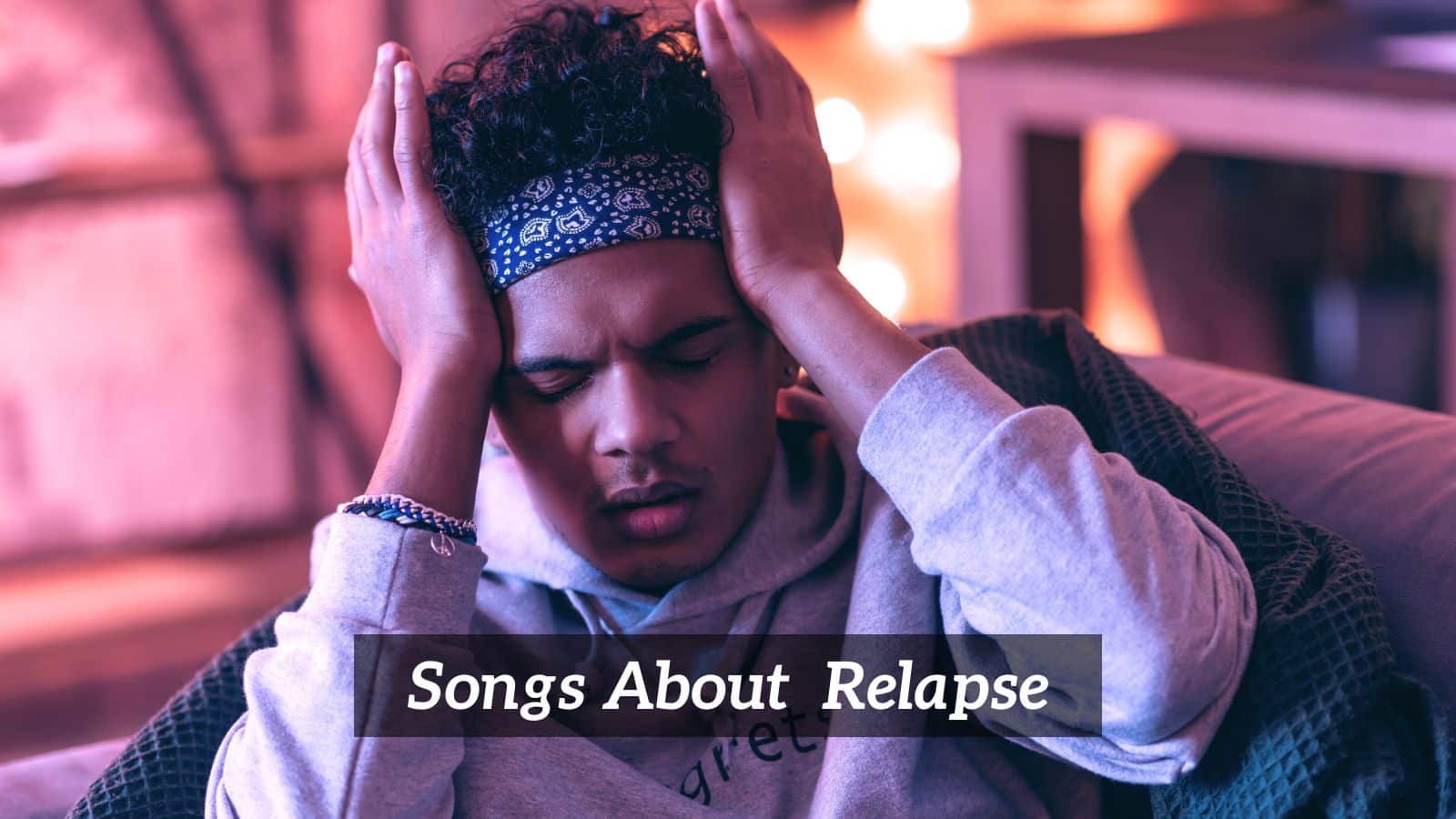 Relapsing is as much a part of recovery as the decision to get sober itself. While it is a horrific strain upon your wellbeing, relapse is a natural part of the healing process that always ends up bestowing wisdom upon you once the smoke has cleared again.
Our list of songs about relapse shows that there's always something to gain from your bleakest moments, shining a light on what it is to be addicted, while giving you every ounce of strength and support you need to break free of your own isolating battles.
Songs About Relapse
1. Demi Lovato – Dancing With The Devil
Demi Lovato's discography hosts a complex of deep songs about self-discovery and self-destruction, one of the most prominent being her 2021 single, Dancing With The Devil.
She carves a distinct image of what it's like to sink back into relapse and make excuses for yourself to support your conscious downfall, "It's just a little red wine, I'll be fine, not like I wanna do this every night, I've been good, don't I deserve it? I think I earned it, feels like it's worth it in my mind."
This was one of Demi's first singles after her near-fatal relapse in 2018, and gives us one of the clearest insights into what it's like to convince yourself it's okay to fall back into your old habits, only for them to destroy you even harsher than they did the first time.
2. Eminem – I'm Having A Relapse
Eminem is sadly no stranger to addiction, releasing over an album's worth of songs about his internal conflicts over the length of his career.
I'm Having A Relapse is a psychotic look at a mental breakdown, harbouring almost non-coherent tangents into various intrusive thoughts of murder and insanity.
His lyrics are laced with psychiatric and illegal drugs, razor blades and shaking a baby to death, making for a captivating song with a narrator dissociated far past the point of no return.
3. Nessa Barett – Dying On The Inside
Dying On The Inside is a look into the self-inflicted torture of eating disorders and addictive habits.
Nessa Barret's dark pop track seeps with an Eilish ambience, as she floods her lyrics with bittersweet truths and clever word play on self-inflicted starvation, "What if I didn't do this to my body, what if I quit and then you don't want me, it's the dinner conversation no one talks about, don't know how much longer I can keep this down."
A morbid social remark underscores the track, highlighting the sick love people give as you're getting thinner, "Did you change your hair, did you lose a little weight? You should keep it up 'cause it really looks great, I hate that I always look my best when I'm dying on the inside."
This is a hallmark track for anyone struggling to find peace with their appearance.
3. Macklemore & Ryan Lewis FT. Ben Bridwell – Starting Over
Macklemore's album track Starting Over lays bare his struggle between sobriety and relapse. Macklemore details being upheld as a "saint" for publicly getting sober in the past, but after relapsing, feels burdened by a whole new type of pressure.
Macklemore comes clean about unintentional pressure from his fans, embedding many lines that show how hurtful it is to not maintain the strength people think you do;
"Every kid that came up to me and said I was the music they listened to when they first got clean, now look at me, a couple days sober … Somebody stops me and says 'Are you Macklemore?.. I just wanted to say that if it wasn't for [you] I wouldn't have made it.. she tells me she has 9 months and that she's so grateful… I barely got 48 hours."
This track gives the clear-headed self-assessment every addict needs to embrace in order to understand why they relapsed, while showing that your addiction hurts those who believe in you just as much as it hurts yourself.
4. Tom MacDonald – Withdrawals
Withdrawals exposes the truest aspects of suffering through withdrawal symptoms, anchored by the line, "What is almost killing me is being sober."
Tom MacDonald opens his track by admitting throwing his pills away, in the dark of his doctor's knowing, detailing the horror of withdrawal which follows, although he knows it's for the best;
"Is this the moment when I need a donor? Liver failing from the liquor pouring, all the room is spinning, and it ain't vodka, soda."
His gut-wrenching melancholy is clear-cut in his chorus, shining a light into the pit of isolation that addiction brings, through either binge drinking alone or dealing with sobriety in social situations;
"Really wish that I was drunk with all my friends, I'm gonna beat it or I won't and overdose, really wish that I was high with all my friends."
5. Chase McDaniel – Relapse
Chase McDaniel's track pulls us from the depths of sorrow that often haunt songs about relapse.
Relapse is about struggling to resist your ex and even though you know it's a bad choice, it doesn't stop the addictive thought of her from intoxicating you every day.
He metaphorises his trouble perfectly, "Get her out of my veins," while revealing the harsh extent of the control he needs, "Lock me in the house, never let me leave, keep me from my car, go hide away my keys, I think I'm gonna relapse."
This is a song for anyone feeling like they need rehab after an addictive relationship.
6. Burden – Addiction
Burden's track is like an open diary of someone struggling after a long history of relapsing.
Addiction looks back on over 6 years of addiction and where it has led the narrator, "I used to use it to escape and now I feel great and now I feel trapped and now I feel alone … This ain't how I wanted to be, this ain't how I thought it would feel."
Burden depicts the judgement that deters people from seeking help, although they know they might die without it.
He also gives insight to the crippling loneliness that wraps itself so tightly around an addict that it becomes a straitjacket, "I know that there's so many people like me yet I feel all alone."
Despite the gruelling battle Addiction is based on, Burden ends his track with optimistic lyrics, resounding as honestly and hard-hitting as the track's pessimistic impact;
"My greatest moments could never be my greatest moments without my greatest defeats."