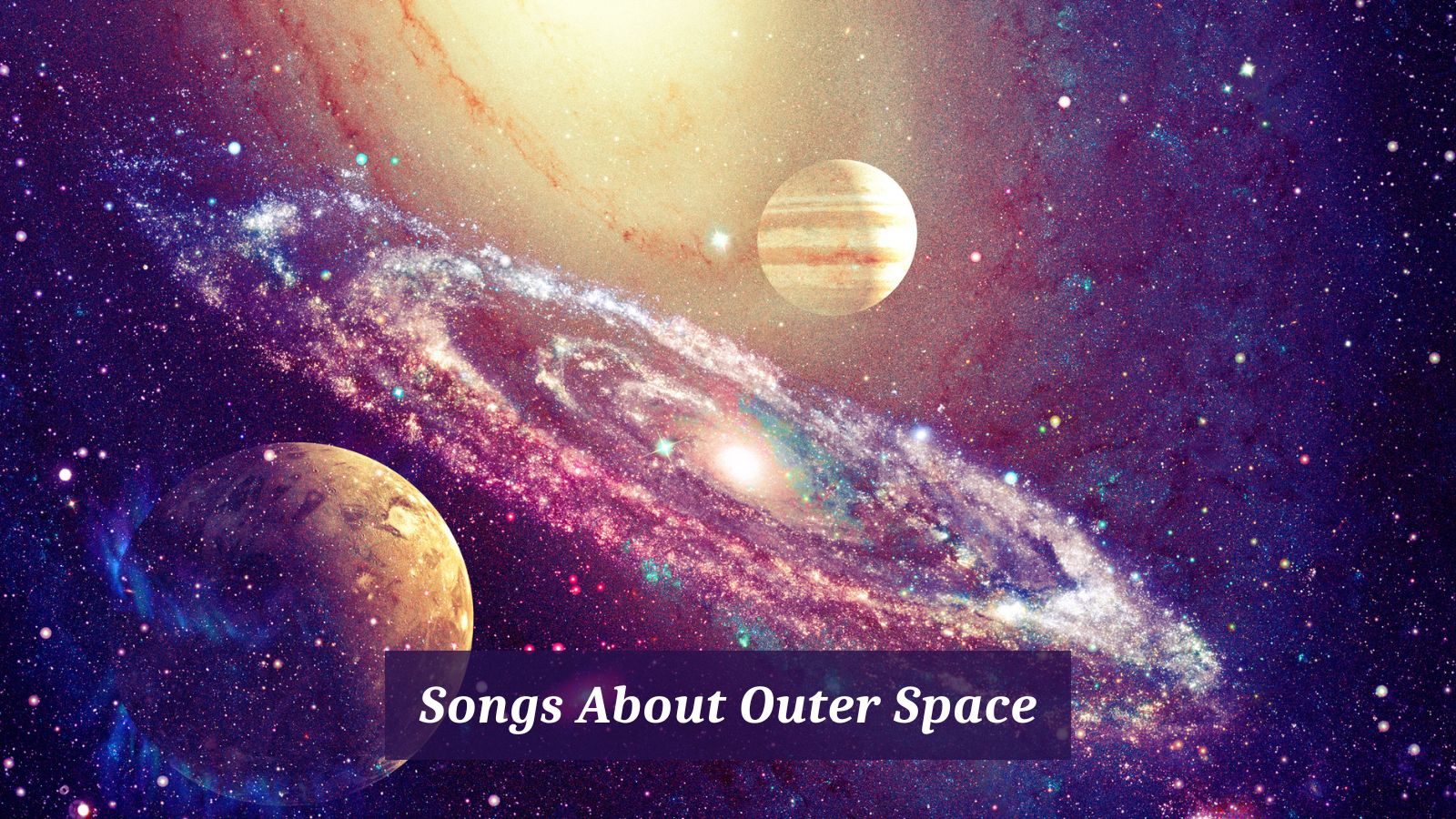 Music about outer space is often flooded with wonder for the unknown, the spark to achieve the impossible, or lie enchanted eternally beneath the waltz of starlight.
But the concept of outer space is intrinsically profound, illuminating the most complex and existential parts of our experience, such as emptiness and the vital need for communication.
Our playlist of pop and rock songs about outer space travels to every corner of the cosmos, whether you're seeking a track to disperse your inner loneliness, or if distance is exactly the thing you're seeking.
Songs About Outer Space
1. David Bowie – Space Oddity
One of the most iconic rock tracks about outer space, David Bowie's 1969 hit single, Space Oddity, details an astronaut embarking on an interstellar mission, abandoned whilst drifting through the abyssal depths of space and entombed within a dead rocket.
This vintage Bowie track is seeped in theatrics and retro futurism, its adorning string sections capturing the lush vision of floating through a starlit universe being just one of many sonic elements inspired by extraterrestrial wonder.
Weaving transmissions to and from NASA control betwixt eerie descriptions of perceiving your home planet as a mere speck on the fabric of the universe, Space Oddity is a track of homesickness, adventure and existentialism as much as it is a story about a doomed astronaut;
"This is Major Tom to Ground Control, I'm stepping through the door, and I'm floating in a most peculiar way, and the stars look very different today."
2. Sam Ryder – Space Man
Whilst Bowie's track is likely the most famous piece of 20th century space-themed pop, Sam Ryder's 2022 Eurovision runner up track, Space Man, is the interstellar anthem of the next generation, grounded in a similar concept of homesick emptiness;
"I'm up in space, man, I've searched around the universe, been down some black holes, there's nothing but space, man, I'm in the wrong place, man… And I wanna go home."
Acclaimed for his stunning live energy, Ryder masterfully hides his track's despairing existential themes behind blinding rays of optimism, anchoring his lyrics in the ethereal envisionment of a better life;
"If I was an astronaut, I'd be floating in mid-air, and a broken heart would just belong to someone else down there, I would be the centre of my lonely universe, but I'm only human and I'm crashing down to earth."
3. Ariana Grande – NASA
Appearing on Ariana Grande's #1 album, Thank U Next, NASA translates the independent, distant nature of deep-sky starlight into a love song about needing space from your partner.
This bubblegum pop track harbours an array of stunning space-themed lyrics alongside cosy imagery, crafting an anthem soaked in feminine empowerment and self-love;
"Really don't wanna be in your arms tonight, I'll just use my covers to stay warm tonight … You'll be my rise and shine soon as them stars align … Give you the whole world, Imma need space, you know I'm a star; space, Imma need space"
Grande's title inspiration comes from her pre-chorus metaphor for finally bridging the distance between worlds once the time is right, allowing you to achieve the impossible;
"Baby, I can't really miss you if I'm with you, and when I miss you, it'll change the way I kiss you, baby, you know time apart is beneficial, it's like I'm the universe and you'll be N-A-S-A."
4. Conan Gray – Astronomy
Conan Gray's 2021 release, Astronomy, uses the concept of orbiting planets to depict a romance that's doomed to fail.
Conan draws on the nature of love-fuelled adventures, the sweeping tides of distance and the inevitability of one day crossing worlds again, comparing intense, short-lived relationships with the fleeting planetary dance;
"We've travelled the seas, we've ridden the stars, we've seen everything from Saturn to Mars, as much as it seems like you own my heart, it's astronomy, we're two worlds apart."
Astronomy's velvet, clear-skied soundscape evolves with a warm flair of nostalgia as if reminiscing on nebulae seen whilst plummeting to the void.
Gray's underlying theme of finding beauty in the impossible dark is torn apart during the bridge, accompanied by a suffocating, sonic sway into airless hallucination; "Stop tryna keep us alive, you're pointing at stars in the sky that already died."
5. Sleeping At Last – Saturn
This cinematic track by Sleeping At Last embodies the harmonious miracle of life within the universe, its message centred around death opening your eyes to all you've been blessed with.
Saturn is dedicated to the departed in thanks for their incomparable impact, whether you relate their lyrics to the dead, or simply an ex or old friend lost somewhere along the way.
This is a track that finds overwhelming beauty in the shadow of mortality, revealing the soul within the lifeless expanse above.
Sleeping At Last capture the otherworldly effect of a person now seated in the heavens, spinning their sentiment with breathtaking outer space imagery such as;
"You taught me the courage of stars before you left, how light carries on endlessly, even after death, with shortness of breath, you explained the infinite, how rare and beautiful it is to even exist."
6. Bob Marley – Out Of Space
Bob Marley's track, Out Of Space, uses its pure and positive reggae energy to dispel all fear of the devil, making way for a new era of peace.
Anchored in the lines, "I'm gonna put on an iron shirt and chase the devil out of Earth, I'm gonna send him to out of space to find another race," Out Of Space is a track about sending negativity into interstellar oblivion, cleansing the world of injustice, trauma and turmoil with a bulletproof attitude.
In Marley's iconic fashion, Out Of Space is an inherently feel-good piece, its lyrics effortlessly relating to any of life's troubles which need removing.
7. Frances Forever – Space Girl
Frances Forever's indie pop track, Space Girl, tells a quirky love story using the characters Earth Girl and Space Girl; a colourful analogy for two bodies ruled by distance and difference.
Space Girl uses its mild eccentricity to paint stunning metaphors of falling in love to a wild extent; "Space girl, I saw a lunar eclipse, looked like how I feel 'bout your lips, space girl, the only way that we'd end, was if you were sucked into a black hole, but I'd still spend my days dreaming 'bout you."
Weaving astrology within her lyrics, Frances Forever devotes her harmony to dreaminess, embellished with backing vocals contributing layers of dimension to the track's sunshine atmosphere; "Show me the stars, you know the galaxies of my heart, girl are you a Cancer? 'Cause you make me cry."