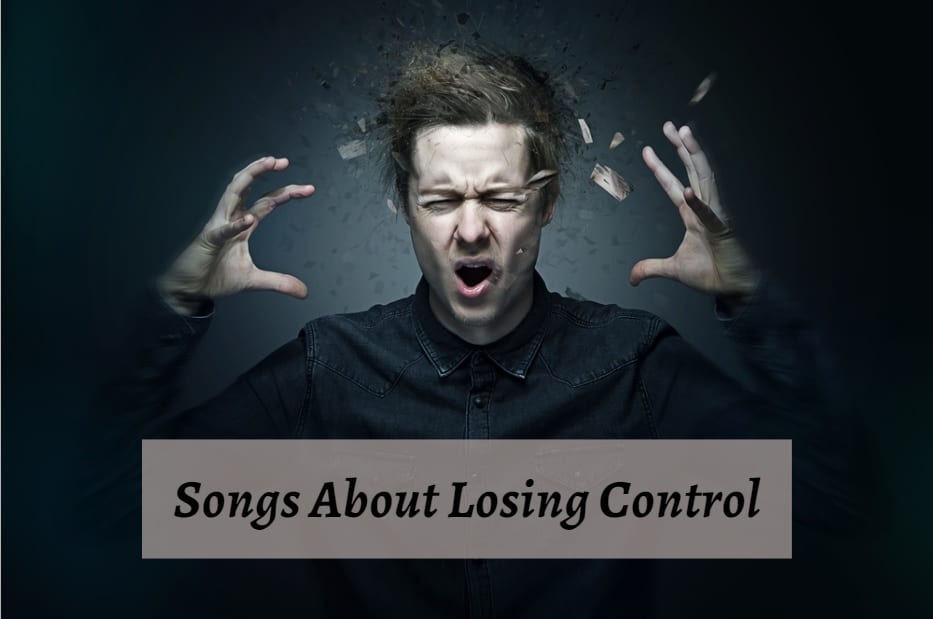 Songs About Losing Control
1. 'Losin' Control' by Russ
Russ is a self-produced rapper based in the US. This track didn't follow the once established traditional route of being signed, recorded and released.
Instead, Russ published this song on the SoundCloud platform in November 2015. It then appeared again on his first album titled 'There's Really A Wolf' (2017).
The entire track was written and performed by Russ. He also mixed and mastered the song. Such is the popularity of the song that it has attracted nearly 400 million YouTube views.
The lyrics of the song tell us of a woman who has endured an unpleasant past relationship and now has trouble believing in a new love. She is falling for this guy and losing control, uncertain whether he'll be true or let her down.
2. 'Losing Control' by Justluke
Released through Future House Music, this track hit the airwaves in late 2019. With this song, we step into cool electronic music with tight drum beats, sexy synths and pumping bass lines.
The track as far as I can discover was released only as a single and has enjoyed some significant success. Justluke has successfully produced a string of songs with the latest titled 'Lunacy' (2022) that features Shira.
The female vocalist sings about enjoying losing control and the freedom it can bring when you know who you are and where you're going.
There's a gentle build to this track with the characteristic drops just where you want them. Great feel to the song that nicely conveys a positive side of losing control.
3. 'Lose Control' Hoober & Jex
If you're not familiar with this duo, Jex or rather Jex Jordyn, is the vocalist and Hoober (Giovanni Testa), is an electronic music producer who specialises in Trap and Dance Pop.
Hoober has made several releases in current years with the 2018 release of 'Been the Man' selected for an award by the NBA in 2019. He is considered to be a major, upcoming producer to watch out for.
Jex is New Jersey born and is gaining a reputation not only for her exceptionally expressive vocals but for her songwriting too. Jex's performances always seem to have a breathless allure to them and her vocals in this song are no exception.
'Lose Control' presents a clever, quite dark set of lyrics. The track isn't simply about someone losing control but more a battle for control over someone you loved who thinks they control you.
What's apparent is that Jex is cooking up a nasty surprise for her ex-lover that'll leave an indelible mark.
4. 'Losing Control' by Kieran & Mitchy Katawazi
This, as far as I can ascertain, is another self-released track from German producers Kieran and Mitchy Katawazi. These guys have gathered a huge social following over the past few years.
Their Spotify streams have topped a million and continue to push up. Following the success of 'She's So High' (1999), this duo are renowned for their 'slap-house' production and perfect mixes. Interestingly, they are supposed to have met through having the same barber.
The song was released in July 2020. The narrative is a familiar one of a couple who has struggled to remain together despite many troubles.
Somehow the thread, as shown in the video, that linked them together has broken and neither of them can find the other. They've lost control of themselves and their lives together without a way back.
5. 'Losing Control' by After Midnight
This energetic, grungy track was released in 2013 as the first track on their album called ' My Deepest Secret'. After Midnight is a rock quartet from Assenovgrad, Bulgaria. Their sound gives nothing away about their origins.
If anything, they sound more like Nickelback than Nickelback does. On one of their promotional pages, they are compared to 30 Seconds To Mars and I think that if this style of music turns your pages, then this is a reasonable link.
It's powerful music that is delivered passionately. The performances of all the tracks are highly polished with some first-class mixing to add that final sparkle.
As a group, they've been together since school days with the lead vocalist credited with penning most of the tracks. 'Losing Control' offers everything you might wish to hear from an unashamedly heavy rock track including double drum pedalling, power-chords and gritty, angst-ridden vocals.
The song is about losing control in a relationship that's gone south. The key line is "losing control of me", which has happened in this toxic affair.
6. 'Lose Control' by Meduza, Backy Hill, Goodboys
"Will you be the one to call, when I lose control?" Here is the centre and chorus of this slick, deep house, dance track. The song reached the headphones of the fans in 2019 and was well received.
It reached number eleven in the UK charts that same year. The artists involved in this song are the Italian producer Meduza, the UK production team called Goodboys and the singer from the UK, Becky Hill.
The track was part of the album titled 'Get To Know' that hit the headlines in October of 2019. Similarly, to other songs listed here, the lyrics focus on someone on the edge.
They are going to lose control of themselves and want to know that that special someone is trustworthy. Will they be there when it all goes wrong? It's a cry for love, support and understanding.
7. 'Losing Control' by Carla
Carla is an emerging talent with growing numbers of followers across the globe. Broadly placed in the category of pop this song has a greater depth than may be obvious on a first hearing.
It is a very polished song that contains a compelling narrative. Here the singer openly places her feelings and difficulties out there for everyone to know.
She recognises that she's not perfect and that she struggles with herself, yet in the middle section she shows a determination to pull through and set things straight even at great cost to herself. The song was released in late 2020.
8. 'Lose Control' by Vök
When I first heard this track, I was convinced that it was a Björk song I hadn't had the opportunity to hear. Perhaps I could be forgiven as Vök are an Icelandic band that got together around 2013.
It was the lead singer Margret Magnusdottir and saxophonist Andri Enoksson who originally formed the group and who have led it successfully forward with their unique brand of soft, indie pop music.
Vök has released three albums to date, 'Figure' in 2017 and 'In the Dark' in 2019. Their most recent release is 'Miss Confidence' which came out in 2022. This is an EP containing three new songs, the second of which is 'Lose Control'.
Like many of Vöks songs, the track is semi-autobiographical, detailing the life and experiences of the Magnusdottir. In this track, she falls for another girl and loses control of herself in the heat of passion and infatuation.
The gently persuasive music lulls you into the narrative and the dreamy haze that she enjoys in the video. Magnusdottir simply explains that this track is "just me fantasising about my girlfriend".
9. 'Lose Control' by Matt Simons
From being a self-releasing artist to a chart-topper is the journey of success Matt Simons has had. Simons is a Brooklyn, New York City-based singer-songwriter whose first tracks on 'Living Proof' came to our ears in 2012. Simons's most recent full album is titled 'Identity Crisis' (2022).
'Lose Control' formed part of the EP Simons titled 'When the Lights Go Down' that was released in 2016. The songs are love songs. He asks that eternal question, can two people in love escape together, lose control of each other and forget the world?
Stylistically, the track seamlessly blends elements of Country and contemporary slick beats with washy backing synths. The production of the song is extremely good and frames Simmons's songs beautifully.
There is a touching fragility to Simmons's voice in a similar vein to Sam Smith and possibly even Ben Folds. It lifts and defines the song for me.
10. 'Lose Control' by Ken San Jose
This single comes from 2019 and was followed up in 2020 by 'A Chance to Hold'. Ken San Jose is perhaps better known as a hip-hop dancer rather than as a singer, but he has been remarkably successful with both arts.
Jose is based in the US where he has won several dance competitions. Jose has even been featured in some TV advertisements.
In the video, for this track, Jose ably combines his dancing talents with his facility for the song. It is an upbeat pop track that has been well-produced for the market.
It follows the well-trodden structural pathway with drops and rises in just the right places. Lyrically, Jose is inviting a girl he adores to be with him.
He knows that she's hurting but he wants to help her and hopes that together they can lose control in love.