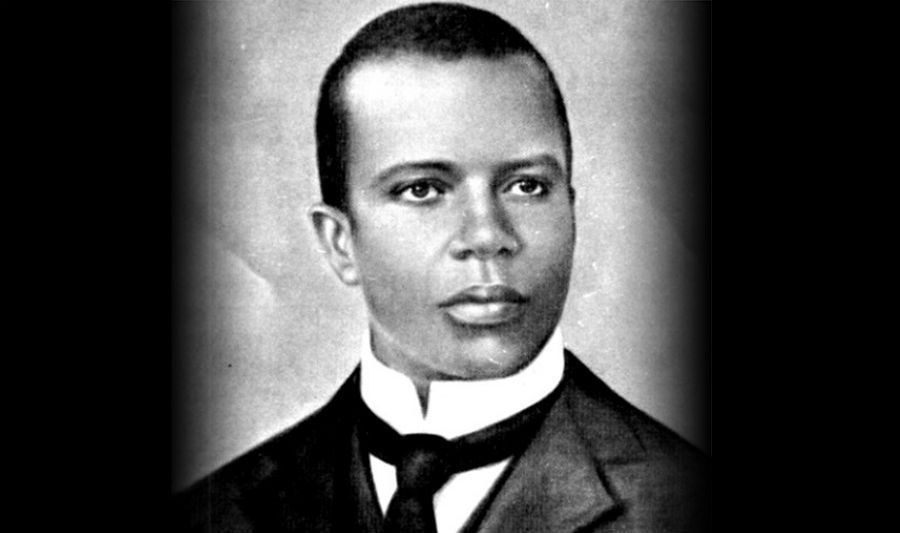 The African-American composer and pianist, Scott Joplin (1867/68-1917), is America's preeminent ragtime composer. He did not create the genre but raised it from the dance halls in red light districts to respectable homes and, ultimately, the concert stage. His influence as a classically-trained musician and teacher continues to be celebrated, particularly at the annual Scott Joplin festival in Sedalia, Missouri, where he studied, taught music, and wrote his most famous piano piece, Maple Leaf Rag.
Joplin was born the northeastern part of Texas sometime during either the second half of 1867 or early 1868. A few years later, the family relocated to Texarkana on the Texas-Arkansas border. His early exposure to music came from his parents–his father played the violin and his mother sang and played the banjo. His mother worked as a laundress and cleaned houses. She would take him to work with her so he learned to play piano at her employer's home.
His first piano teacher, a German immigrant named Julius Weiss, taught him piano and instilled an appreciation of a wide range of musical styles from folk to classical. Joplin studied with him for five years until he was 16, and then started performing around Texarkana. He left home in the 1880s to support himself as a traveling musician, entertaining in saloons and brothels. He frequently played his own works that combined traditional waltzes and marches with African-American rhythms.
He reached Chicago in time for the 1893 Chicago World's Fair where he and his band played on the outskirts of the fairgrounds. He met several other black musicians, including Otis Saunders who became part of Joplin's band and encouraged him to publish his original compositions.
Joplin settled in the booming railroad town of Sedalia in 1894. He performed in local clubs with the Queen City Cornet Band and with other music groups throughout the country. In 1896, he enrolled in Sedalia's George R. Smith College to pursue his formal music training. This school was a historically black college, founded in 1894. It was associated with the Freedmen's Aid and Southern Education Society of the Methodist Church, and was named after the man who founded Sedalia.
The details of writing music came easy for Joplin and he soon got some of his works published. His popularity throughout Sedalia was matched by the respect others had for him as a musician. He taught piano and some of his students also became ragtime pianists. It was an event that took place in 1899 that made Joplin a nationally-recognized household name.
Sedalia had a local music store owned by a white businessman, John Stillwell Stark, who also served as a music publisher. In 1899, Stark published Joplin's most famous piano piece, Maple Leaf Rag, and it became an instant success. This led to the composer being called "the King of ragtime writers" by Joplin himself and others. He earned royalties on it the rest of his life. The work became the model for other piano rags and is still popular. After Maple Leaf Rag, Stark published and promoted many of Joplin's works.
With the national success of Maple Leaf Rag, Joplin decided to move to St. Louis in 1901. His publisher and some of his musician friends had also moved there. Joplin wrote several new works including a ballet and opera, taught music, and performed with his friends in and around the city. His new pieces got the attention of the St. Louis Choral Symphony Society conductor, Alfred Ernst, who referred to the composer as "an extraordinary genius."
While in St. Louis, Joplin's new compositions included another well-known piano rag, The Entertainer, written in 1902. This piece was featured in the 1973 motion picture, The Sting, as were some of his other works. The movie helped revive ragtime music and re-introduced Joplin to the public. Music festivals and concert performances also keep his music alive. The 2015 Scott Joplin Ragtime Music Festival is held June 3-June 6.
He moved to New York in 1907 where he continued to write and perform. His second opera, Treemonisha, never received the financial backing needed to be fully produced during his lifetime. It was not presented in its entirety until 1972 by the Atlanta Symphony under the direction of Robert Shaw and the Morehouse Glee Club directed by Wendell Whalum. He was posthumously awarded the Pulitzer Prize in 1976 for his contribution to American Music.
His second-floor apartment in St. Louis where he wrote The Entertainer is a Missouri State Historic Site, a U.S. National Historic Landmark, and is on the National Register of Historic Places. A bronze bust of Joplin is in the Hall of Famous Missourians in the Missouri State Capitol in Jefferson City.