On 10 August 1895, the first in a series of promenade concerts was held at London's Queen's Hall. The goal was to offer classical music performances at a price more affordable to wider sections of the public.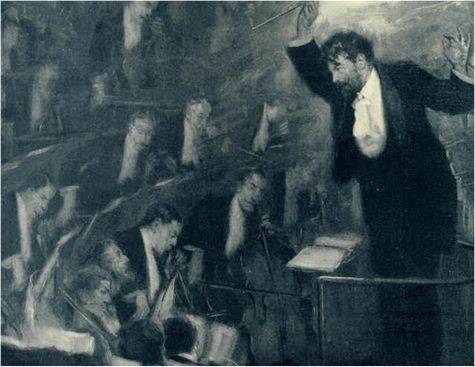 The concert opened with Wagner's Rienzi overture, which a review in the following day's edition of the Guardian newspaper described as having "evoked an outburst of enthusiasm of quite southern warmth." Overall, the evening was "brilliantly successful," although the audience was "a little unreasonable in the matter of encores, perhaps, on a Saturday night this may be forgiven."
The concert was masterminded by young conductor Henry Wood, who had been engaged by Robert Newman to help realize his plan of holding concerts playing classical and popular music for a new audience.
The patrons at the first concert of the Proms enjoyed themselves in quite a different environment to those attending the largest classical music festival in the world over 120 years later. Smoking was permitted in all areas of the hall, and tickets in the promenade cost a shilling each. Smoking was only formally banned at the Proms in 1971.
The program of the first evening also included performances of Liszt's Hungarian Rhapsody, Chopin's Polonaise in A Major, and, after an interval, a selection of pieces from Carmen.
During the first season, Wood featured the Unfinished Symphony and Great C Major symphony by Schubert, Mendelssohn's Italian Symphony and Schubert's Fourth.
Wood remained part of the Proms until his death in 1944. In 1941, the Queen's Hall was destroyed in a bombing raid, resulting in the concert series moving to its current location of the Royal Albert Hall.
Wood won international acclaim and was offered positions as conductor of the New York Philharmonic and Boston Symphony Orchestra. However, he insisted he had a duty to promote classical music in the United Kingdom. After his death, the Proms were officially renamed the Henry Wood Promenade Concerts, although it was the shorter name that stuck.
In 2016, the 122nd season of the Proms consists of over 90 concerts for eight weeks. It opened on 15 July with a performance of Elgar's Cello Concerto.