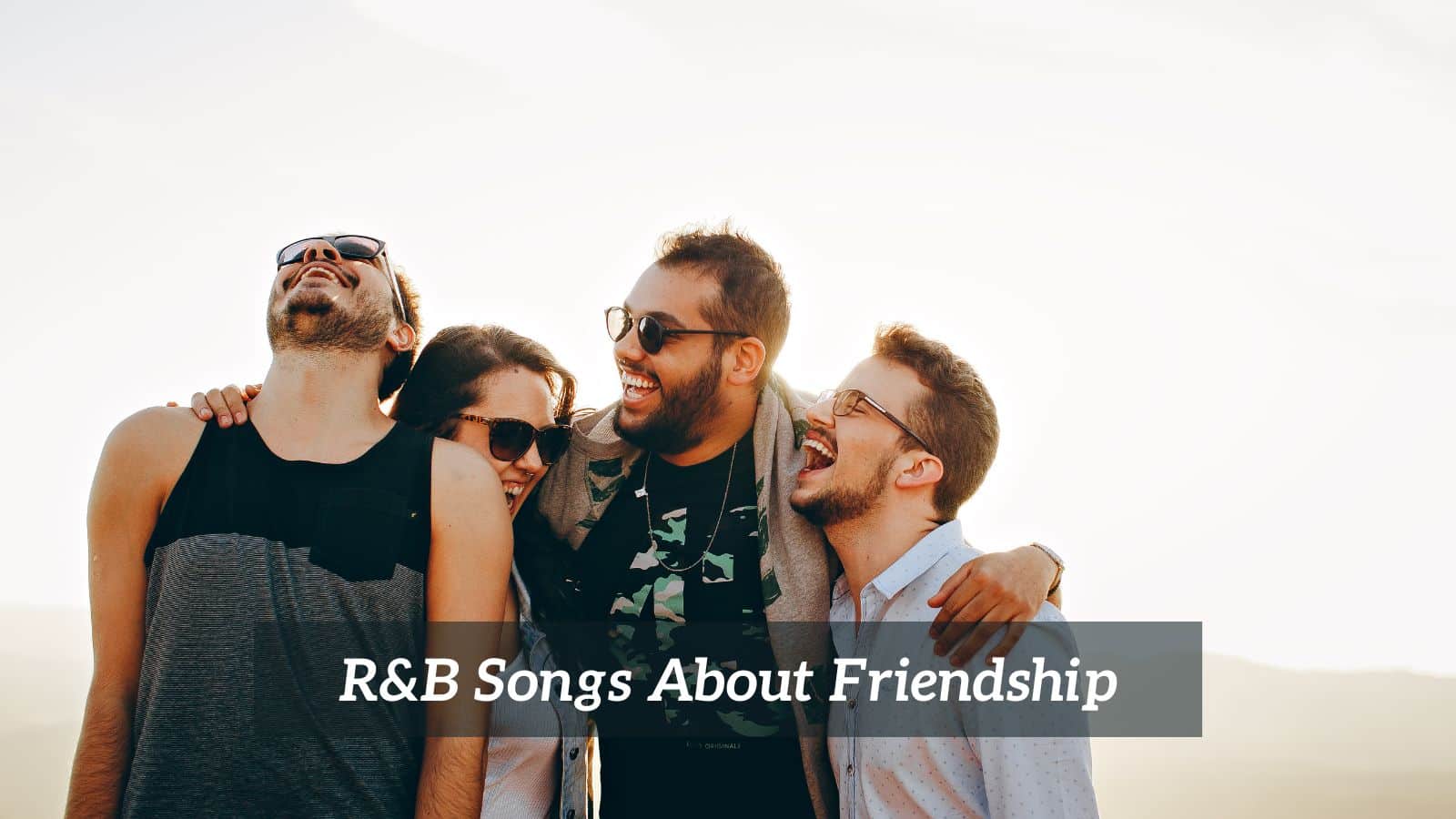 Friendships are some of the brightest relationships we ever form throughout our lives.
While family and romantic relationships are bound by unconditional love, breeding all kinds of resentments over the decades that pass, friendships carry an eternally pure ambience of freedom, youthfulness and escape no matter how old you get.
Our list of R&B songs about friendships covers it all, from the pure support of being there for one another, to the indiscreet desire to break the boundaries of friendship and take it to the next level.
R&B Songs About Friendship
1. Brandy – Best Friend
Brandy's 1994 track Best Friend is mesmerisingly clean and catchy, singing every praise to her best friend. She details every little thing her best friend inspires within her, padding her lyrics with pure positivity, sisterhood, strength and truth.
From being the person that always lifts your spirits, to highlighting the comforting consistency of support, Brandy captures the profound impact of the uncomplicated love conjured between friends;
"Don't know what I'd ever do without you, from the beginning to the end, you've always been here right beside me, so I'll call you my best friend, through the good times and the bad ones, whether I lose or win, I know one thing that never changes, and that's you as my best friend."
2. Trey Songz – Can't Be Friends
Trey Songz's track Can't Be Friends illustrates the seeping pain of breaking up with your woman and being consequently tormented by nostalgic dreams of her love.
Every relationship aims to end amicably, but the switch to being friends is a cruel change that often leaves you stranded with regretful attachments;
"Now I'm sitting here going half crazy, 'cause I know she still thinks about me too, and it ain't no way in hell, that I can be just friends with you, and I wish we never did it, and I wish we never loved it, and I wish I never felt so deep in love with you, and now it ain't no way we can be friends."
3. Mariah Carey – Anytime You Need A Friend
Mariah Carey's Anytime You Need A Friend is a luminescent and heart-warming track about committing yourself to being there for your friend.
Anytime You Need A Friend uses stunning, timeless imagery of faith, light and love to craft a song that gives strength to anyone encumbered by shadows
"Anytime you need a friend, I will be here, never be alone again, so don't you fear, even if you're miles away, I'm by your side, so don't you ever be lonely, love will make it alright, when the shadows are closing in and your spirits diminishing, just remember you're not alone, and love will be there to guide you home."
4. Kelly Price – Friend Of Mine
Kelly Price takes the sweet and supportive concept we expect, twisting it into an example of ruinous betrayal.
Friend Of Mine demonstrates the depth of the narrator's bond with her friend, "I put all my trust in you baby, she was my best friend, roll with me through thick and thin, my homie, sisters to the very end," against the shocking complex of discovering her friend was cheating on her husband, "I put my trust in him, I can't believe he slept with her behind my back, I went out on a limb… but he betrayed me."
Kelly Price's warm and natural tones create a space of sanctity for anyone suffering through one of the worst types of heartbreaks; when you're forced to cut ties with the two closest people in your life.
5. Usher, Ludacris & Lil Jon – Lovers And Friends
This R&B collab from Usher, Ludacris & Lil Jon blurs the line between lovers and friends to dispel the messy emotional confusion of attraction and unwillingness to commit.
This is a song for anyone who can't settle with subduing their crush for the sake of prolonging the friendship, finding themselves tangled in a FWB situation;
"Tell me again, that we'll be lovers and friends, sometime wanna be your lover, sometime wanna be your friend, sometimes wanna hug ya, hold hands, slow dance while the record spins."
6. The Hamiltones – Best Friend
The Hamiltones blend their fresh R&B track with a plethora of different musical influences, weaving striking elements of jazz, soul, pop and more into their unique tapestry of sound.
Their captivating harmony is topped with graceful poetry plush with true love for their partner, but written with the aura of a best friend.
For love to be true and fruitful, it needs a solid foundation of friendship; a sentiment which The Hamiltones express perfectly, "Now I call you in the day and late at night, you give me advice, you tell me to hold on… When I am down and out in love, I want you and need you so bad, when I am weak and lonely, you're the best friend I've ever had."
7. The Carters – Friends
Beyonce & Jay-Z's collab, Friends is a captivating track which fuses R&B and hip hop influences together into a sleek yet mildly melancholic ambience.
Their message is solid, clear-cut and irresistibly catchy "Your friends are foes, my friends are goals.. They pull me up, never let me drown."
Through every disaster or disharmony that threatens to throw life off course, Beyonce & Jay-Z's verses are cloaked in the aura of support through the darkest moments;
"We smoke, we laugh, your stress my stress, closer than kin, I'm blessed you blessed… I'm pulling up on my dog, make sure he okay, I don't even have time.. I don't care if the house on fire, I'm dyin', n**** I ain't leaving."
This is a track that depicts the respectable perseverance of friendship through every downfall, while exposing the fact that if you can't be there, "we ain't meant to be friends."
8. Faith Evans – Sisterfriend
Faith Evans' dreamy R&B track captures the moment your bond becomes more than a mere friendship, adopting the roles of sisters rather than best friends.
Faith calls to her sisterfriend with the shining encouragement that sustains any sisterhood, "Ever felt broken in two, like you've been stepped on, hopes gone… Hold on and understand that you are stronger… If ever you're in need, I'll lift you higher, give you hope when you are tired, you can lean on me my sisterfriend."
Through her inspiring lyrics, Faith crafts an absolute anthem in the realm of R&B songs about friendships.