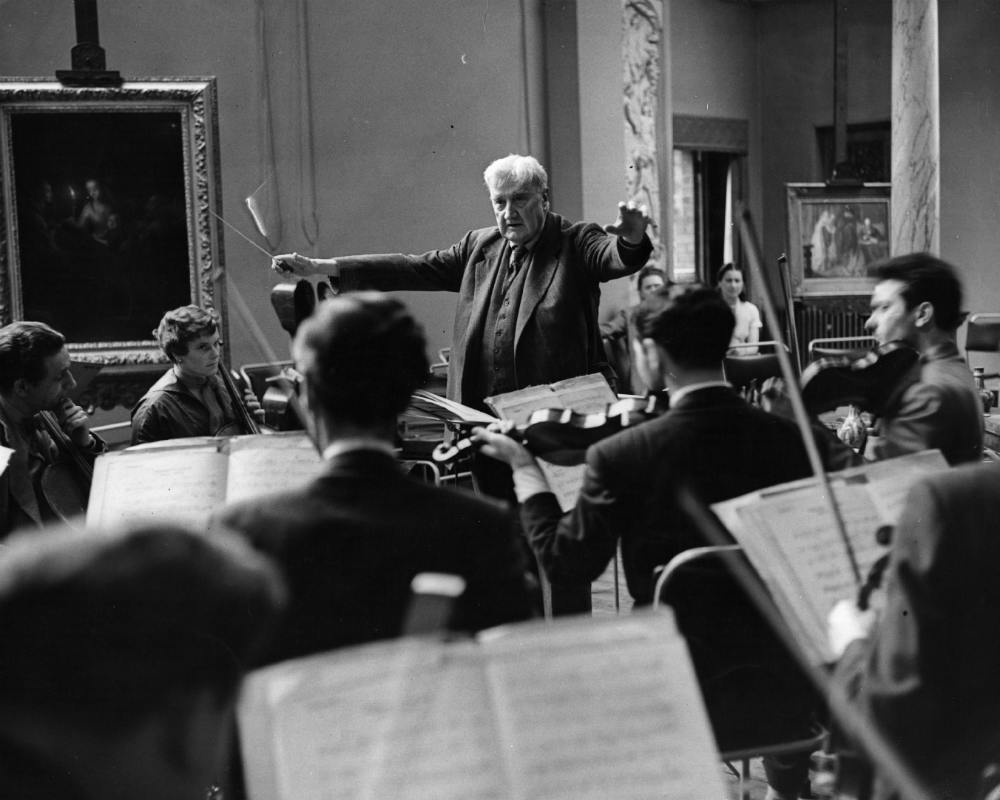 Vaughan Williams was born into an upper middle class family on October 12, 1872, in Down Ampney, where his father was the vicar of All Saints Church. After his father died in 1875, his mother took Ralph and his two siblings and returned to her family home at Leith Hill Place in Surrey Hills. His aunt gave him his music lessons and he composed his first piano solo, The Robin's Nest, when he was six years old.
He studied music at preparatory school and continued with in at Charterhouse School where he was a student for three years, from age 14 to 17. In September, 1890, he entered the Royal College of Music. It was through his teacher, composer Sir Hubert Parry, that he developed a great respect for English choral music. This influence of a national sound would become an important factor in the music of Vaughan Williams.
He received both his music degree in 1894 and history degree in 1895 from Trinity College, Cambridge. He accepted the position of organist at St. Barnabas in London in 1895 and spent four years there, gaining an in-depth understanding of good and bad church music.
Vaughan Williams' first published work, Linden Lea, was a song written in 1901 for voice and piano, based on a poem by William Barnes. During this time period, the composer wrote several songs based on poems of Christina Rossetti, Tennyson and others. However, there were still two more areas of music that would ultimately shape his musical style—English folk songs and hymn tunes.
English folk music had been passed down through oral traditions. In 1903, Vaughan Williams heard the folk song Bushes and Briars. He wrote down the words and music as well as information about where he had heard it. He began his extensive collection of folk music, writing it down along with the history. to preserve it for future generations. The melodies, with their simple beauty and atmosphere, influenced many of his original works. For example, he included folk songs from an English fishing port, King's Lynn, in his Norfolk Rhapsody No. 1 (1906).
From 1904 to 1906, Vaughan Williams was the musical editor for the English Hymnal. He wrote four original hymns for inclusion in the new hymnal, two of which are recognized universally: Come down, O Love Divine and For all the Saints. During this time, he studied the works of Elizabethan and Tudor composers including a psalm tune by Thomas Tallis which inspired one of Vaughan Williams' most famous works.
Fantasia on a Theme by Thomas Tallis was written in 1910 for string orchestra. The composer conducted its premiere in September 1910 at the Gloucester Cathedral for the Three Choirs Festival. The slow, poignant music seems as if it is floating through mist before introducing the theme. This work continues to be popular today and was used in the motion picture, Master and Commander: The Far Side of the World.
In 1914, prior to the outbreak of World War I, Vaughan Williams composed The Lark Ascending for violin and piano. It was not premiered until 1920. It was inspired by the poem of the same name by George Meredith about a skylark and his song. The composer's rescored version for violin and orchestra was premiered in 1921. The Lark Ascending frequently ranks as Britain's favorite work of classical music.
Vaughan Williams resumed conducting at the Leith Hill Music Festival in Dorking after the end of WWI. The concert hall, Dorking Halls, opened in 1931 as a permanent home for the festival. A monument of the composer stands outside the building with the dates inscribed regarding his time festival conductor (1905-1953). He died August 26, 1958. His funeral and burial were at Westminster Abbey.