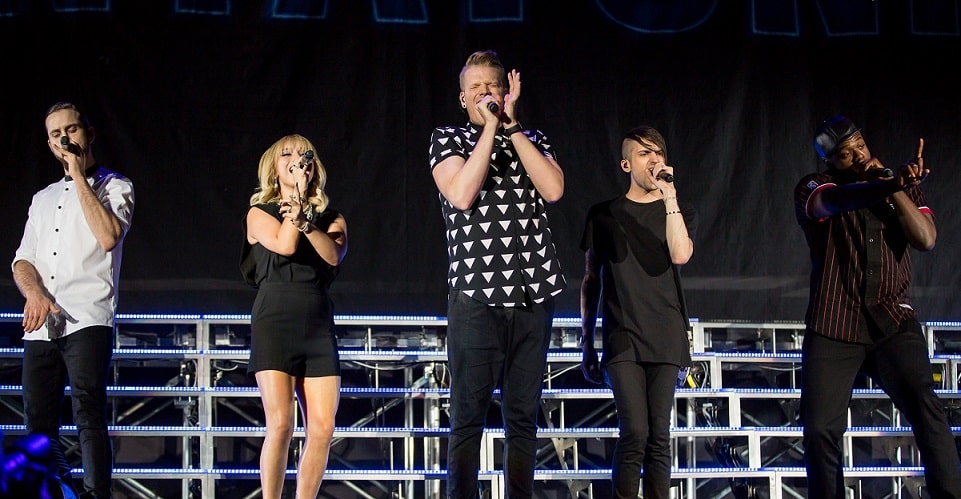 Biography of Pentatonix
Pentatonix is a five-person American group of singers popular for acapella music. They are distinguished by their contemporary format and display unique strengths at each position.
DISCLOSURE: This post may contain affiliate links, meaning when you click the links and make a purchase, I receive a commission. As an Amazon Associate I earn from qualifying purchases.
They have enjoyed the top place with ten albums, many Grammy awards and international popularity this century. Officially formed in 2011, the group proceeded to with the NBC TV acapella completion. Since then, the five have recorded multiple song videos before trying out their original compositions.
Early Years
Originally formed by high-school friends, Mitch Grassi, Kirstie Maldonado, and Scott Hoying, Pentatonix first got to limelight with their rendition of Beyonce and Lady Gaga's telephone.  The three schooled at Martin High School in Arlington, Texas at the time. They participated in the singing competition on a media station with the desire to meet members of Glee which was their favorite TV show then. Although they lost the competition, their performance became popular and their video spread wide on the Internet.
Cllge offered a great opportunity for the five talents to gather and fully explore their musical ideas. The acapella singing group was formed during their years in college that attracted other enthusiasts in this unique art of music. Scott was joined by other friends that laid a concrete foundation to the popular music band today. They added two more singers; Avi Kaplan sang bass and Kevin Olusola was a talented beatboxer. The five met together for the first time a day to the auditions at NBC TV.
Career
Kristie Maldonado and Scott Hoying were both in College at the time. They dropped out of College to channel their dedication to the competition with the hopes of winning. Mitch Grassi skipped his high school graduation for the sake of the show too. After they won, they moved to Los Angeles to pursue their dream career as recording artists.
Mr. Hoying suggested the name Pentatonix. The name of the group is evidence of creativity in these musical minds because it integrates concepts in musical notes and number of people in the band. This would be the most appropriated name for the five and global popularity.
The Singers
Born in September 1991, Scott Hoying is the songwriter and plays the piano. His role in the group is singing baritone. He has been on live performances since he was eight years old. With Grassi, he runs a popular show on Youtube that is popular to date in the global music industry. His voice can span a range of six octaves. Grassi met Hoying at age 10 in a school play.
Kirstie Maldonado was born in May 1992 and sang at a public event when she was only eight years. This performance led her to take lessons in music, specializing in vocals where she formed the acapella group with Scott and Mitch. She was engaged to Jeremy Michael Lewis when she turned 24 and recorded the first song alone when she turned 25 years. Using Kirstin as her stage name, she released 'Break a Little' in May 2017.
Avi Kaplan's childhood can be best described as playing music. In April of 2017, he recorded his first single 'Fields and Pier' and a first stage appears to be released this summer. Aviel is his stage name and performs with the Sequoias.
Kevin Olusola plays Cello apart from beatboxing. He developed the cello-boxing art while doing the two simultaneously. He has featured at numerous classical music concerts since his years at Yale University where graduated in 2011.
Performance
Read:
Albums
The 2014 PTX Volume 1 and Volume 2 is their first official studio Pentatonix album. It consists their original two songs and three recordings. Ben Bram served as producer. He is the same man who convinced Mr. Hoying to audition for his cover.
In the same year, another album followed based in Europe adding seven songs to the list. This Album was released worldwide and included the rest of the previously unreleased songs. Later in 2015, the group released their first album that topped the album charts. They won a certificate of sales. In 2016, Pentatonix released their second album, which still made it to top of the charts. It sold multiple copies by February 2017
Tours and Performances
The initial national headlining Pentatonix tour came in autumn of 2012 in 30 cities and completely sold out. The second tour came in May 2013 with new original material followed by an extensive tour in 2014 that spanned beyond the United States to Canada Europe and ended in South East Asia.
The 2013 tour began in February and ended in June mostly in Europe cut short due to Kelly Clarkson's voice problem. The doctor recommended Clarkston, who was a guest and part of the tour, to rest.
The Pentatonix World Tour began its first leg on 2nd April 2016 in Japan and ended with the seventh leg in July in Los Angeles. The show in Los Angeles was Kaplan's final appearance with the group.
In 2012, the Chinese edition of the Sing-Off invited the Pentatonix to perform several songs as guest artists. They performed several covers on the event. They also appeared on The Today Show, The Talk, Conan, and The Tonight Show that same year.
They returned to the 4th season of the Sing-Off in December 2013 and 2014. Other events include the annual Macy's Thanksgiving Parade in New York, the NBC's annual Christmas in Rockefeller Center, and appearances at award ceremonies such as the Kennedy Center Honors.