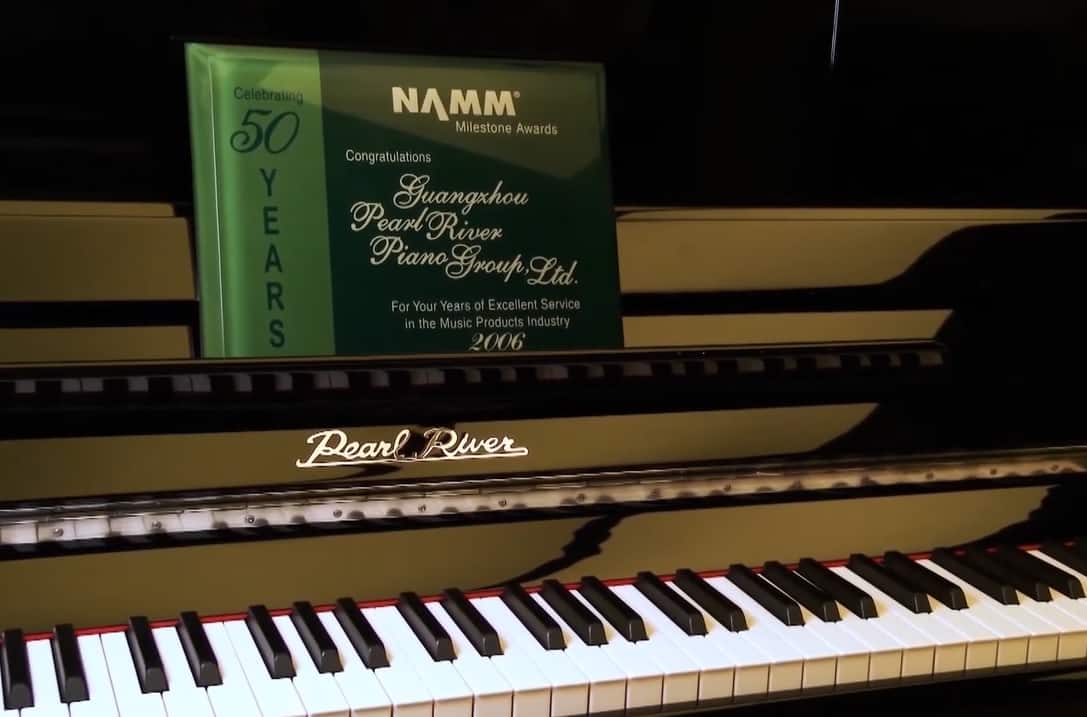 Even if you are a seasoned professional pianist you may not have come across this brand of piano. Pearl River pianos are a Chinese manufacturer that claims to be one of the top-selling piano makers in the world. Established in 1956 in China, the company has an impressive evolution from modest beginnings to being a world leader in piano manufacturing. Pearl River export their pianos to somewhere in the region of 100 countries across the world with a staff of around 4000.
Pearl River Piano Review
According to various sources, Pearl River Group is well-known for taking the manufacturing techniques used on their pianos very seriously and unlike some other reputable manufacturers, have pursued a rigorous strategy of research drawing on the best minds in the industry, to arrive at the perfect piano design. The quality of Pearl River's pianos is reportedly consistently high even though their manufacturing processes are quick, efficient, and detailed.
In 2012 Pearl River Group opened their 'state-of-the-art' factory in China with a massive 1.2 million square feet ground plan. What this means is that Pearl River offers a range of pianos that include both Grand Pianos and Upright (vertical) pianos at attractive prices.
As a small aside, Pearl River Group includes 'Kayserburg' and 'Ritmuller' pianos. This is useful to know as if you have these pianos in your sights, or perhaps have playing experience on one of these instruments, they now issue from the same manufacturing company.
Focusing briefly on the Ritmuller name, Pearl River says on their website that they 'revived' this brand that dates back to 1795, presently offering three models of pianos: Classic, Superior, and Premium. In the Kayserburg range, there is a greater variety of pianos that include: The Master Series; the Artist Series; the Nuovo Series; the Excellent Series, and the Heritage Series. This includes grand and upright pianos with something to suit all budgets, tastes, and aspirations.
An important consideration is rightly the environment when looking into the purchase of a new piano. Pearl River Group takes this aspect of manufacturing seriously and is proud of its green credentials using only wood from sustainable sources. Pearl River Group has the ISO 14001 Certificate for Environmental Management Systems that supports its stance on these key issues.
The choice of woods is vital in piano manufacturing. Pearl River pianos use both seasoned beech and maple that are choices common to many leading piano producers. Their soundboards are made from spruce wood that brings a certain color to the sound of their pianos. The 'plates' are produced using 'pig iron' to ensure rigidity and the reduction of unwanted harmonic feedback in their pianos. Each plate is cast in wet sand giving it strength and durability.
Added to the mix is the 'Z – Series' for which Pearl River Group attributes their premium quality. This series is presented as grand and upright but is sold as the best of the best and each piano comes with a designer, limited edition brochure. This may simply be a marketing strategy, and I would reserve judgment on the Z-Series until I have played one to see if there is an audible difference in the instrument.
Let's take a closer look at the current range of Pearl River pianos on sale today. Keep in mind the range is slightly different from one country to another with not all of the family of pianos available in all territories. From the information presently available on the internet, GP150 Baby Grand Piano is one of the best-selling instruments of the collection. Even though this instrument is not a full-sized grand its manufacturing gives the bass end a reasonable resonance in comparison to the larger models. This baby grand has been popular in North America, perhaps for its timbre, price, and size.
At the top end of the grand piano Pearl River ensemble comes the GP275. This instrument is designed and built to fill concert halls and to cater to the high demands of a professional pianist. The manufacturing quality is reportedly very good as demonstrated by the fact that this instrument graces many performance venues across the globe.
Similarly, the GP188A is a fine concert piano, and it is interesting to note that Pearl River is keen to let purchasers know that most of the components for these instruments are made in Germany. I imagine that the legacy of German piano manufacturing still carries weight for many buyers and this aspect of Pearl River Pianos is a critical selling point.
There are four models in the 'Traditional' series that include the UP115M5; 118M; 121S and 131YH. From the information available there is not much to distinguish these four models apart from some finishes and a few minor details. The makeup of these traditional uprights seems convincing with spruce soundboards, German strings, and felts, together with the Pearl River Action. This, I suspect, is something you will either love or hate and is a firm reason why trying these instruments is vital to securing an instrument you enjoy playing.
It is always challenging to accurately describe the tonal characteristics of an instrument but an essential consideration when buying a piano, just as any other instrument. The Pearl River Pianos, notably the Grands are described by many pianists as having a dark, resonance at the bass end of the instrument, a resonant tenor/alto range with a bright, almost edgy higher register.
The action on the pianos is responsive, even sensitive (again especially on the grand models), and has a feeling of sturdiness that is reassuring. Equally, the upright pianos come in an affordable selection that cannot entirely match the tonal qualities of a grand, do offer a warm tone and responsive action that favorably compares with manufacturers like Yamaha and Kawai.
Before making any decision regarding a new piano, please make sure you go and play them several times and compare models. What you can be sure of is that Pearl River manufacture instruments with great care, detail, and conviction that produces pianos of consistent quality and considerable scope. They have attracted the ear of several leading professionals and secured their place in concert halls and educational institutions in many, many countries. Whether you are a traditionalist or more progressively minded, Pearl River has something significant to contribute to the piano market and is worthy of attention from anyone in search of a new instrument.