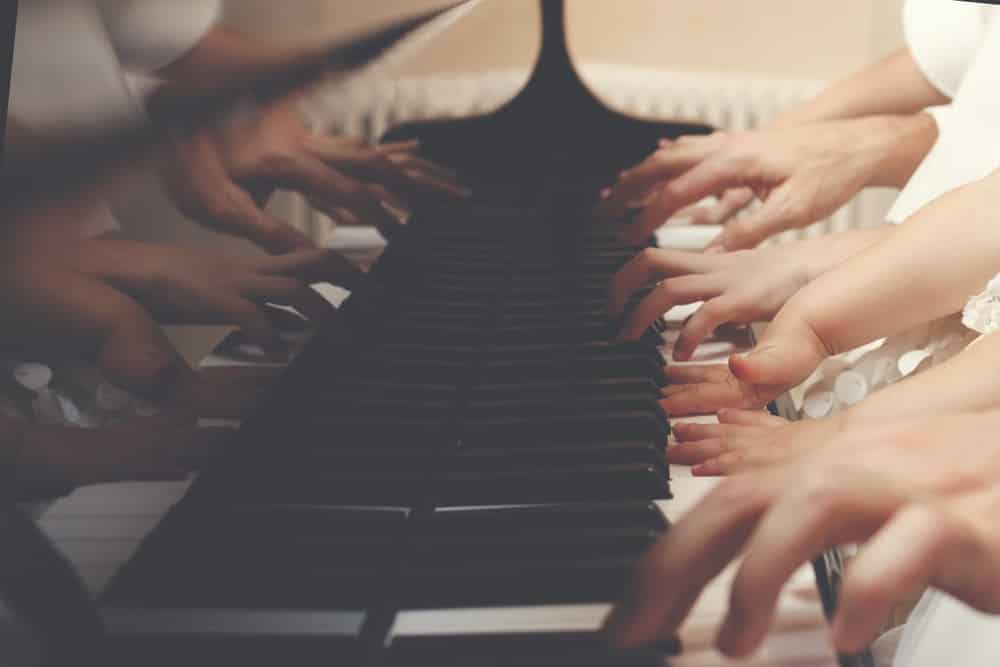 Whilst we regularly see performances on the piano with a single pianist, there are a large number of astonishing pieces specially composed for one piano but two or even three players.
It may sound impossible and it does take some careful negotiating of the single keyboard by the players, but it also works to great effect. In this article, I am going to single out a selection of multi-player piano pieces that I feel are worthy of their time in the musical spotlight.
Multiplayer Piano Pieces
1. "Eight Variations on a Theme by Count Waldstein"; by Beethoven; WoO 67
Beethoven is well recognised as a composer whose powers of musical invention are almost limitless. His ability to extract every magical ounce from a motivic idea is often shown in his use of 'variation' from. This Beethoven uses throughout many works, especially for piano, including the great 32 Variations in C minor.
Unusually for Beethoven, this set of variations is for one piano but four hands. On this occasion, Beethoven used a theme from one of his admirers and sponsors Count Waldstein. Count Waldstein was the dedicatee of the superb Piano Sonata in C major; Op.21. These variations were composed around 1792 when Beethoven has taken residence in Vienna. Although the thematic material is not perhaps as inspired as Beethoven's own work, how Beethoven treats the theme is a credit to his mastery of the form.
2. Variations on a Theme of Robert Schumann by Brahms; Op. 23
These set of variations are perhaps not as well-known as the earlier Op.9 which were also based on a Schumann theme. Op. 23 are written around Schuman's last known work for piano the chillingly named "Ghost Variations" also in E Flat Major (1854) WoO:24. Schumann composed this theme and variations shortly before being committed to the asylum.
Schumann composed five variations whereas Brahms decided to extend this to ten. The bleakness of Schumann's music underpins the Brahms variations. Brahms admirably demonstrates an almost Beethovenian treatment of the musical material at times, progressing towards the coldest and remote of the set, the final funeral march. Sadly these pieces are not as regularly performed as the Op.9 but are Brahms in many ways paying homage to his friend and mentor.
3. Petite Suite by Claude Debussy
It would be impossible to overlook this charming set of pieces from the impressionist composer Claude Debussy. Debussy was a contemporary of Maurice Ravel, whose piano works exemplify the ideals of the period. The Petite Suite by Debussy is not as challenging to play as some of his solo piano works but none the less offers plenty of scope for starting to explore the music of this French composer.
There are four movements titled; "En Bateau", "Cortege", "Menuet" and " Ballet" which were written by Debussy between 1886 and 1889. The opening two movements are said to be based on the work of one of Debussy's favourite poets, Paul Verlaine from his poems entitled "Fetes".
4. Fantasia for Piano, (4 hands) in F minor: D. 940
Schubert wrote a substantial quantity of remarkable piano music and this Fantasia (1828) is no exception. There are four movements in total that on the surface could appear like another typical sonata of the period. Schubert does not disappoint in this Fantasia. His innovation shines through in this work as it really combines the traditional sonata with the tone-poem into a single free-flowing piece that is connected by the opening motif. The start of the piece is tinged with deep melancholy and lyricism that Schubert achieves so well.
Hungarian dotted rhythms motivate the music forward and after a modulation to F sharp minor, the second movement begins angry and stormy. Schubert lightens the mood in the third section choosing to remain in F sharp minor with a sprightly Trio section in D major. In the Finale we Schubert reveals the arch structure of the Fantasia with the restatement of the main themes of the first movement. The two themes in F minor and F major undergo a fugal exploration that Schubert remarkably manages to bring to a convincing resolution.
The dedicatee of the work is Karoline Esterhazy. Schubert was reportedly very much in love with the Karoline and throughout the work, there are moments where the hands of the pianists gently touch.
5. Sonata in C Major; K. 521 by Mozart
This Sonata for four hands by Mozart was composed towards the end of his short life in 1787. It has all the exuberance that many works from this time demonstrated and is in the brighter key of C major. This key tended towards levity in Mozart's music and this Sonata is no exception. It is structured in three movements that follow the familiar fast-slow-fast pattern and has a duration of around twenty-five minutes.
Interestingly, this is the last piece Mozart composed for four hands and he dedicated it to two sisters, Marianne and Babette Nortrop who were the daughters of a wealthy Viennese family and possibly pupils of the great composer. Mozart described the Sonata as "rather difficult", and this is certainly true of the first and last movements whose brilliance is a test for even the most accomplished pianist.
6. Two Pieces; "Valse and Romance" by Sergei Rachmaninov
If you thought that having two pianists play one piano was challenging then consider this piece by the great Russian composer Rachmaninov. This pair of pieces is for six hands or three players on a single piano. Understandably, there are not many compositions of this type as the range available to each of the performers is limited and likely to end in a terrible tangle if care is not taken with the arrangement.
The Valse and Romance were composed when Rachmaninov was at the very early stage of his career at the tender age of 18. They do not make the extreme technical demands of many of Rachmaninov's later piano compositions and remain accessible to pianists of intermediate ability. If you listen carefully, you may hear the future echoes of the Second Piano Concerto which in a very real sense began its conception in the material of these pieces.