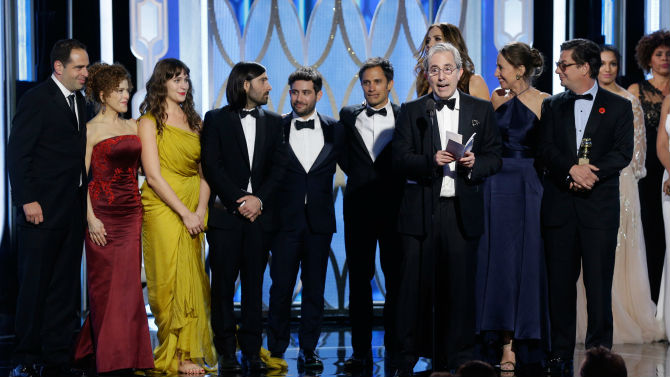 What a victory for what started off as a simple memoir about the debauchery within an orchestra. Mozart in the Jungle won in all its categories: Best Television series, Musical or comedy and Best Actor, Musical or Comedy, where it competed (both times!) with Transparent, another critically acclaimed Amazon Series.
The plot of Mozart, which sees oboist Hailey (Lola Kirke) trying to emerge as a musician in the fictional New York Symphony Orchestra, is simple without being too simplistic, mainly thanks to an interesting set of characters that includes — those are personal favorites— a drummer who is a stoner, a hipster podcast author played by Jason Schwartzmann, a mentally deranged virtuoso violinist who insists on holding the bow with her left hand and, of course, the mercurial conductor Rodrigo, magistrally played by Gael Garcia Bernal.
We have to say that, even though Gael García Bernal's Rodrigo is at times too histrionic for his own good, his youthful energy and sense of wonder make him a very well-rounded character (a bit childlike, perhaps, but that is his savant vein, isn't it?)
Watch Gael García Bernal's speech
What's more, at least the drama the characters face goes outside the "dysfunctional family" and "dysfunctional dating" trope: we actually see musicians fighting to emerge, to seduce their fellow bandmates and, on a more serious note, to keep their jobs during heated union vs board battles.
Needless to say, we are happy with the results (admittedly, though, Mozart's second season is weaker than the first). I imagine that the holograms of Mozart and Beethoven that usually appear when Rodrigo is in distress feel the same.