Oh boy, did we miss the New York Symphony Orchestra! We left them after a demented Anna Maria tried to play the violin with her left hand and after rambunctious conductor Rodrigo (Gael Garcia Bernal) and his assistant Hailey (Lola Kirke) exchanged a passionate kiss after she successfully subbed as a second oboist.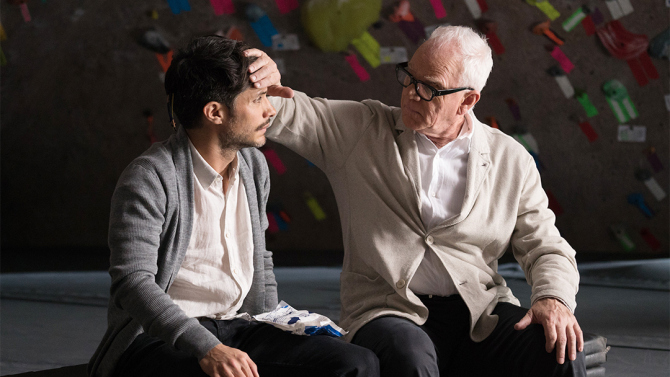 "One thing is to conduct Mozart, another labor negotiations." This statement, uttered by a zealous stage manager played by Gustavo Dudamel (the real-life inspiration between the character of Rodrigo) sums up the story arc of this second season.
In fact, while the orchestra is preparing for a tour in Latin America, the tensions between the demands of the members of the orchestra (five-year contracts!) and the not-so relenting board members are seething—donations are being delayed, which results in a "cashflow screw-up".
A strike is looming, which means that, as in the case of the Minnesota orchestra, the musicians might stay unemployed for a whole year. At the same time, though, chairwoman Gloria Windsor (a very diva-like Bernadette Peters) is working on the refurbishment of her office. Will she actually go for a wallpaper that will make her hair look like spun gold? We should not be so disgusted by that move: she is using her late husband's money, aka personal funds.
Our beloved histrionic and passionate Rodrigo is at crossroads: while sitting in a very empty Hollywood Bowl, ahead of a performance, he is plagued by self doubt, which the spirit of Wolfgang Amadeus Mozart reinforces. What if the New York Symphony never gets better? What if the Maestro himself is a Fraud? After all, he is a "Mexican Street Urchin in a big city". His state of mind is understandable: his orchestra cannot measure up to the LA Philharmonic, and the impending strike worries him.
Speaking of the strike, the union decides to hire a lawyer (Gretchen Mol) who, however, will soon start an affair with Cynthia (Saffron Burrows) the second cellist. I honestly did not understand if this was of any relevance in the plot or if it was a way to conform to other current tv series where lesbian romance is de rigueur. I don't want to be dismissive of the Union-vs-Boardmembers storyline here, but I have to say that it gets lost in the various subplots and it easily loses most of its appeal, save for when, once in Mexico, the first violinist stages the theft of his own instrument in order to get the insurance money. You have to understand his woe, though: he has a family to support and, in case of a strike, the financial toll would be unbearable to him.
What became of Hailey, our rookie oboist who "plays with the blood"?
After she successfully performed during last year's season finale, she is now a substitute and, for this reason, she has to practice more. Thus, she has no more time to prepare mate for the maestro and to assist him on a day-to-day basis. As she tries very hard to replace herself, she first interviews the daughter of one of the major investors who speaks "in rising arpeggios." After Rodrigo repeatedly fires all of the potential replacements, Hailey brings him Mike, a guy that can make great mate, is well-versed in classical music and has a Liszt Tattoo on his forearm—he is actually a friend of her roomate's. While embracing her new role, and while also serving as the de-facto face of the orchestra, we see her grow out of her ingenue demeanor that characterized her during the first season. She seizes the opportunity to get seduced by a famed cellist who likes to make each woman he slept with pose as Man Ray's Le Violon D' Ingres (so predictable) and, thanks to the fact that the first oboist Betty gets injured during a softball match in the park, she can actually travel to Latin American as part of the orchestra. Oh, and bonus points to her for actually managing to get rid of her ballet dancer boyfriend, the one with the body of a Michelangelo statue but with the personality of a wooden plank: he has been recruited for the reality show Dance House and, upon finding out, she did not really tear her clothes in despair.
Despite this great character development, however, the showrunners force-fed us a will-they-or-won't-they romance storyline between her and Rodrigo (they kissed in the first season finale, remember?). Please tell me I am not the only one who thinks that having those two end up together is nothing more than a silly cliché? Can't there be a genuine artistic relationship between a mentor and his disciple? Having an affair with the conductor (and other members of the orchestra) was more of Cynthia's prerogative. Nonetheless, after we see them bicker for the first half of the season–Rodrigo behaves like a tempestuous toddler, Hailey like a stern but maternal nanny– they eventually embark on a trip à deux to his hometown in Mexico and, in a very Garcia Marquez-like setting, they (finally?) have a tryst. How anticlimactic of the writers.
PS: It was nice to see Lang Lang, Joshua Bell and other superstars play bowling and have the time of their lives in a very hipster photobooth. That is the essence of what made Mozart in the Jungle great in the first season.