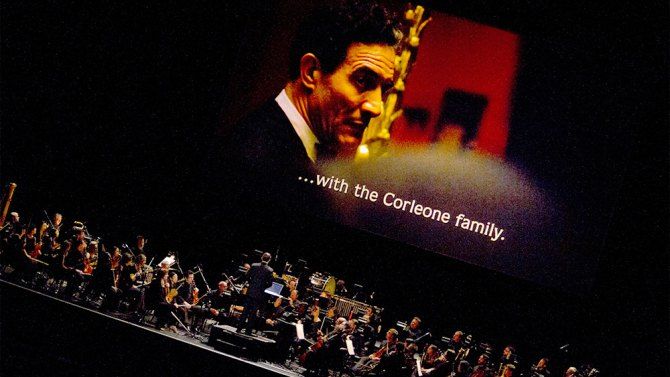 One of the greatest films of the 20th century drew 5000 movie-goers in LA. Featuring a 61-piece orchestra performing the soundtrack during the film of The Godfather, Justin Freer conducted The Hollywood Studio Symphony to a sell out audience.
Featuring multiple screens for viewing from the various levels of the theater, the orchestra dressed to fit the part, wearing "mobster black." The attendance included fans of the original film and score from all ages, ranging from 20-somethings to seniors, many of whom had seen the film in its original form in theaters when it debuted in 1972.
The screening of the film with live orchestral accompaniment mirrors similar productions done across the globe for a variety of films including Lord Of The Rings. This presentation of The Godfather was the fourth time the film had been paired with a live symphony, with other viewings held in London and San Francisco. Other viewings in the US this year include St. Louis, Chicago, and New York, all with their premier symphonies in performance.
The Francis Ford Coppola classic's film score was co-written by Coppola and Nino Rota, based on the book by Mario Puzo.