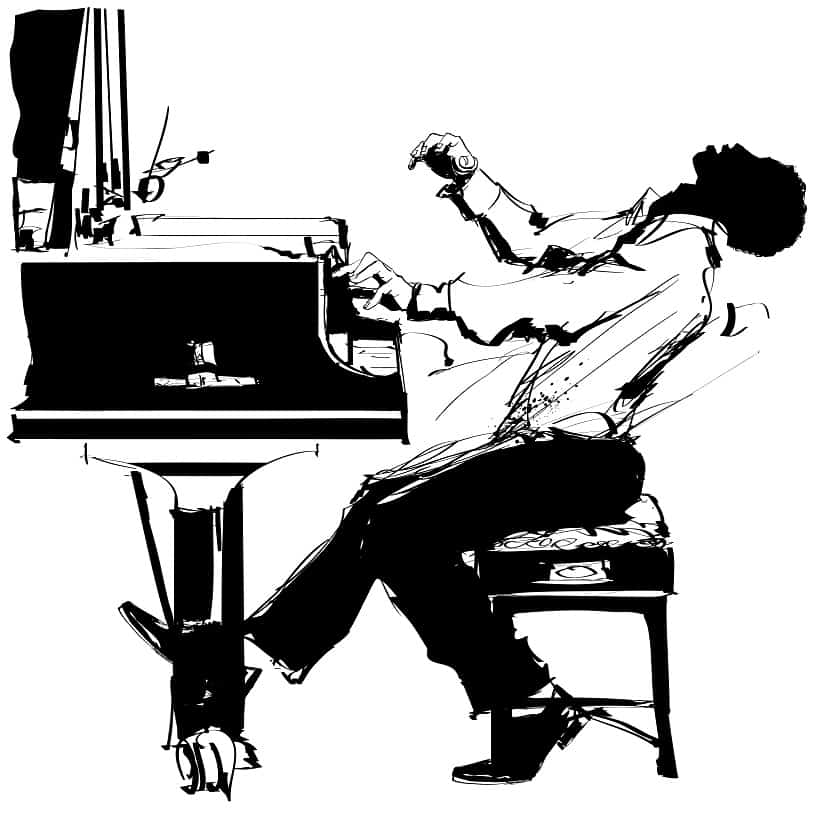 America has tended to dominate the jazz landscape for years, and perhaps understandably as this is where jazz has its origins. The popular appeal and allure of jazz are, however, far further reaching than just the USA. Japan boasts a broad variety of talented jazz pianists that this article is dedicated to introducing.
Japanese Jazz Pianists
1. Ryo Fukui ('Scenery': 1976)
Interestingly, Ryo did not start playing the piano until the age of twenty-two. Before that, he had only studied the accordion. Ryo became an international name both as a performer and as a teacher. The first album titled 'Scenery', was realised by Ryo in 1976 and is the one featured above. It has become one of his most played albums thanks in no small part to exposure on YouTube and quite succinctly captures his somewhat understated style. What Ryo effortlessly achieves is the essence of smooth jazz with his lyrical solos and soft phrase shapes.
It was the American pianist Barry Harris who Ryo met in 1992 that supported his aspirations to develop a more extensive technique and tackle bebop piano. This led to the release of several notable albums over the coming years including 'In New York', and his final album, 'A Letter from Showboat' (2015). The title is particularly poignant as it was the Showboat Jazz club that Ryo opened with his wife in 1995 and where he gave most of his performances.
2. Keiko Matsui
Keiko Matsui is a Tokyo born jazz pianist who has made her name playing what could loosely be called soft-jazz. Her initial musical studies were classically orientated, only later did she become fascinated by the concepts and possibilities of jazz. At times her style is perhaps too close to 'easy listening' music to adequately fall into the jazz category but in the performance linked to above, Keiko Matsui acquits herself confidently with her fluency and invention.
Keiko Matsui writes much of her music that she readily tells draws influence from Western Classical, Eastern Music, and the spiritual realm. Her music is deeply poetic and lyrical, often with flowing melodies and warm harmonies. Keiko Matsui associates many of her compositions with nature and this is reflected in her album titles like, 'A Drop Of Water' (1987); 'Under Northern Lights', and 'Sapphire' (1995).
3. Yoko Miwa
Yoko Miwa is one of the most widely acclaimed jazz pianists to come from Japan. She and her trio have toured extensively bringing her unique interpretation of numerous jazz standards to the world. From a first listening to Yoko Miwa play it is not difficult to hear a multiplicity of musical influences on her playing style from bebop, swing to gospel and classical music.
Yoko Miwa is one of the few pianists playing and recording today who is effortlessly able to combine a fierce technique with a genuinely heartfelt sense of expression both melodically and harmonically. With a very real humility, Yoko attributes her love of jazz to the nightclub owner and organist Minoru Ozone with who she undertook a serious study of the genre. Following this successful meeting, Yoko won a major prize to study at the famous Berklee College of Music in the US. The rest of her story is, as they say, history and one success to another.
Yoko Miwa has only recently released another album that is a great illustration and testament to not only her pianistic facility but also of her compositions. The album is titled 'Keep Talkin" and it has understandably received positive reviews and much praise. With more than a touch of Bill Evans about her, Yoko Miwa is an artist to watch and enjoy.
 4. Hiromi
The link above shows a performance taken from the 2017 BBC Promenade Concert Season. It is Hiromi's interpretation of the Gershwin classic "I Got Rhythm', and what an extraordinary interpretation it is. Hiromi a six and a half minute solo piano version of the famous tune that seamlessly covers just about every style of jazz piano playing there is. Her performance is simply electrifying and shows Hiromi's unshakable technique in the face of what can only be described as a virtuoso performance. Hiromi's piano heroes especially were Oscar Peterson and Erroll Garner both whose influence is keenly felt in this rendition of the song. What seems to single Hiromi out from the other jazz piano contemporaries is that she plays the instrument with such poise and ultimate control including in this performance, mimicking a string bass by playing inside the piano.
In a similar career move to Yoko Miwa, Hiromi decided to move to the US and Berklee College in 1999 to further her study of composition and jazz piano. This was the key to her future successes and with the help of her mentor Richard Evans, himself a legendary jazz bassist and arranger, caught the ear of Ahmad Jamal.
Hiromi's first album release was co-produced by Evans and Jamal and it titled 'Another Mind'. This debut album was greeted by universal acclaim and launcher Hiromi onto the world's jazz platform. Subsequent albums have attracted awards and praise for their ingenuity and sheer brilliance. Hiromi says herself that she is still learning and keen to develop her music further. 'Live In Montreal' is the latest addition to her list of incredible albums and no doubt there is much more in store.
5. Toshiko Akiyoshi
Toshiko Akiyoshi is the last of the Japanese Jazz Pianists I will mention in this article. Toshiko was another graduate of the Berklee College of Music after having been discovered by the legend Oscar Peterson her career in jazz was launched in earnest. In 1953, under the guidance of Peterson and performing with his drummer and bassist, Toshiko released her debut album called 'Toshiko's Dream'. From this formidable beginning, Toshiko moved from strength to strength, forming bands, touring and working as both a pianist, bandleader, and arranger.
What you hear in Toshiko's performances is the influence of stalwart pianists like Teddy Wilson, Bud Powell, and Duke Ellington. Her roots are firmly embedded in the great tradition of swing yet Toshiko fuses her compositions with Japanese influences and rich textures. Many of her compositions reflect her diversity of interests and compassion. The last album released by Toshiko 'My Long Yellow Road', is a solo piano collection of pieces from composers like Bud Powell, Ellington, JS Bach, and her work too.