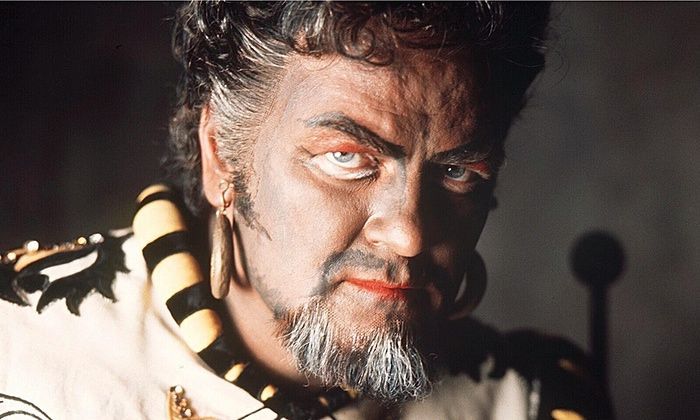 It was, without question, a colossal voice. Whether that meant burly and gruff or raw and intense would depend on the listener. For critic John Ardoin, it held "a hundred colours and inflections".
The owner of that voice, Jon Vickers, was born in rural Saskatchewan, October 29, 1926, to what he would describe as the "poor man's Trapp family". The sixth of eight children, Mr. Vickers grew up in a household where everyone sang and played music. And with a father who was a lay minister of both Presbyterian and Methodist traditions, they went to church… well, religiously. Members of the congregation can still remember a day when the young Vickers boy hit a high note during a hymn that rattled the windows.
Though Mr. Vickers listened to radio broadcasts of the Met Operas with rapt delight, he aspired to study medicine and, when those dreams were thwarted by the returning college-­aged veterans of the Second World War, he turned to jobs far from the stage: fruit sorter, butcher boy, manager, managerial trouble shooter. It was not until his mid­-twenties, working as a tool salesman in Winnipeg, that he received the encouragement to pursue music as a serious career. He won a scholarship for the Royal Conservatory of Music in Toronto. In addition to his studies, however, he continued to work at night as a truck driver delivering beer.
For a while, Mr. Vickers preferred singing on radio and television instead of on stage as the pay was better. He considered his professional stage debut to be his role as the Duke of Mantua in Verdi's Rigoletto for the Toronto Opera Festival in 1954. His first season with the Royal Opera at Covent Garden began in 1957. But it was his performance as Siegmund in Wagner's Die Walküre at the 1958 Bayreuth Festival that launched Mr. Vickers into international superstardom.
Birgit Nilsson was overjoyed to sing Isolde to his Tristan in Buenos Aires in 1971. She had long awaited a tenor with the power to match her unassailable Wagnerian prowess. Jon Vickers, however, was not overly enamoured of Wagner. In 1977, he pulled out of a production of Tannhauser, believing it to be anti­-Christian. These strong religious ties combined with his window­rattling voice earned Mr. Vickers the nickname, "God's Tenor."
"God's Tenor" he might have been, but saint he was not. In "Jon Vickers: A Hero's Life", Jeannie Williams details his tendencies to bully those beneath him and badger those equal to him. He once insulted Julius Rudel so thoroughly during a rehearsal that the conductor offered to quit. Though staunchly principled in some respects, he was irremediably hot-­tempered in others. As Ms. Nilsson told Williams, Mr. Vickers' "nerves were outside the skin, not inside the skin."
Jon Vickers may be best known for his revelatory portrayal of the title character in Britten's Peter Grimes. Though Britten wrote the part for his longtime partner, Peter Pears, and many consider it to metaphorically explore the oppression of homosexuals in society, Mr. Vickers could not abide such an interpretation and chose to think of it more broadly as a study in the "psychology of human rejection" (NYT). Whatever his personal beliefs, the tortured portrayal he achieved on stage revived interest in the opera. According to critic Leighton Kerner, "The meeting of character and singer has proved to be one of the mightiest collisions in twentieth century opera".
It was, beyond debate, a big voice. Bigger, in fact, than Mr. Vickers himself. Though Mr. Vickers has recently passed away at 88 years of age after a long battle with Alzheimer's, his voice, immortalized in the type of recordings that thrilled him in his youth, lives on.