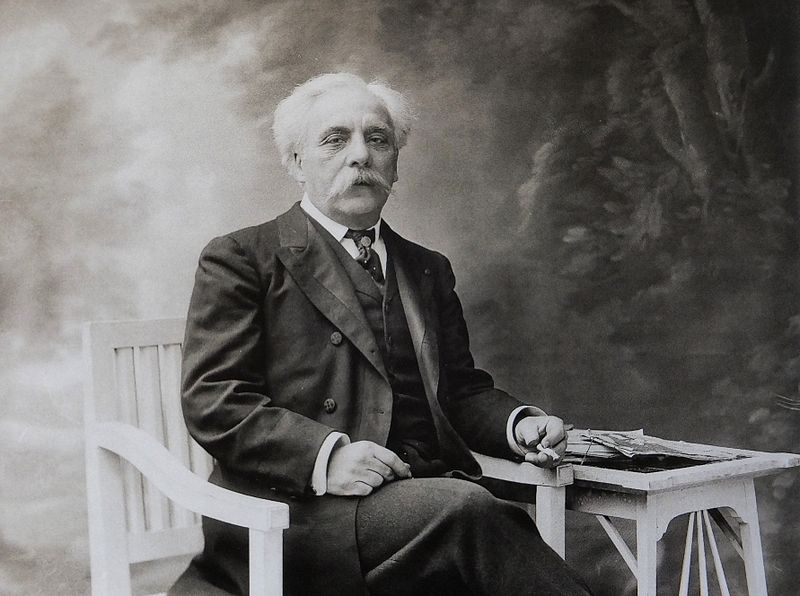 Gabriel Fauré (1845 – 1924) holds a very important place in the contemporary musical movement of the modern era. He and other composers of the 19th century helped with the swift transition of music from the Romantic period to the modern age.  The French organist held a curious position in his native country of France because his compositions were not always accepted, but he seemed to be highly regarded and respected by other successful composers.
Case in point, it was not until he turned 50 that his exceptional talents as a composer began to be renowned and recognized. Today, however, he enjoys an incontestably eminent reputation and he is considered as France's greatest composer. Here are 10 INTERESTING Facts about the Composer – Gabriel Fauré:

Feel free to Subscribe to Our YouTube Channel if you like this video!
Facts About Gabriel Fauré:
1. Family life
Gabriel Fauré was the son of a schoolteacher. Fauré exhibited great musical talent from an early age and it was evident to everyone but his father Toussaint-Honore. Thankfully, his gift was so apparent to others that Composer and teacher Louis Niedermeyer agreed to enroll the then 9-year-old to his school the Ecole de Musique Classique et Religieuse for free.
2. The École de Musique Classique et Religieuse
Fauré is perhaps one of the most dominant French composers of the early 20th century. He started his studies at the age of 9 after receiving a scholarship to study at the prestigious École de Musique Classique et Religieuse that had just been established by the well respected Louis Niedermeyer.
The École de Musique Classique et Religieuse focused on all elements associated with church music including the organ and the polyphony. It was at this school that Fauré defined his musical style, which remained constant all through his hugely successful career. Later on, he joined the school in the 1870s to serve as a teacher.
3. He influenced many 20th century composers
In his capacity as a respected classical composer and as a teacher, Fauré helped to define the music of the 20th century. His music was very easy to enjoy and understand and this subtle intimacy is what helped to influence the new generation of composers. All the way through his career, he wrote small-scale music made up of symphonies and operas. Although his music was not as dramatic as expected, he still managed to come up with incredible theatre scores such as Pelleas et Melisande, which was created specifically for Maeterlinck's play.
4. Fame
After composing for Maeterlinck's play, which was a huge success, Fauré began attracting a lot of interest. His circle of friends from high places and renowned classical composers of the world continued to grow, which allowed him to consolidate his position as a respected teacher and musician. As his popularity continued to grow, so would the number of internal tours and visits; it is said that after the premiere of Pelleas et Melisande, he traveled to London for every year after that until 1900. His fame resulted in him securing a highly sought after position in the Paris Conservatoire.
5. The Requiem of Faure
Fauré's Requiem is an outstanding piece of composition but for a long time, it was one of the lesser-known compositions of choral literature. It took Fauré almost twenty years to complete the Requiem before it was first performed in front of the public. What made it stand out from other choral pieces of that time was its disconnected influence from the late Romantic era. As such it offered a completely new sound that was characterized by tentative progressions and limited and unique harmonic schemes.
6. Marriage life
Fauré's marriage was arranged; he had the choice to pick between three ladies and he settled for Marie Fremiet, whose father was a well-known sculptor. Before Marie, however, Fauré was in love with Pauline Viardot, who was one of the only few female composers of the 19th century. Pauline rejected Fauré and broke his heart, which is why he settled for Marie in the end. Despite their many domestic problems, the two managed to have two sons Emmanual, who became a well-known biologist and Phillippe Fauré-Fremiet.
7. Casanova
Fauré was a self-confessed playboy having had several extramarital affairs throughout the course of his life. One of his most well-known affairs was with a woman known as  Emma Bardac, who went on to marry French composer and pianist Claude Debussy. At the turn of the century, he also got into a public relationship with 24-year old Marguerite Hasselman who was a gifted pianist in her own regard. The two remained lovers until he passed away in 1924 from Pneumonia.
8. Hearing problem
Fauré like Beethoven started losing his hearing as he approached his later years. His hearing got so bad that he had to stop teaching at the Conservatoire because he was almost completely deaf by then. Despite his poor hearing, the last few years of his life were very productive.
9. Broke
Despite his critical acclaim, Gabriel Fauré was sadly not as ambitious as other classical musicians of his day. He did not have as much time as he needed to compose and because he struggled financially particularly at the beginning of his career, he could only make ends meet as a teacher and administrator. He earned very little from his compositions and as he sold his works directly to publishers for cheap, he did not earn any musical royalties.
10. Everyone's friend
Fauré was known for his kind and gentle nature and he was easily approachable thanks to his well-mannered speech and down to earth spirit. For a while, he tried working as a critic for the newspaper Le Figaro, but he found it too difficult to speak negatively about other composer's works. As a result, his critiques often leaned towards the positive side and did not concentrate enough on the negative aspects.