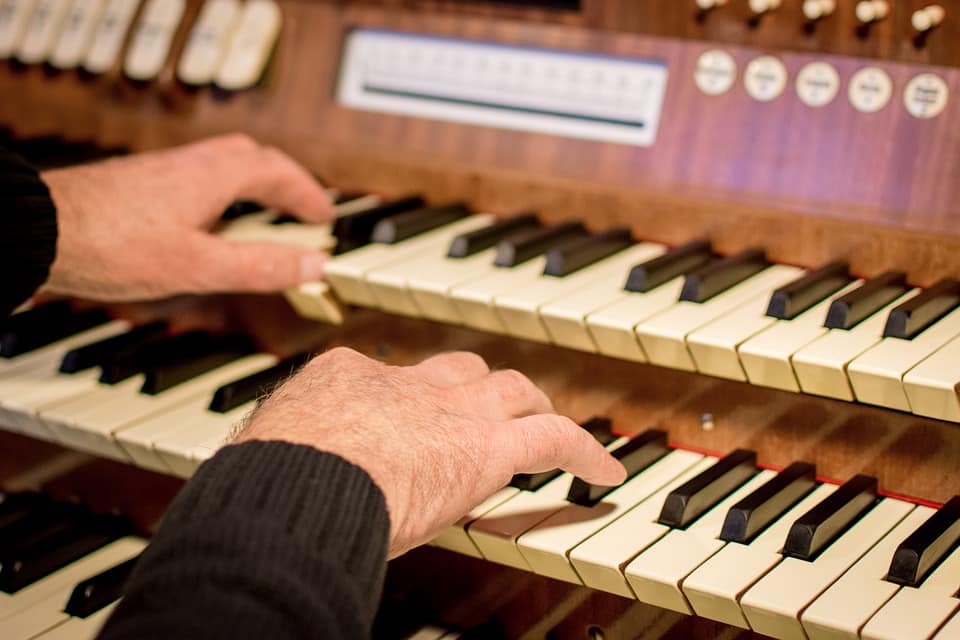 A lot of individuals associate the organ with liturgical or religious purposes. However, the organ has the capacity to function in an array of non-lethal settings such as in classical, jazz and rock music. As a matter of fact, the pipe organ is sometimes referred to as the emperor of keyboard music or the king of instruments.
The organ has grown by leaps and bounds since it was used in the gladiatorial games in Rome. Thanks to its great variety of tone, its unique sound combinations, as well as its versatility, the number of organ players and organ enthusiasts have increased in the past few decades.
In various classic rock subgenres, the organ has proved instrumental in expanding the sonic palette of rock music in the all the best ways. Every famous organist, from the church organist to the classical jazz or rock organist is an acknowledged master that has ensured that the instrument will be forever etched in music legacy. To honor them, here are the 10 famous organ players (in no particular order).
10 Famous Organ Players You Should Know
Charles-Marie Widor
Charles-Marie Widor is by far one of the most formidable and recognizable organists of the 19th and 20th centuries. Case in point, during his lifetime, he served as an organist of Saint-Sulpice in Paris, which was the most prestigious position an organist could hold in France. Widor is responsible for some of the most significant contributions to the organ repertoire and he extensively toured all over the world as a result. As a teacher, his students in Paris such as Luis Vierne, Marcel Dupré, as well as Darius Milhaud also subsequently became revered composers and organists in their own right.
Related Video:
Albert Schweitzer
The Renaissance man and certified genius Albert Schweitzer was one of Charles-Marie Widor's many students. Aside from being an ardent organist, he was also a renowned theologian that received the Nobel Peace Prize for his philosophies in Christianity in 1952. He also reformed and heavily influenced the formation of the Organ Reform Movement, as well as mastering the music of fellow German composer Johann Bach.
https://www.youtube.com/watch?v=2ABFjQbazUQ
Olivier Messiaen
Olivier Messiaen was a fervent Roman Catholic that was selected organist at La Trinité Church in Paris when he was only 22 years old. His early compositions and improvisations gave rise to new ways of utilizing the instrument that made compositions a lot more rhythmically complex. He was well known in the Paris music scene as an organist, composer, and educator and he inspired thousands to follow in his footsteps.
https://www.youtube.com/watch?v=rZXWKaLVWSg
Marie-Claire Alain
When people think of world famous organists, one of the very first names that pops up is Marie-Claire Alain's. Widely regarded as one of the finest organists of the mid 20th century, she was a pioneer in the application of organic principles thanks to more than the 260 organ recordings she made in her lifetime. Aside from being an admired performer and composer, Marie-Claire Alain was also a teacher. Some of her notable students included Daniel Roth and the incomparable Thomas Trotter. Among her top distinctions, she was also a commandeur of the Ordre National du Merité.
Lonnie Smith
Lonnie Smith is one of the better-known American jazz Hammond B3 organists today. He was known for releasing a couple of backbeat tracks during the late 1960s and early 1970s that defined his genre. Lonnie Smith built his reputation alongside other musical greats such as George Benson. Smith is famed for his interpretations of songs by other artists like Aretha Franklin.
Jimmy Smith
Jimmy Smith is unquestionably one of the biggest and most famous organ stars of the 60s. he is credited with releasing more than 100 eponymous records and he gained enough fame from these records to establish his own club located in North Hollywood. In the 60s, he helped to define the Hammond sound alongside other great instrumentalists of his time.
Shirley Scott
Historically, the jazz organ scene has always been dominated by male composers and performers. However, Shirley Scott managed to engrave a name for herself in the corridors of jazz history owing to her incredible organ playing skills. In the 60s, she was anointed the queen of the organ and was hailed for her self-titled albums, many of which she made with her organist husband Turrentine Stanley. She is mainly remembered for her 1958 hit "In the Kitchen which she created with the tenor sax maestro Eddie Lockjaw Davis.
Reuben Wilson
Reuben Wilson made a name for himself in the 1960s thanks to his hit albums that were released under Blue Note Records. He is celebrated for his acid jazz and soul jazz compositions but his most popular single is Got to Get Your Own. In addition to composing, he also the lead singer of Wildare Express and he remains an active performer to this day.
Brother Jack McDuff
Brother Jack McDuff was a popular American jazz organist and band leader that gained fame in the early 60s. His primary choice of instrument was the Hammond B-3 that he used to publish countless albums with notable jazz recording labels like Prestige and Blue Note Records. He also produced music under one of the most popular black-owned labels, Sugar Hill Records, which was then owned by Soul start Sylvia Robinson, which helped to elevate his status further.
https://www.youtube.com/watch?v=A_lcBpRqKsk
John DeFrancesco
John DeFrancesco helped to bring about a resurgence of the Hammond organ. He first became popular in the Philadelphia jazz circles. Also commonly known as Papa John, DeFrancesco played the organ in the bop style. Some of his most popular hits include Hip Cake Walk which was released in 2001 and A Philadelphia Story.