Johannes and Friedrich Brahms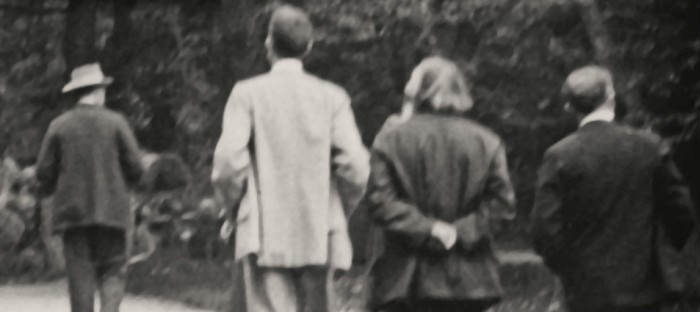 Johannes was the golden child. Two years older than Friedrich, he was quickly marked for greatness by his piano teachers. Wanting to following in the footsteps of his brother rather than his father (an orchestral musician), Friedrich took piano lessons with the same teachers as Johannes. Though "reasonably bright and talented," according to Jan Swafford, Friedrich could not be measured by the same standards as his brother. This was not lost on Johannes, who wasted no energy on brotherly love. "Most of the time," Swafford writes, "Johannes simply ignored Fritz." While Johannes carved out a reputation as one of the world's greatest living composers, Friedrich became known around town as "the wrong Brahms." Undaunted, Friedrich parlayed his reasonable brightness and talent (and recognizable family name) into a successful piano teaching career.
The brothers were never close, but were usually on good terms. Their one noted rift was over the issue of caring for their mother after their father divorced her. Despite having promised to do so and being in a position to see this promise through, Friedrich did nothing. Johannes never forgave him for it. Nevertheless, when Friedrich died, he left 10,000 marks to Johannes (possibly, Swafford speculates, because he had no one else to leave it to). Neither brother married or had children.
Wolfgang Amadeus and Maria Anna "Nannerl" Mozart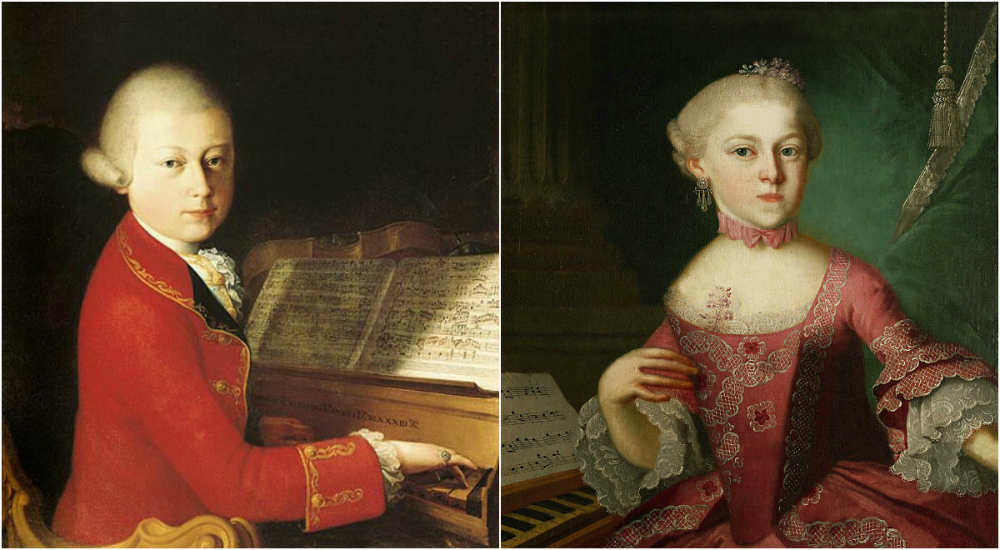 In the 1760s, a young Mozart astonished Europe with prodigal talent on the piano. Her name was Maria Anna, nicknamed "Nannerl." At twelve years-­old, she was a celebrated virtuoso. Her renown as the most famous Mozart, however, was short-­lived. Her seven year­-old brother, Wolfgang Amadeus, found his way into the spotlight and never got out. As Wolfgang's star rose, Nannerl's was abruptly extinguished. From 1769 on, she was no longer allowed to perform as she had reached womanhood. Marriage was the only acceptable career at this juncture. And marry she did, to a wealthy local magistrate with five children from a previous marriage. Nannerl would have three of her own to complete the brood. Though she could no longer explore her musical ability publicly, she continued to develop it in private. Wolfgang held his sister's talents in high regard. Upon receiving one of her compositions, he wrote, "I am amazed! I had no idea you were capable of composing in such a gracious way. In a word, your Lied is beautiful. I beg you, try to do these things more often." Sadly, none of Nannerl's musical compositions survive to testify to the validity of her brother's favourable opinion.
Franz Joseph and Johann Michael Haydn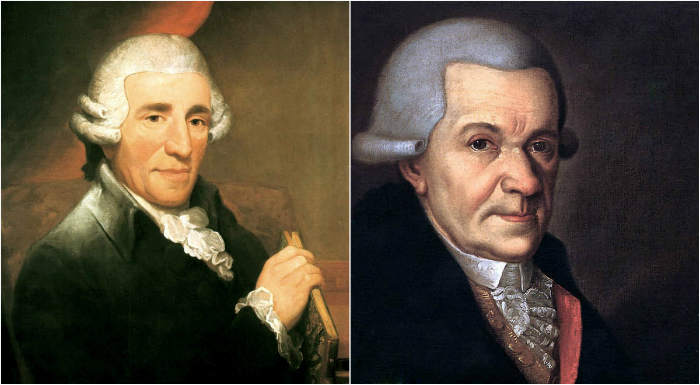 Back when classical music was modern, the Haydn brothers shared a comparable level of fame. In the time since, however, Franz Joseph (5 years elder to Johann Michael) has decidedly overtaken his brother in that department. While Johann Michael made significant contributions to sacred music, Franz Joseph made genre­-defining contributions to what we now know as the sonata, the string quartet, and the symphony. As boys, both attended St. Stephen's choir school and both were dismissed once their voices broke. As adults, they enjoyed the generous patronage of wealthy Austrians: Johann Michael spent many years in Salzburg as Konzertmeister for Archbishop Sigismund Schrettenbach and Franz Joseph worked in Vienna for the Esterházy family. Both also exerted a direct influence on the next generation of composers as Johann Michael befriended a young Mozart and Franz Joseph taught young Beethoven. Perhaps things would have been different if the impact of Franz Joseph's compositions were fully appreciated by his contemporaries. Perhaps it's for the best that they were not.
Gustav and Otto Mahler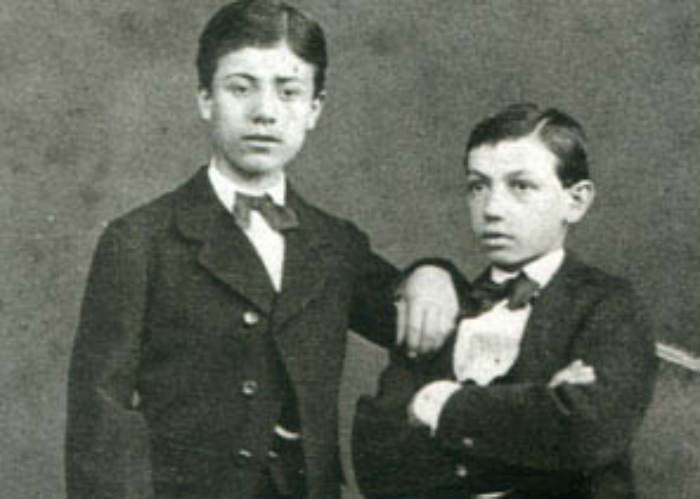 In 1889, both Mahler parents died. Gustav, the oldest and just shy of thirty, inherited financial responsibility for his five siblings. The second youngest of these was Otto, who had grown up "with idealized family stories about the legendary Gustav as well as his brother's actual triumphs," in the words of Stuart Feder. Otto was only two when Gustav left home and sixteen when his parents died. He barely knew the brother who was now to be like a parent to him but he shared Gustav's love of music and desired to pursue a career in the field. Gustav paid for Otto's conservatory lessons. He also paid for the private tutors to keep Otto's grades up. Unfortunately, in addition to having only "modest" talent, Otto lacked consistent work ethic. After dropping out of the conservatory and being rejected from military service, Otto managed to find a temporary job with the Leipzig Opera (courtesy of Gustav's influence).
Though the brothers had shared one happy summer in 1890, filled with morning swims and musical debates, they were rather tired of each other by this point. In May 1894, Gustav took Otto to a performance of his First Symphony, which was received with a smattering of boos. Gustav wryly recounted this event in a letter: "My brother was present ­quite content over this half-­failure as I am over his half-­success." This contentedness was rare in Otto. Ever more prone to depression, he committed suicide less than a year after the symphony performance, on February 6, 1895.
Felix and Fanny Mendelssohn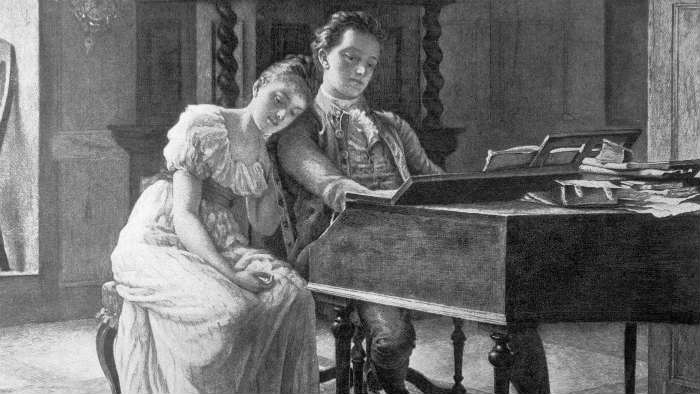 Fanny was the eldest of the four Mendelssohn siblings. When she was born, her mother remarked that she had "Bach­-fugue fingers." Felix, the first son, arrived four years later. Felix and Fanny received identical musical educations and, instead of considering each other rivals, became extremely close. Fanny called Felix "my right hand and my eyesight." Felix nicknamed Fanny "the Cantor" in reference to their shared musical idol, J.S. Bach. In 1829, however, their paths fatefully diverged: Fanny became engaged and Felix left for England. Both children moved forward with the full approval of their father, who had written to Fanny in 1820, "Music will perhaps become [Felix's] profession whilst for you it can and must only be an ornament." Sharing his father's belief that it would not be respectable for Fanny to publish music, Felix brought six of her songs to the public under his name (though freely admitting the true composer when asked).
Between running a household, raising a child, and caring for her aging parents, Fanny found little time to continue with creative pursuits. When she finally did submit a song for publishing under her own name (with her husband's encouragement), Felix played it in concert. In a letter to his sister, he wrote, "I thank you in the name of Leipzig and elsewhere for publishing it against my wish." Despite this success, the issue remained a sore point between them. After deciding to submit more material for publication, Fanny was reluctant to share the news with Felix and opened her letter with a heartbreaking sentiment: "I'm afraid of my brothers at age forty, as I was of Father at age fourteen ­– or, more aptly expressed, desirous of pleasing you." A long month passed before Felix's response. It began on a happier note: "[I] send you my professional blessing on becoming a member of the craft." These remarkable siblings would die within six months of each other, Fanny first, only a year after receiving Felix's congratulations. One of Felix's final acts was to arrange for the prestigious publishing house of Breitkopf & Hartel to print more of Fanny's compositions.