Actor Ethan Hawke is paying homage to pianist Seymour Bernstein, a largely unknown artist, with his first documentary Seymour: An Introduction.
As NPR Classical summarizes Bernstein was dubbed a "rising virtuoso" in a 1954 New York Times preview while a 1969 review—the same year Bernstein made his solo debut with the Chicago Orchestra contained praise about both his technical and interpretative abilities. That review predicted that Bernstein was "ready to break out into a wider circle of attention."
However, at age 50, he decided to stop performing and to dedicate himself completely to teaching, composing and writing. When, in 1977 he arranged a farewell concert at the 92nd Street Y without telling anyone that that was his last performance.
Hawke met Bernstein, now 87, at a dinner party hosted by a mutual friend. Hawke, who "felt safe" around him, decided to confide with him, and they started discussing about stage fright—which Hawke was currently suffering from. The bottom line of their conversation was that most artists "are not nervous enough." Such wisdom prompted Hawke to give Bernstein a wider audience with a documentary. What's more, Hawke appears on screen a couple of times during the documentary, first to recount how his documentary project came to pass, referring to the dinner  party, and then to discuss stage fright.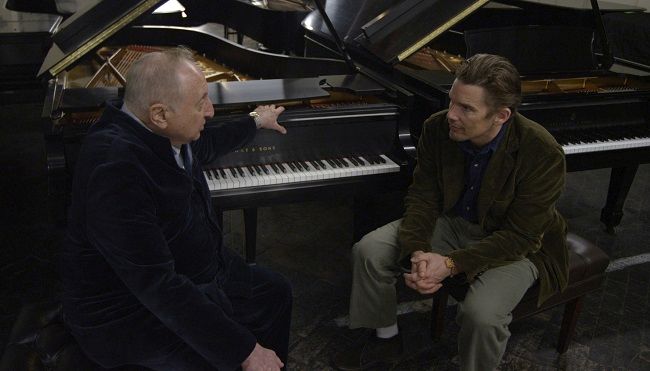 "Sometimes I think that playing life more beautifully is what I am after," says Hawke in the movie trailer. "That's how life is: it has conflict, pleasure, harmony and dissonance; the same thing occurs in music," answers Bernstein, who maintains that the most important thing is to inspire an emotional response in all aspects of life.
In this clip, for example, he explains his emotional response to Schubert's Ständchen.
However, vulture.com reports, during the movie, Bernstein talks sternly about craft, without which "there isn't real artistry," and maintains that parents who don't force their children to practice one hour a day will have half-developed children.
The film opened last Friday in New York.