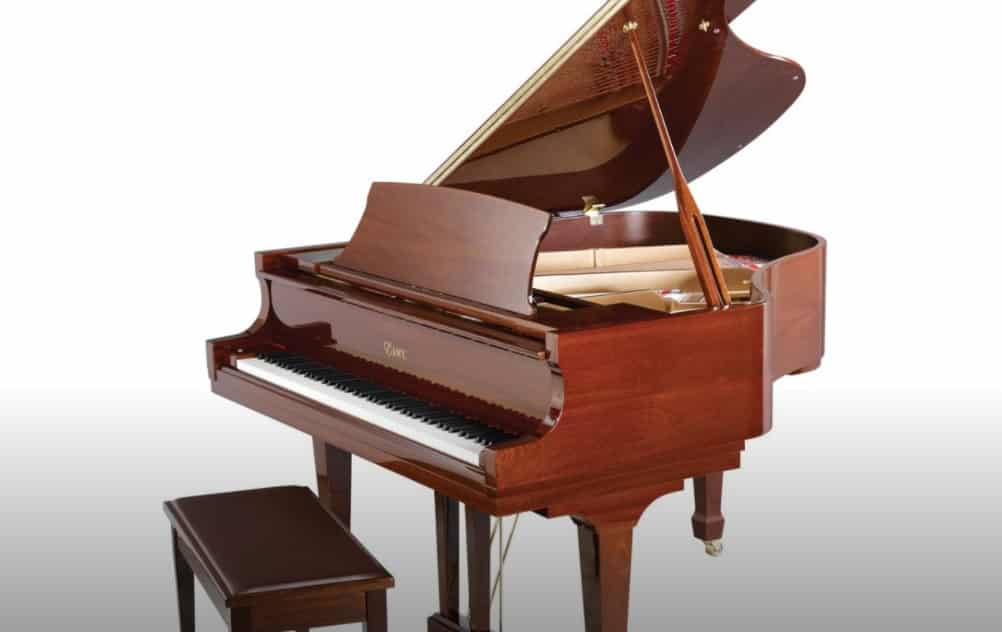 It's often quite challenging to take the final decision to buy a new or used piano. The market is flooded with options and it can be easy to be misled or simply bewildered by the range of possibilities. Amongst the selection of pianos that are dominating the market are the range of instruments called 'Essex' pianos. At first, you might consider this name not to be grand or glamorous enough to command your attention, but you would be well advised to dismiss such preliminary reactions and look a little deeper into the range of instruments.
Essex Piano Review
The first reason is that the 'Essex' range is manufactured under the banner of Steinway & Sons. This accolade is not to be overlooked. Steinway & Sons have been manufacturing pianos for over 160 years and have as I'm sure you know, one of the most enduring reputations for creating the finest pianos in the world. From the Steinway & Sons information, they claim that the very latest technology together with the best Steinway craftsmanship goes into making each Essex Piano.
The Essex range included both upright (vertical) pianos and grand pianos, so there is something there for all pianists. An added incentive that Steinway & Sons offers is that if you find yourself in a position to be able to purchase a new Steinway grand piano within ten years of having purchased your Essex Piano, Steinway & Sons will give a 100% purchase price against the new grand.
The 'Essex' brand emerged in 2001 following on from the success of 'Boston Pianos', also manufactured by Steinway & Sons. These came to market in 1991 and were well received, making a major contribution to the hundreds of colleges and schools that are now titled 'Steinway' schools. What they offered was effectively a way into the Steinway & Sons brand at a price that did not break the bank. The "Essex' brand is still designed and engineered in New York at the Steinway & Sons factories, but the made in China as the Pearl River Factory.
What is important to take note of is that the 'Essex' range is not according to a variety of sources, a second-rate, budget Steinway piano: far from it. Since the launch of Essex Pianos, they have sold in the region of 75,000 which in itself is a testament to quality as well as reputation. The design methods used by the Steinway & Sons engineers in the Essex range are cutting edge, making these pianos very appealing.
The Essex Pianos include, for instance, a 'wide tail design' that means the bridges are closer to the resonant center of the soundboard. This detail allows for far greater continuity of tone between treble and bass. Each soundboard is 'tapered' to produce a longer sustain that is usually found only in high-end pianos. There are besides vertically laminated bridges, pear-shaped hammers with metal fasteners, and in the grand pianos, radial bracing, all of which adds up to a piano of significant quality and design.
Amongst the 'Essex Range,' you will discover thirty-five models of grand pianos and around thirty-one vertical models. There is something here that will appeal to everyone especially with the impressive selection of different finishes. To illustrate the point, the EUP-108C in continental polished mahogany (42″), retails at around $5800. Further up the price ladder comes the EUP-123FL in Empire Satin Walnut at a very reasonable $9000. If it is a grand piano you're looking for then at a modest 5 feet and one inch is the EGP-155 in Satin and polished mahogany with a price tag of $14,300. At the top end of the range is the EGP-173 (five feet eight inches), with a slightly higher price of around $18000.
If we pause for a moment to pitch the Essex Grands against its competitors, it makes for quite informative reading. Take the EPG-173 (above), which has a tapered soundboard with a minimum of eight grains per inch, vertically laminated bridges, hammer under felting, a maple and beech rim together with Roslau strings. A comparable model by Yamaha (GC1M) at a cool $23,999 has none of these features. It is not until you pay a loftier $37,999 for the Yamaha G1X that you discover this level of build quality.
What Steinway & Sons claim is that they know through years of experience in piano design and manufacture, how to make the 'best' pianos/ They do not wish to compromise on those components that they view as essential to creating the 'best' pianos and this is why you have these high-level features that other manufacturers do not offer.
If you make a similar comparison between upright (vertical) pianos, you find equally compelling evidence that supports Steinway & Sons claims. If for instance, you buy an "Essex EUP-116′ at around $7,500 you will receive a piano that has, so it appears, much more to offer than that of a Yamaha M560, or even the Yamaha B3 at around $8250. Even the reputable Kawai K400 ($12,500), does not contain the same components that the EUP-116 does at roughly half the price. Whether you accept this information on face value or feel the need to look more deeply into the specifications, you would be hard-pressed to ignore the merits that the 'Essex Pianos' have to offer the pianist.
In the final analysis, the choice is a deeply personal one as well as one governed by budget. There is little doubt from the numerous reviews and professional commentary regarding the quality of Kawai, Yamaha, and Steinway & Sons pianos. Sometimes the fact that the 'Essex Pianos' are manufactured in China is enough to send potential buyers scurrying in an alternative direction.
Certainly, the pianos that are manufactured in China and Indonesia may not always live up to the standards set by established, historic piano makers, but in the case of the Boston and the Essex pianos, this is a small consideration. What separates and ultimately chooses the 'right' piano is how it sounds and plays for you. If it's right, then it's right, and no matter how many statistical tables or opposing reviews you may read, you will already have made your decision.