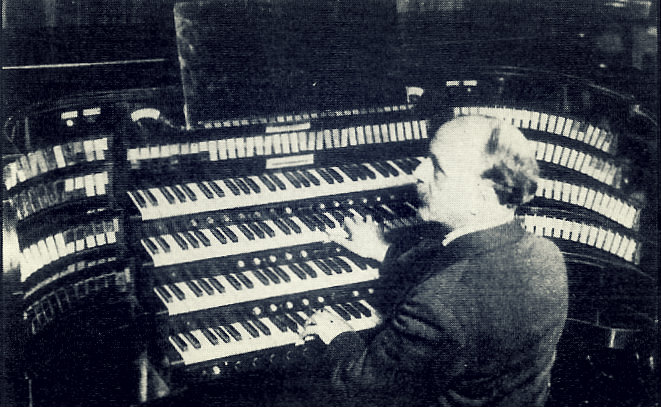 The French composer, Louis Vierne (1870-1937), wrote six symphonies as large-scale concert works for pipe organ. He studied with French composer-organists César Franck and Charles-Marie Widor and later offered the position of organist of the Cavaillé-Coll organ at the Cathedral of Notre-Dame in Paris. His works showcased a full range of tones and dynamics as well as technical skills, making him a well-known recitalist on both sides of the Atlantic.
His first symphony, Symphony No. 1 for organ in D minor, Op. 14, was premiered in 1899. It had six movements but it was the last movement or Final, that is often performed as a solo. From the first note to the last, it is non-stop with the melody in the pedals and rapid accompaniment in the manual keyboards. This movement is loud, with many stops preset to achieve the full sound. It is one of those works that is breathtaking both to those listening and watching the performance.
Vierne was born with congenital cataracts, leaving him nearly blind. That did not stop his gift for music though and he was picking out melodies on the piano by the age of two. He studied music at the Paris Conservatory and, in 1892, became the assistant to Widor who was organist at the Church of Saint-Sulpice in Paris. He also taught at the Paris Conservatory and the Schola Cantorum. Maurice Duruflé and Marcel Dupré were among his pupils. Vierne accepted the organist position at Notre-Dame in 1900 and remained in that post until his death in 1937.
The highs and lows of his personal and professional life were expressed in his symphonies. At first, he composed using large-sized paper and a large pencil but changed to Braille after his sight grew worse. Some of his personal tragedies included a divorce from his wife, the death of his brother and son in battle during World War I, and spending a year fully recovering from having almost lost a leg in an accident in Paris. This was combined with his constant struggle to have some sight. Despite these hardships, he had a deep faith.
His symphonies were all written in minor keys and followed the musical scale. Symphony No 1 was in D minor leaving the other five to be in the minor keys of E, F-sharp, G, A, and B, in that order. He had planned to write a seventh symphony in C minor to complete the series, but that was not possible due to poor health.
Vierne also wrote for piano, vocal solos, orchestra, choral and chamber ensembles. Many of his vocal works were religious but not all of them. He composed vocal solos based on Greek poems and other secular sources. He wrote a series of nocturnes for the piano and a variety of secular music for various instrumentation. However, it was the pipe organ for which he is best known. His extensive concert schedule included a tour in North America that was a fundraiser for the restoration of the organ at Notre-Dame.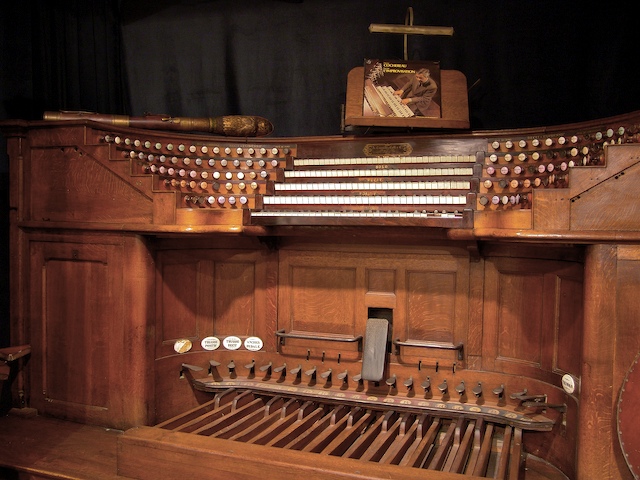 His 1,750th recital took place on June 2, 1937, at Notre-Dame. He was almost finished with the performance when he collapsed from a heart attack and died. The only part of the program that remained was for him to play improvisations based on themes submitted to him. He had read the first theme in Braille and had selected the stops when he suddenly fell off the bench. His foot rested on a single pedal. His former student, the organist, and composer Duruflé was by his side. His wish had come true, that when he died, he wanted it to be at the cathedral's great organ console.