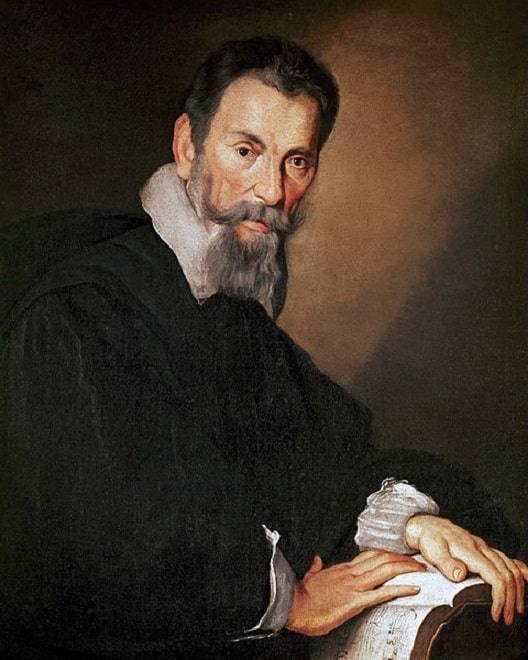 Italian composer Claudio Monteverdi (1567 – 1643) was centuries ahead of his time. He is one of the best composers to ever live and at the turn of the 17th century, he helped to revolutionize not just the way that poetry was written, but he also helped to set the stage for opera music and the beginning of Baroque. He is one of the only 17th century composers whose music is still performed regularly today.
Although his music ended the Renaissance style his works such as Orfeo and L'incoronazione di Poppea are still used as the benchmark for opera compositions today, having been recreated time and time again over the years by contemporary composers and performers.
Leo Schrade wrote a book titled "Monteverdi: Creator of Modern Music in 1950 and he has maintained this title ever since. If you are interested in learning about this great Italian maestro, here are 10 INTERESTING Facts about the Composer – Claudio Monteverdi:

Feel free to Subscribe to Our YouTube Channel if you like this video!
Facts About Claudio Monteverdi:
Family life
Monteverdi's father was a chemist who was also a practicing surgeon, which might help to explain why he was such a modernist. The Italian master was born in Cremona in 1567 and he was an only child. He received lessons from a young age from Marc'Antonio Ingegneri, the maestro at the hometown cathedral. By the time he was 15, he had already created his very first composition.
2. He received a lot of criticism
Monteverdi was criticized constantly by his fellow composers. However; he suffered from publicized attacks from conservative music theorist Giovanni Maria Artusi the most. Artusi reprimanded Monteverdi's unique harmonic language in many of his works including the harmonies in the Fourth Book of Madrigals. To react to Artusi's criticism, Monteverdi responded in the preface of his new publication, the Fifth Book of Madrigals explaining to Artusi that what he had criticized so publicly was simply a new way of thinking or seconda practica.
3. He is the father of opera music
Monteverdi was at the forefront of transforming the opera from something that was performed only in front of princes and the elite to an art form that could be appreciated by the public. During his time, Complex Renaissance music was the order of the day with its multifaceted vocal lines. However, composers and performers were eager to set it aside for something new whereby a singer would be accompanied by supporting chords and instruments.
It was here that opera was born. Before it was performed publicly for the first time, Monteverdi and his fellow artists would meet in aristocratic households to discuss how they would create musical dramas. Monteverdi, therefore, paved the way for the evolution of the opera. Not long after, he produced Orfeo.
4. Lost Monteverdi works
Monteverdi realized very early on in the opera game that for opera as a new musical genre to be successful, it must have a sweeping musical structure supporting the dramatic flow. This explains why Orfeo became such a huge success. However, Monteverdi came up with at least 12 other operas that are supposedly lost. The only pieces of his compositions that survive that can enable complete performances to be created are Il Ritorno d'Ulisse in Patria (1640) and L'Incoronazione di Poppea, which was created in 1642, right before he passed away. Both of these operas were performed when Venice's first opera house was opened in 1637.
5. Claudio and Claudia
In 1599, Monteverdi married his wife Claudia Cattaneo, who was a court singer. The couple had three children but one of them passed away in infancy. A few weeks after Orfeo was first produced, his wife passed away after years of illness. After her death, Monteverdi suffered a long depression but bounced back after he was summoned to create an opera for Francesco Gonzaga's marriage to Margaret of Savoy.
6. He transformed the St. Mark's Basilica in Venice
During his era, being appointed as director of the St. Mark's Basilica in Venice was something of an honor. The Basilica had been mismanaged for years by ineffective maestros, and in 1613, administrators convinced Monteverdi to take charge of the musical operations. Within a short time, Monteverdi had completely transformed the Basilica having reorganized the operation completely. He hired new players and singers that were well trained, he had the library restocked and he provided a platform where old world repertory and new musical compositions could unite. He maintained the title of directorship for the next 30 years.
7. Madrigals
Madrigals were popular during the Renaissance Period but unlike opera, which was designed for a single voice, madrigals were part songs designed to be sung by several voices. Monteverdi created nine books of madrigals, which consolidated the achievement of all the late Renaissance masters. However, it also paved the way for the creation of a new aesthetic in musical Baroque.
8. Church music
Aside from opera and madrigals, he is also known for his collection of sacred music. His is remembered for his stunning collection of works that were published in Venice between 1640 and 1641. The collection of scores was known as the Vesper Psalms. He also created a mass of thanksgiving in 1631.
9. He became a priest
Monteverdi did not manage to emotionally recover from his wife's death despite the musical distractions around him. He entered the priesthood in 1632 and during this period, he composed some of the best-sacred music for the Roman Catholic Church.
10. His music is still performed today
Monteverdi is still as respected today as he was during the 17th century. Inventively dramatized versions of the complete Fourth Book of Madrigals (1603) are performed regularly by music ensembles all over the world to sold-out audiences. Orfeo, which is considered the original opera, has achieved staggering fame, while his mystical and beautiful Vespers of 1610 are still taught in classrooms today.