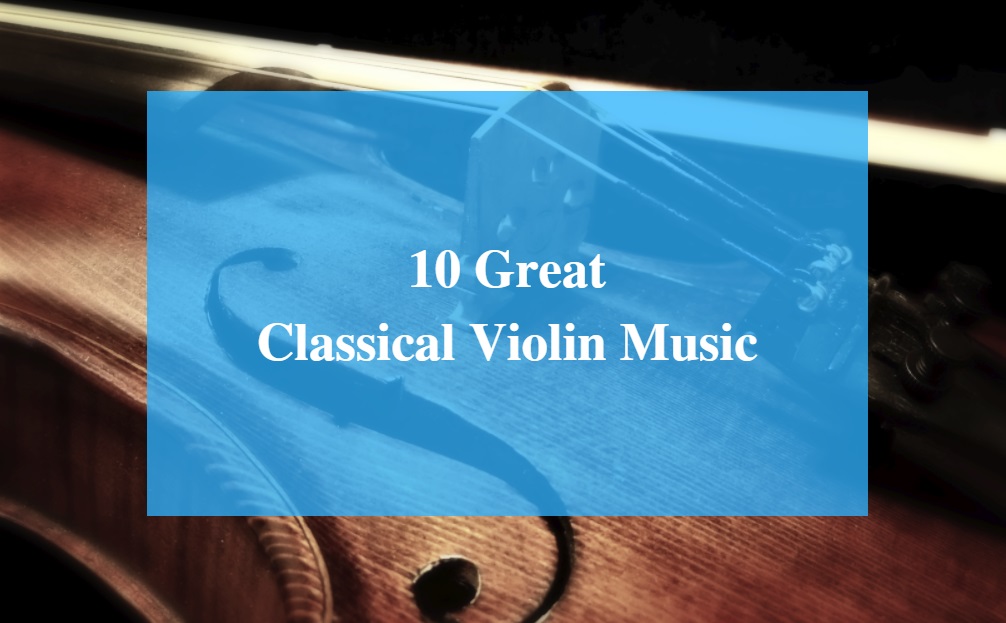 The violin first appeared in the 16th century in Italy. At least that is what we believe. It appeared in paintings of Gaudenzio Ferrari in the 1530s, and the entire family of violins (violin, viola, cello, double bass) was described in a treatise written by Philibert Jambe in the mid-1500s. Certainly, there were stringed instruments dating back to the 9th century, but we do agree that the modern violin comes from the 16th century.
Read: Hardest Violin Pieces
10 Great Classical Violin Music
With that said, some of the most amazing music in the world had been created for and/or played by violins. Here are 10 of those amazing works.
Kabalevsky Violin Concerto in C major, Op. 48
Dmitry Kabalevsky (1904-1987) was not beloved among his fellow musicians who saw him as self-serving and opportunistic in his support of the Soviet Union Communist government, at a time when most artists were in disfavor. Still, he is recognized as a fine composer and orchestrator, and his violin concerto in C Major is perhaps his most famous and popular work. It is reflective of catchy melodies and is a bit reminiscent of the Romantic era. It has the typical three movements – the first is quite driving; the 2nd is of ABA form and is embellished with captivating scales; the third movement is often described as slap-happy, but is nevertheless definitely vivacious.
Schubert's "Der Erlkonig" for Solo violin
Franz Schubert was an Austrian-born musician who lived during the transitions from the Classical to Romantic periods. At an early age, he learned the violin and piano and his beautiful voice gain him admission to the Imperial Chapel Choir School. Schubert began to write music as a teen, but his work was not widely recognized as great, and he suffered in poverty most of his short life. He died at age 31 from syphilis.
Schubert's musical heroes were Mozart and Beethoven, and that was reflected in his works. In his short life, he wrote 9 symphonies, 15 string quartets, and hundreds of other pieces, including German art songs, operas, and piano pieces.
Der Erlkonig is a musical story based on Johann von Goethe's poem of the same name. It's a dark tale of a father who loses his son to the Erlkonig, an evil ghost-like creature who inhabits the woods.
The high and low tones of the music depict the child's cries of his fear to his father and his father's reassuring responses. In the YouTube video above, violinist Hilary Hahn captures the essence of the piece perfectly.
Bach Violin Concerto No. 1 in A-minor, BWV 1041
Bach's two surviving solo violin concertos are well known, but nothing is known about when they were actually composed. The best guess is sometime between 1717-1723 during the time that he was not employed by the Lutheran Church Services.
Because he was an accomplished violinist himself, it is likely that he played the solo part and directed the orchestra at the same time, as he loved to do. He also performed partitas and sonatas on his Jacob Stainer violin, the Cadillac of violins of the era.
The A-minor concerto is a bit unique in that the soloist and the orchestra rarely play together. The theme of the first movement, for example, is introduced by the orchestra but never played by the violin. This continues throughout the entire work until the very end when all instruments play in sync.
Vitali Chaconne
Tomaso Antonio Vitali (1663-1745) was a composer and violinist of the Baroque period. His Chaconne in G-minor, however, marks a major departure from all of his other works, and, even though he is best known for this work, there is much speculation that it is not truly his.
Vitali studied musical composition in Italy and was employed by the Este court Orchestra for a large part of his adult life. He was also a teacher. Works that have been verified as his include numerous violin sonatas.
The mystery surrounding the Chaconne is that it was not actually published until long after Vitali's death. And the work is a marked deviation from everything else he wrote, specifically changing keys rather wildly throughout. Still, whether truly Vitali's, it remains a hugely popular piece with violinists, in arrangements with piano, organ, and orchestra.
Mendelssohn Violin Concerto in E-minor, Op. 64
Felix Mendelssohn was a product of the early Romantic period, having lived from 1809-1847. He was considered a child prodigy, giving his first public performance at the age of 9, and became a renowned composer, pianist, organist, and conductor until his death at the age of 38.
It was as a teenager that Mendelssohn composed his Concerto in E-minor for his friend, violinist Ferdinand David, to perform. The work was 5 years in the making and was much more conservative than other composers of the time – Liszt and Wagner, for example.
Interestingly, after David performed the Concerto, another teenager played its second performance. And for some reason, this work is a major favorite of all young violinists, almost 175 years later.
Bach Sonata NO. 1 in G-minor, BMV 1001; Fugue
Polyphonic violin composition was well-developed in Germany by the time Bach set about to compose his Sonatas and Partitas for solo violin. These were a set of 6 works completed in 1720, but not published until 1802. The entire set (BMV 1001-1006) is three sonatas of four movements each, paired with three partitas, or dance suites. While they were largely ignored when published, today this set has become an important part of any violinist's repertoire and is performed regularly.
Sonata No. 1 (BMV1001) has the typical four movements – Adagio, Fuga (allegro), Siciliana, and Presto. The second movement has been re-worked for the flute and the organ and is often played on the organ today.
Tchaikovsky Violin Concerto in D-major, Op. 35
https://www.youtube.com/watch?v=CTE08SS8fNk
Many consider this concerto, written in less than a month in 1878, to be one of the greatest works ever composed for the violin. Tchaikovsky wrote it while in Switzerland, and it is said that his inspiration came from the presence of young violinist, Joseph Kotek, a former pupil. In fact, it is quite possible that the relationship was romantic between the two.
Nevertheless, the piece is difficult and complex, and Tchaikovsky had a difficult time finding someone to perform it – someone that would appeal to Western European and American audiences. A Russian, Adolf Brodsky, finally agreed to launch the concerto to a Viennese audience, and it got mixed reviews. Many saw it as just too unconventional when compared to other giants of the time, like Brahms.
The first movement spins two themes; the second, called Canzonetta by the composer, is melancholy, but the Rondo is by far the most challenging movement – a theme with lots of contrasts/episodes with a flavor of "folk" and abandonment.
Today, it is popular, and violinists who master it feel they have met a big challenge.
Shostakovich Violin Concerto No. 1 in A-minor, Op. 99
Shostakovich composed the First Violin Concerto (originally named Opus 77) in 1947-48, during the post-World War II era of Stalin. Censorship of all fine arts meant that anything to be performed had to be reviewed and approved 10 days prior to its performance. Many artists were persecuted for their lack of conformity to Soviet artistic standards. Had Shostakovich attempted to perform this work, he would have been among the persecuted. He, therefore, shelved the work until after Stalin's death, when censorship was eased.
The concerto is in the symphonic form of four movements. The first movement is a nocturne and begins with a short orchestral part that introduces the melodic theme. The violin then enters and adds rhythm and motifs. The second movement is the scherzo, upbeat, and rhythmic. The Passacaglia (3rd movement) is the one most frequently played and recognized and is reminiscent in tone and rhythm to the first movement. The fourth movement, the Burlesque, is again rhythmic and upbeat in tempo.
This is an amazing and challenging work for any violinist to master.
Bach Partita No. 2 in D-minor, BWV 1004: Chaccona
This is another of the six works (sonatas and partitas) that Bach completed in 1720, published in 1802. Again, these were polyphonic compositions, and the partitas were really dance suites. The Partita in A minor is probably the most popular of the three in this set, and consists of four dances, followed by a Chaconne.
For the violinist, this work is a challenge. Of the four movements, the three short ones are relatively easy, but in the Sarabande, followed by the Chaconne, harmony becomes more complex with cascading and descending notes, with a "roller coaster" effect of slow moments followed by almost frenzied passages.
Sibelius Violin Concerto in D-minor, Op. 47
https://www.youtube.com/watch?v=sCY-JYryRSw
No student of music has not listened to, analyzed, and been awe-inspired by jean Sibelius's symphonic poem, Finlandia. In fact, that work, and many others made this late 19th and early 20th-century composer the most popular and widely recognized composer in Scandinavia during that time.
Originally studying to be a lawyer, Sibelius could not give up his music and it ultimately became his life's work. Society is better for that decision.
Sibelius's music study began as a violinist, but he soon began to study composition as well, and that became his passion. But he never forgot his love of the violin, and this concerto is the only one he wrote for that instrument. The premiere of it was a bit of a disaster, and he went back to the drawing and made the revisions necessary for it to become a widely popular work for violinists (a bit easier too).
Technically, this is difficult work. It is in three movements, like the majority of concertos, and Allegro Moderato, an Adagio, and the 3rd Allegro movement which switches to D-major and ¾ time. The most standout feature is the cadenza for the violinist in the first movement.
A Note for Students of Music
Whether your studies are taking you to a career in performance, teaching, or criticism, these ten classics for violin will be a part of your curricular fare. They are complex and represent many musical periods, about which you will write many critical essays and papers. If your talent lies in music as opposed to English composition, you may want to seek some essay online help for students from degreed experts in music criticism.