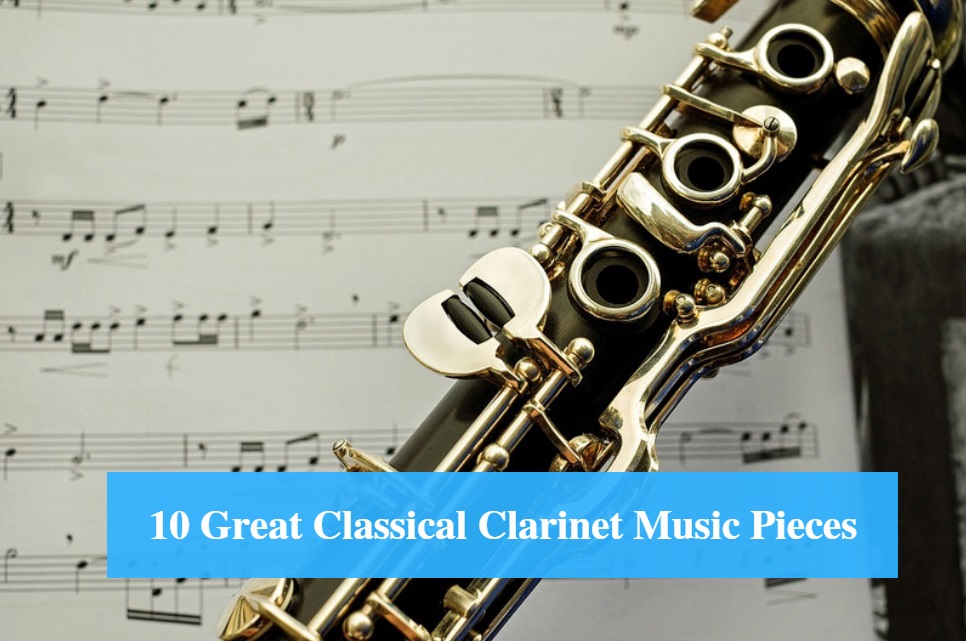 The clarinet is a woodwind instrument, which is within the more general category of wind instruments. This musical instrument is played with a single reed and there are many different sizes with several different pitch ranges. Altogether, there are more than a dozen types of modern clarinets, but the most common are the ones used in bands and orchestras (B flat and A).
A standard clarinet consists of the following five parts: the mouthpiece, the barrel, the upper joint, (or left-hand) the lower joint, (or right-hand) and the bell. A single, thin, flattened piece of cane specially shaped to form a reed must be inserted into the mouthpiece before being the clarinet can be played.
Different notes can then be produced as the player moves his fingers over keys which open and close air holes which are in the clarinet's body. One who plays this instrument is referred to as a clarinetist.
The modern clarinet was made around 1690 by Johann Cristoph Denner, but an instrument similar to it dates back to as early as 3000 BC Egypt. Types of this instrument have been played all over the world but were most exclusively used by peasants and folk musicians until after the seventeenth century.
Once Mozart realized the clarinet's abilities as a solo instrument, virtuoso performers and composers alike began to exploit its dynamic range. The clarinet developed further until about 1850, after which time a standard developed for size and shape, which is generally the same as modern instruments. For a listening sample, here are 10 great classical clarinet music videos listed in no particular order.
10 Great Classical Clarinet Music / Clarinet Solo Pieces
1. Mozart – Clarinet Concerto [Sharon Kam]
Mozart wrote Clarinet Concerto for clarinetist Anton Sandler in October 1791. It was one of Mozart's last completed works and was his final purely instrumental piece. He died just a brief two months after its premiere. The Clarinet Concerto, consisting of the usual three movements, is known for its exquisite interplay between the clarinet soloist and the orchestra. The premiere of this concerto was on October 16, 1791 in Prague, where it received a generally positive reception.
The clarinetist in the particular version of the Clarinet Concerto is Sharon Kam, one of the world's leading clarinet soloist. She has worked with many renowned orchestras for over twenty years all over the United States, Europe, and Japan. She even played Mozart's Clarinet Concerto at her orchestral debut at the age of sixteen.
2. Flight of the Bumblebee – Bb clarinet
The Flight of the Bumblebee was originally written as an orchestral interlude, intending to musically evoke the visualization of the seemingly chaotic flight and rapidly changing the flying pattern of a bumblebee. It was written by Nikolai Rimsky Korsakov for his opera The Tale of Tsar Saltan. Today, it is one of the most familiarly recognized pieces of classical music due to its frequent use in modern culture, despite the fact that it began merely as the opera's rather incidental part.
This particular interpretation of the Flight of the Bumblebee played on clarinet is performed by Jonathan Greene at Skidmore College. Greene is an active jazz and classical multi-instrumentalist, playing both the clarinet and saxophone.
3. Han Kim plays Solo de Concours by H.Rabaud
Henri Rabaud was a French conductor as well as composer. He held several important posts in the French music institution. Additionally, he upheld primarily conservative trends in French music, choosing to believe in his mantra "modernism is the enemy."
Rabaud came from musical family background. His father was a cellist and professor of cello at the Paris Conservatoire, his mother was a singer, and several other relatives were musical as well. Among Rabaud's chamber music was Solo De Concours for clarinet and piano, which is a virtuosic piece written for the competition in 1901 for contests at the Conservatoire.
4. Lean On by Major Lazer (Four Play clarinet Music Video Cover)
"Lean On" is a popular song recorded by an American electronic group, Major Lazer. The song was written by MØ, Diplo, (a Major Lazer member), and DJ Snake, who also produced the song. In addition to it being an electronic song described as a house ballad, it is also a dance. "Lean On" was a huge success, reaching the top of the charts in many countries, and was named as Spotify's most-streamed song of all time. As far as its composition, according to the sheet music, "Lean On" is composed in G minor with a tempo of a hundred beats per minute.
Four Play clarinet, made up of four clarinetists, infuses a fresh, hip spirit with both multi-cultural and international roots with the classic clarinet ensemble. Putting a new twist on clarinet music, Four Play clarinet combines virtuosic classical training with new age pop and electronic music, pushing the instrument in new and exciting directions.
5. Frozen Let It Go (Clarinet Cover)
"Let It Go" is an exceedingly popular song from Disney's 2013 animated feature film Frozen. The music and lyrics were composed by the husband and wife songwriting team of Robert Lopez and Kristen Anderson-Lopez. The song was originally performed in its show-tune version by American actress/singer Idina Menzel who played the vocal role of Queen Elsa. The writers also prepared a simplified pop version which was performed by actress and singer Demi Lovato for which a music video was also released. "Let It Go" was 2014's fifth best-selling song and it won both an Academy Award and a Grammy Award.
Numerous covers have been recorded, including this clarinet cover by ShonHagashi Anime Clarinet. ShonHagashi Anime Clarinet uses his YouTube channel for introducing his various covers to others not only for his love of music but also in hopes of inspiring others to pursue or improve their own musical talents.
6. Clarinet Solo Just The Way You Are by Bruno Mars
"Just The Way You Are" was the debut single by American singer/songwriter Bruno Mars and was the lead single from his debut album as well. The song was written by Bruno Mars, Phillip Lawrence, Ari Levine, Khalil Walton, and Needlz. The song received positive reviews from critics and it was considered to be a stand-out track on Mars' debut album. It was the best-selling digital single of 2011 and it won a Grammy Award as well.
The song is in F major, with a sequence of F-D-minor-B-Flat-F. It has been used in various media as well as being covered by various artists. This is a clarinet cover by Spencer Camp. Camp has a YouTube channel with other covers, but not much information could be found on this young clarinet player.
7. Corrado Giuffredi: Clarinet Solo
Raffaele Bellafronte, born in Italy in 1961, is a modern Italian composer. He studied piano, composition, and analysis. His various works have been published across the globe. The first execution of this clarinet solo, "Shadow fragments and lights for clarinet solo" was in Tokyo in 2005 at the Worldwide Convention of Clarinet. It was also included on his album Da Vince Edition.
Corrado Guiffredi is an Italian clarinetist who began studying at the young age of ten at the Conservatory of Parma where he later graduated with honors. Giuffredi, who is truly a versatile artist, is renowned as a classical, jazz, chamber, and klezmer musician.
8. Imagine Dragons – Radioactive. Clarinet cover. By Ferenc Clarinet
"Radioactive" is a song by American rock band Imagine Dragons from their debut album. Musically, this song is an alternative, electronic song with dubstep elements containing cryptic lyrics about apocalyptic and revolutionist themes. The song received positive critic reviews with praise for its production, lyrics, and vocals, calling it the highlight of the debut album. As one of the best-selling singles of all time, "Radioactive" won a Grammy Award for Best Rock Performance. The song was written by Imagine Dragons and producer Alex Da Kid. It has been used heavily in media and has been covered by a few, such as this clarinet cover by Ferenc Clarinet.
Ferenc Clarinet has a YouTube channel on which he declares his love of clarinet. He's covered many other songs as well. Not much information could be found on the clarinetist himself.
9. Rachmaninoff 2nd Symphony clarinet solo
Sergei Rachmaninoff, a Russian composer, wrote Symphony No.2 in E minor in 1906-1907. The premiere was conducted by the composer himself on February 8, 1908 in Saint Petersburg. The symphony remains one of the composer's most known compositions. The clarinet solo is about two minutes in length.
Here, it is performed by clarinetist Alessandro Carbonare. Carbonare began playing clarinet at the age of 5. He has had several prestigious appointments and now teaches at the Accademia Musicale Chigiana.
10. Love Theme from Cinema Paradiso by Andrea Morricone for Solo Clarinet and Orchestra
Andrea Morricone knew at the age of fourteen that he would be following in his father's footsteps; Ennio Morricone was a distinguished composer and conductor. Andrea's impressive filmography includes over twenty Italian and international film scores, one of which was the "Love Theme" from Cinema Paradiso for which both Morricones received the coveted BAFTA for Best Original Film Score.
Clarinetist Seunghee Lee has been recognized as an uncompromising soloist who is destined to become a top contender in the field. She was featured as one of the "Top 30 Classical Stars Under 30". In addition to her being a multi-faceted musician, international recording artist, and musical entrepreneur, she is the founder of "Concert for Cause" and plays the "Love Theme" at a Concert for Cause Gala.