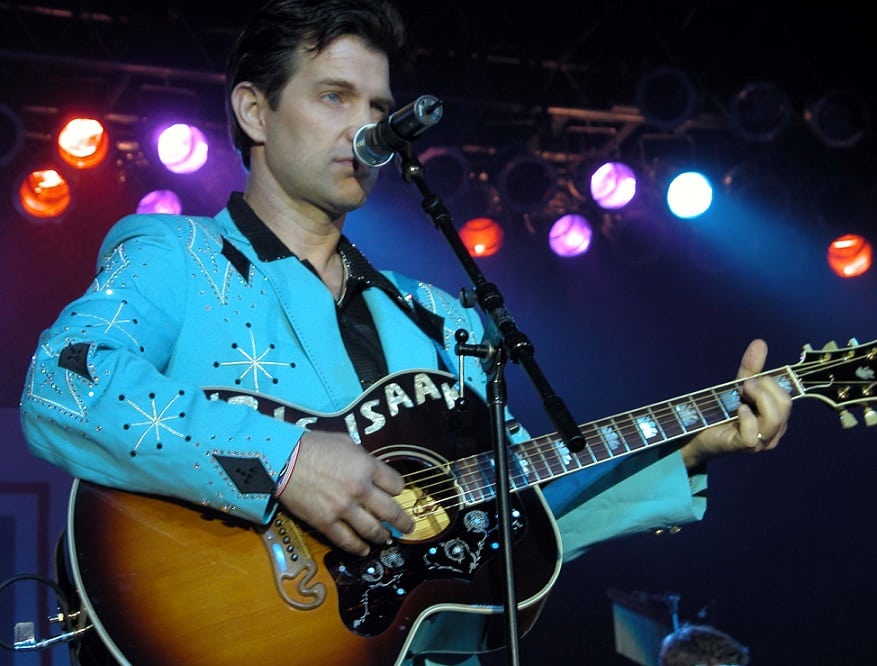 Biography of Chris Isaak
Chris Isaak shot to fame from humble beginnings to become a global icon and rock and roll phenomenon. Although he has been in the industry for more than 25 years now, his popularity has not waned over the years. In fact, he has managed to do what most musicians have been unable to do- make the jump from musician to actor. The trajectory of his success in both fields has simply been outstanding and he has helped to set a new standard for upcoming musicians that wish to transition careers to follow.
DISCLOSURE: This post may contain affiliate links, meaning when you click the links and make a purchase, I receive a commission. As an Amazon Associate I earn from qualifying purchases.
As an acclaimed actor and rock musician, he gained fame as a result of his heartbreak songs. Created to resemble the voices of early performances from Elvis Presley and his idol Roy Orbison, Isaak has consolidated his status in the musical realm despite singing largely similarly themed songs throughout his illustrious career.
So many of his creations are based on past loves and girlfriends but it is this melancholic characteristic alongside his version of the '50s and '60s rock & roll that made him into a star back when he started out. In the course of his career, he has garnered numerous awards including the Stockton Arts Commission.
Early family life and background
Christopher Joseph "Chris" Isaak was born on June 26, 1956, in the blue-collar town of Stockton, California. His family was from a humble background; his father, Joe Isaak, worked as a forklift driver while his mom, Dorothy Vignolo, supplemented the family's income from her potato chip production salary. Although the family did not have much in the way of assets, Isaak did receive a solid upbringing from his family. Isaak was the youngest of three boys, the other two being Nick and Jeff Isaak.
As a child, he was always interested in music. He would regularly borrow his brother's guitar, which is how he developed an intense passion for the instrument. When he could, he would frequent the local thrift shops to purchase rock n roll records with his earliest influences being Elvis Presley, Hank Williams, and Roy Orbison.
Isaak attended Amos Alonzo Stagg High School in north Stockton where he excelled in his studies and as a student leader. After graduating as class valedictorian in 1974, he enrolled in the University of the Pacific, Stockton where he graduated in 1981. As a student at the university, he spent a year abroad in Japan as an exchange student but by then, he had already made up his mind to pursue music.
Upon graduating from college, he formed his first music group in 1981 titled Silvertone. The group members were made up of lead guitarist James Calvin Wilsey, bassist Rowland Salley, Kenney Dale Johnson on the drums, while Isaak served the role of vocalist, as well as the rhythm guitar player. Isaak and his band performed in clubs and bars to make ends meet but upon a meeting with Erik Jacobsen, the band was introduced to Warner Bros, which secured them a recording contract.
Silvertone released their first record under Warner Bros. in 1985. Although it was received well by critics, it failed to perform as expected on the charts and album sales flopped. Two years after Silvertone was released, he released Chris Isaak which managed to do relatively well in the Top 200 album charts. As his music began to get popular, it garnered him some attention with the most notable one being from his earliest musical influence and inspiration, Roy Orbison, who asked him to be the opening act of his 1988 tour.
In 1989, he released his third album titled Heart Shaped World, which is what propelled him to fame. One of the singles in his album Wicked Game was used as the soundtrack in the 1991 David Lynch film titled Wild at Heart. Soon, the hit became so overly requested at radio stations that it managed to sell over one million copies. Other songs in the album that helped to make it a platinum success included Don't Make Me Dream About You and Heart Shaped World.
Subsequent albums San Francisco Days (1993), as well as Forever Blue (1995), which was Grammy nominated and also contained Grammy-nominated song "Somebody's Crying "followed up the massive success of Heart Shaped World. In 1996, Isaak worked on The Baja Sessions while Speak of the Devil followed 2 years later in 1998.
His busy touring schedule allowed him to make the seamless jump from musician to actor. His first major acting role came in 1991 when he appeared in Jonathan Demme's Silence of the Lamb. Previously, he had participated in a minor role in 1988's crime drama-comedy titled Married to the Mob. In 1992, he booked David Lynch's Twin Peaks: Fire Walk with Me and Little Buddha in 1993. After a long break, he returned to acting when he appeared in John Waters' 2004 film A Dirty Shame and later in The Informers in 2009.
His various acting roles kept him in the studio until 2002, when he released his long-awaited album Always Got Tonight. In 2001, he returned to the TV screen with the Chris Isaak Hour which aired for the next three years. He did not release another album until 2004 when he worked on his seasonal album, Chris Isaak Christmas.
In 2011, he paid homage to Sam Philips and his Memphis Sun Records '50s sound when he released Beyond the Sun which featured cuts recorded by the liked of Johnny Cash, Jerry Lee Lewis, Carl Perkins, Elvis Presley, and Carl Perkins. In 2015, he returned to TV once again as the judge of the X Factor Australia Season 7, which when he also released his 13th album First Comes the Night.