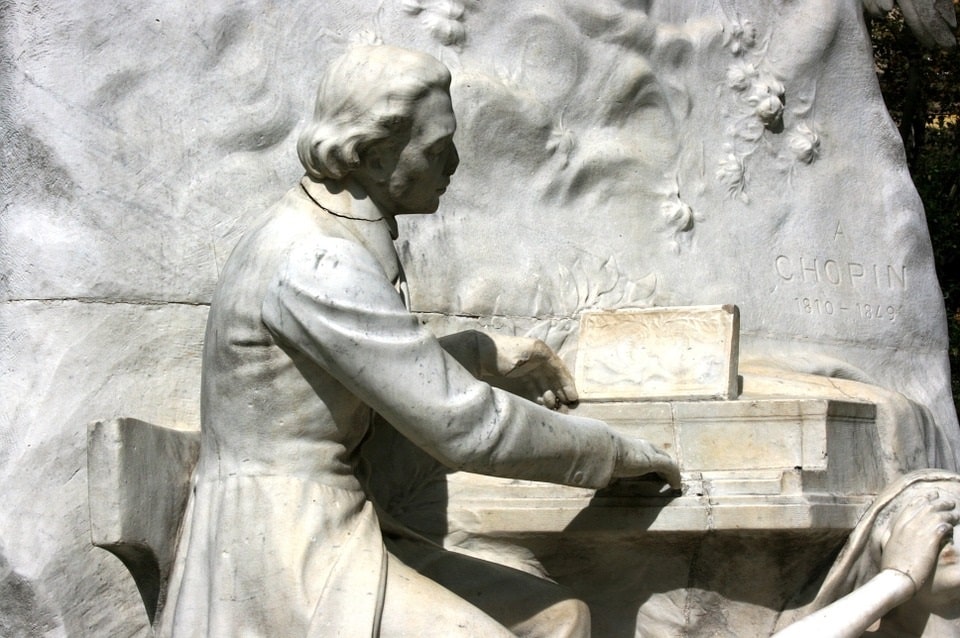 There are two sides to Chopin. The show-off, racing pieces that demand incredible virtuosity from the pianist, and the ethereal, heartbreakingly beautiful pieces that make you weep. The pieces I have selected here fall into the second category, because some pieces, such as the Revolutionary Etude, while brilliant and breathtaking, don't really fall into the "beauty" category as easily. At least, not all the way through, as many of these others really do.
Chopin wrote many works – over 230, and nearly all for piano solo. Some pieces have been lost or destroyed, and there are some pieces that cannot be confirmed to have been written by him. He requested on his deathbed that his unpublished works be destroyed. Fortunately, nobody kept that promise or we would have been several beautiful Chopin pieces shorter today. And it does make me wonder what we missed out on with him dying so young, at the age of 39.
The main bulk of Chopin's catalogue falls under the categories: Mazurkas, Waltzes, Nocturnes, Polonaises, Etudes, Impromptus, Scherzos, Ballades, Preludes and Sonatas. He also wrote some odd pieces that don't fall into any of these categories as well as two piano concertos.
When we hear a piece of music, it will sometimes take us back to where we were when we first heard it, or as a pianist, when we first studied it. Therefore, with such a huge bulk of beautiful music to sift through, some of my own fondness is likely to guide my choices.
Chopin's Most Beautiful Piano Pieces
Close to my heart, my first pick is the Fantasie Impromptu in C# minor Opus 66, composed in 1834 and published after Chopin's death.
There are 58 published Mazurkas. The Mazurka is a traditional Polish folk dance in waltz time. Chopin developed the style for the concert hall. The title for the most beautiful Mazurka has two contestants – Opus 59 No. 3 in F sharp minor, and No. 2 in A flat major. I'm going to pick the latter, but it's a really close call.
Chopin wrote his first Waltz when he was 14 years old. There are around 36 of them in all, but only 8 were published during his lifetime. Here is Waltz in C# minor Opus 69, No. 2 – one of Chopin's most famous and most loved waltzes, written in 1847.
Chopin's Nocturnes are his most romantic and most beautiful pieces. He wrote 21 of them. I have several favorites, so it's impossible to only mention one of them. I'm going to pick three!
Nocturne in D flat major Opus 27 No. 2. This Nocturne is pure delight because it's particularly light and its delicacy defies the technical challenge in playing it.
Nocturne No. 20 in C# minor composed in 1830 but not published until 1870 – again, well after Chopin's death. In the middle, it seems to end, but then starts over again. The scales in the last quarter are like fairies flying over a magical lake.
Nocturne in Eb Major Opus 9 No. 2 to me is the Chopin we all know and love and needs to be here.
Rondo in E flat Major, Opus 16, is one of Chopin's brighter, more fun-filled pieces.
Chopin's Polonaises are very triumphant pieces of music. There are 23 of them, 7 published during his lifetime. The best known and perhaps the one with the most hope and strength is Opus 53 in A flat major, known as the "Heroic". The astonishingly difficult left hand repeated scale starts around 3:06 in this video – and it's mesmerizing.
Of 27 Etudes, Etude Opus 25 No. 1 stands out to me as one of the most beautiful. Known as "The Aeolian Harp" etude, it consists of fast moving arpeggios throughout the first section.
There are 28 Preludes in all, 3 of them published posthumously. Prelude in E minor is a very sad, almost tragic, piece that is dear to my heart. This prelude turns up in many films, including "The Pianist" and "Five Easy Pieces" and more recently, "Florence Foster Jenkins". As Chopin chose to have this piece played at his own funeral, it must have been extremely meaningful to him and it's another reason to listen again. The Prelude in B minor is a close second for the beautiful left hand tune and was also played at Chopin's funeral.
Of the four Ballades Chopin wrote, I think Ballade No. 4 in F minor Opus 52 (written in 1842 in Paris) is the most beautiful.
Barcarolle in F# major opus 60 is one of the bigger undertakings of Chopin for the pianist. This piece runs an average of eight and a half minutes, but doesn't tire the listener (though it might tire the pianist!). Its beauty is quite astonishing. Composed in 1845, just a few years before he died, it is full of amazing harmonic progressions and textures. Another composer might have made 3 or 4 different pieces out of this, but Chopin adds beautiful melody after beautiful melody into this one piece for a recipe of deeply satisfying music.
While there isn't a lot to choose from beyond solo piano in Chopin's work, I think it would be remiss not to mention at least one piece that isn't solo piano. I'm going to pick the Piano Concerto in E minor Opus 11.