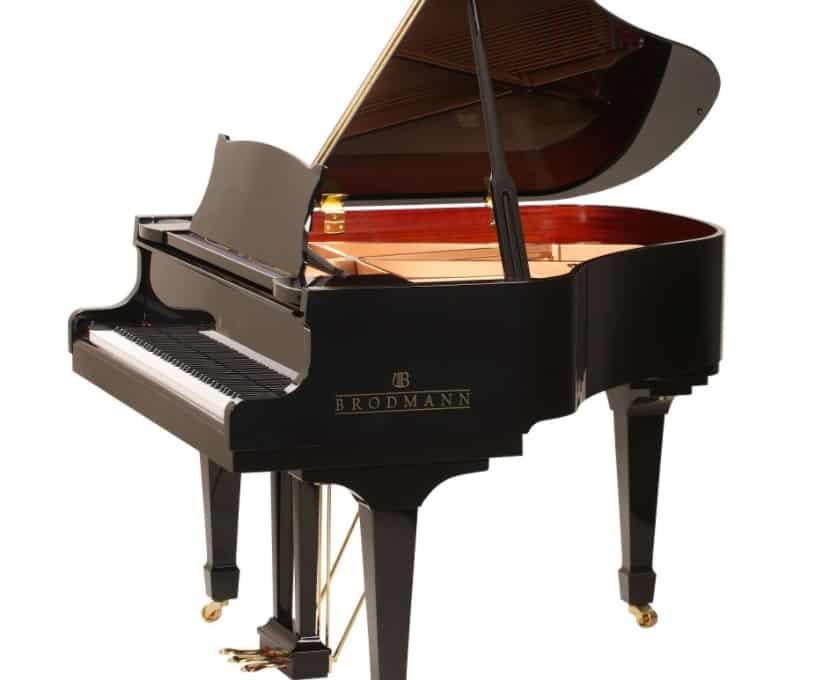 Carl Maria von Weber is claimed, according to records of a conversation with his son, to have composed the well-known opera 'Die Freischutz' on a Brodmann fortepiano that he purchased from the manufacturer around 1813. If this is not enough to fire your interest in this brand of piano, I'm not sure what will.
Brodmann Piano Review
Joseph Brodmann was born into one of the most exhilarating times in musical history. He came into the world in 1771 in the vibrant city of Vienna right in the middle of the Classical Era. With the rise of public concerts funded by the ruling classes together with the demand from composers for better and better pianos, Brodmann arrived at a pivotal point in the history of the piano.
Like many young aspiring piano manufacturers, Brodmann enjoyed the opportunity to study with one of the most respected piano makers in Vienna, Ferdinand Hofmann. With this comprehensive education and experience behind him, Brodmann was fully equipped to pursue his ambitions to become one of the best piano makers in Vienna.
Brodmann was not a gentleman who was content to mimic or copy Hofmann's work. Brodmann made his own improvements to the pianos he went on to manufacture including the 'triple-layered soundboard that dates from around 1829. It was not long before Brodmann had established a reputation for designing and handcrafting some of the best grand pianos available in Europe. This reputation has held fast.
Brodmann's story continues with a fascinating twist of fate. The name of Ignaz Bösendorfer is well-known among the community of pianists today. It is perhaps not so well understood that it was Brodmann who can claim at least some of the credit for the immense success that Bösendorfer enjoyed and indeed continues to enjoy posthumously. Bösendorfer was a student of Brodmann and reportedly one of the best. He learned his manufacturing skills from Brodmann and in 1828 took over the business. As a mark of his utmost respect towards Brodmann, Bösendorfer printed 'Brodmann's Pupil' on all of the plaques he attached to his pianos.
These original Brodmann pianos were remarkable instruments. The attention to detail together with the groundbreaking technical innovations that Brodmann developed, made the Brodmann Grand Pianos of pedigree and prestige. Bösendorfer owes much to Brodmann for this benchmark of quality. One element of the Brodmann pianos that Weber allegedly favored was the light action and the slightly narrower keywork. I wonder how this affected Weber's approach to composition? Beethoven is also thought to have been a player and admirer of Brodmann's work, and one can imagine what lofty expectations Beethoven must have had from any maker of pianos.
Of the original Brodmann pianos, there is still quite a number to discover but it is unlikely that you will be able to purchase such an instrument without considerable funds. The 'Frederick Collection' of antique pianos in Ashburnham, Massachusetts US, boasts an impressive range of instruments. Amongst this collection is a Brodmann Grand Piano from 1800-1805 that has been fully restored alongside two formidable-looking Bösendorfer pianos. The Brodmann is a beautiful instrument spanning just five and a half octaves including knee levers control dampers.
The good news is that, unlike many piano manufacturers, Brodmann has continued with the name, into the present day. Of supreme importance to Brodmann, today is the upholding of their historic reputation for producing pianos of quality that are also true to the Viennese ideals. Brodmann's are what are considered 'high-end' pianos but at prices that are not extreme. Each of these instruments adheres to the Vienesse tradition of warm tone and very high-quality German soundboards, hammers, and strings. There are no compromises or shortcuts made in the manufacturing of Brodmann pianos today.
Another very obvious indication that Brodmann pianos are not a forgotten artefact is their popularity amongst pianists in the 21st century. With so many options for grand and upright pianos available any company that services must do so for a good reason. It is reasonable to assume perhaps that Brodmann is one of those company's worthy of praise and custom.
From the late 18th century to 2004 when Brodmann pianos were resurrected. Unsurprisingly perhaps this reinstatement of the Bradmann name into the world of piano manufacturing with two former executives from the Bösendorfer piano company. A rumor had been circulating at around that time, that Bösendorfer had always intended to maintain the Brodmann name and produce these pianos as an additional line.
The rumor remained just that prompting the executives to take matters into their own hands. Sadly by 2014, they had filed for bankruptcy in Austria and the ownership changed hands again. This time the Piano Marketing Group Incorporates distribute the range of pianos successfully across the world. There are in fact dealerships worldwide.
If you wish to be the proud owner of a newly manufactured Brodmann piano you certainly can. Each of the instruments is manufactured in China using industry-standard components. Brodmann as they presently exist claims to be offering the pianist a high-quality instrument at affordable prices alongside strict quality control throughout the manufacturing process. As such the Brodmann comes in three models of Grand Piano. At the more modest price end is the Conservatory Edition grand piano range. Again, quality is supposed not to be an issue here and a ten-year warranty accompanies each instrument.
The CE 148 (4' 10") is an affordable price of $14,780; although prices do vary according to country and region. In contrast to this baby grand, Brodmann also offers a full nine-foot concert grand piano, the AS 275 that retails around $87,000. This beautiful instrument fits neatly into the Artist Series (AS) of pianos on offer. It may be of interest to know these instruments are still made in Germany, not China.
The final part of the picture of the Professional Edition Pianos (PE). At the top of this range is the PE 228 with a price of $82,000.
It seems apparent from the review of these contemporary Brodmann pianos, especially the grand pianos, that they are driven and passionate about creating pianos that reflect the original concepts of Joseph Brodmann; rich-toned, immaculately crafted pianos to meet the expectations of every pianist.