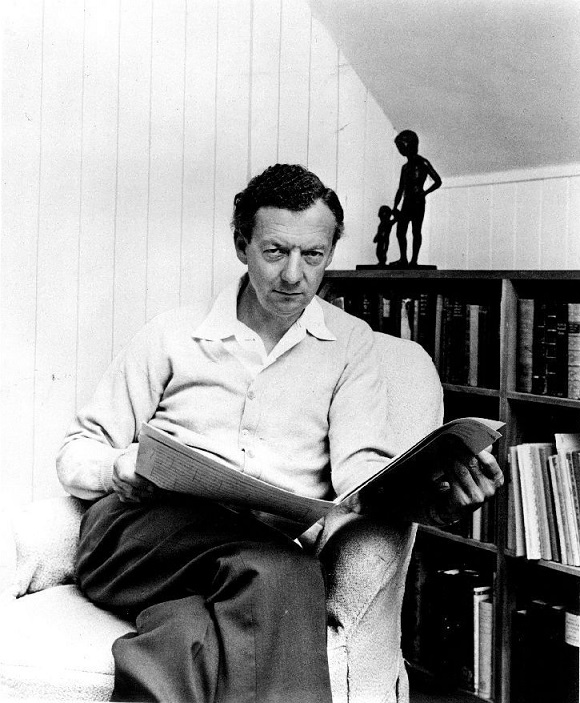 Edward Benjamin Britten (1913 – 1976) was a conductor, pianist and the creator of a number of popular chamber and choral works. He is regarded as one of Britain's most respected composers and he came up with some of the greatest classical music ever written in the 20th century.
He completely changed the face of music, managing to rejuvenate English opera, as well as launch one of the world's most successful festivals. Here are 10 interesting facts about the composer Benjamin Britten:
Facts About Benjamin Britten:
The Feast of St Cecilia
Britten was born on 22 November, which also just so happens to be the same day as the feast of St. Cecilia, the patron saint of music. Years later in 1942, Britten created the Hymn to Saint Cecilia, a Christmas choral piece that became one of his most recognizable works.
One of Britain's most beloved composers
Britten was so beloved in his home country that he was awarded a life peerage in 1976. He was the first ever composer to be honored with such a prize and it resulted in a change of name. Henceforth, Britten became known as Baron Britten of Aldeburgh in the British County of Suffolk. His influence on 20th-century composition was so significant that one hundred years after his death, more than 2,000 events held in 39 countries were thrown to celebrate Britten's centenary year.
The Aldeburgh Festival
Britten lived most of his later years in a countryside town known as Aldeburgh, which is where he started the now legendary Aldeburgh Festival in the Jubilee Hall on Crabbe Street. Today, it is one of the musical highlights of the year for lovers of classical music. The festival features an array of performances from contemporary classical musicians each year.
A lifelong pacifist
After it became clear that the World War II was going to be inevitable, Britten and his lifelong partner and collaborator Pears registered as objectors to the war. In the beginning, the composer was only allowed non-combatant service whereby he would play piano at various wartime concerts. Later on, he gained unconditional exemption after a successful appeal.
He loved poetry
Britten loved poetry and literary works particularly those that were created during the World War years. He often used poetry to inspire his works. For instance, the Latin Requiem Mass, which is to this day still one of his most well-recognized pieces, was inspired by British poet Wilfred Owen. Wilfred Owen was well known for writing his experiences during the World War I. He also worked regularly with the poet W. H. Auden who supplied texts for many of his songs.
His most famous works
Britten started composing as early as 1919 and he continued on steadily until the last years of his life. His first completed choral work was A Boy was Born in 1933. Until the beginning of World War II, he tried composing for film, radio and left-wing theater groups in the city. The War Requiem, which was first performed on 30 May 1962, is among his most celebrated works. He is also remembered for his operas such as Peter Grimes and the Turn of the Screw. He has other numerous works that consist of folk song arrangements and choral works.
Peter Pears
Britten's sexuality was a subject that was remarked on often even when he was alive. Britten and his life partner Peter Pears, who was also quite brilliant in his own right, enjoyed a loving relationship for more than 40 years. Pears acted as Britten's muse and collaborator. Many of Britten's songs, choral and operatic compositions were designed to feature the tenor voice, which was often designated to Pears in many of the premiers. The two also conceived the Snape Maltings Concert Hall which is situated near Aldeburgh. It was inaugurated by the Queen in 1967 and is today a major destination for classical musicians from all over the world.
He once suggested a sham marriage
It is surprising to many that Britten and Pears both managed to escape prosecution despite being in an openly gay relationship for years. Britten's sexuality was often at the center of his life and work, which is why the couple escaped Britain for America, which was considered to be much more open to gay partnerships. Britten and Pears later returned to Britain at the worst of times, which was also coincidentally the height of Britten's global prominence. When he returned, there was a series of campaigns recommending the decriminalization of homosexuality and to get out of it, Britten suggested that Pears should marry a woman to keep them both safe.
He hated to be criticized
Although Britten was very critical of his and other people's work, he was extremely sensitive about how people talked about his music. Britten hated criticism and would often cut off ties with friends who offered unsolicited critiques. He had a hard time fully settling down in America, which is where he received his harshest criticism.
His Red House
Britten was often inspired by the natural landscape of Suffolk, which is where he chose to live in his Red House alongside his life partner. He is said to have taken long walks through the nearby countryside in Aldeburgh to inspire him. Although he did not incorporate the sounds of nature in his music, he would often comment about how much the environment surrounding the Red House helped. Today, the Red House still stands- it was designated as a world heritage site that holds a unique archive relating to Britten's life and his music.