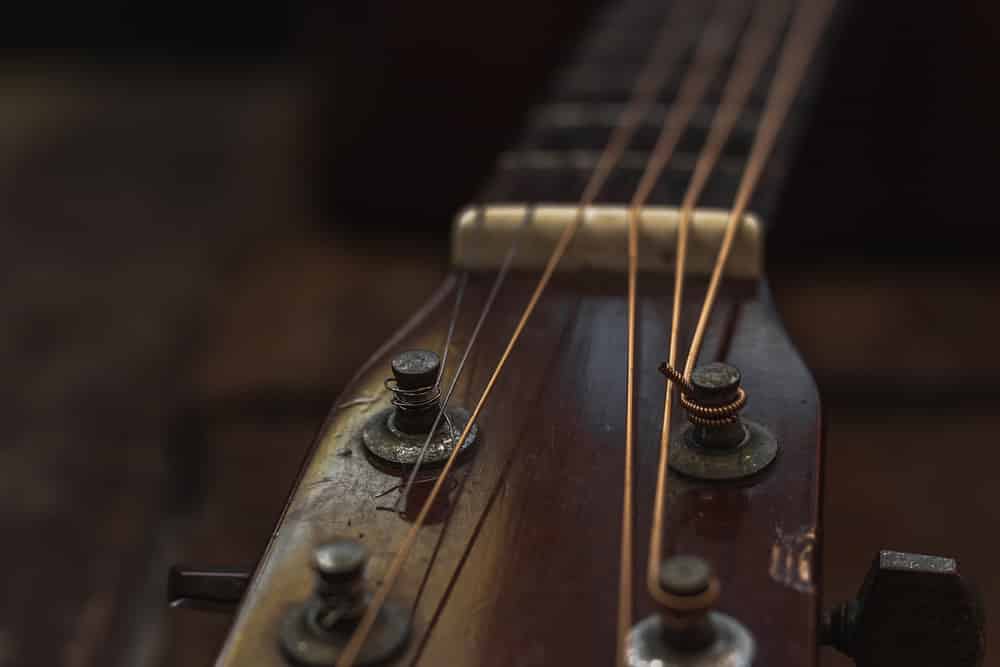 Due to the extreme tension in most steel-string guitars, they rely on a reinforced rod to keep the neck flat and maintain the tension. This feature allows musicians to get a refined sound from their guitar without worry about breaking its neck.
So, if you're out looking for a steel-string guitar, make sure to check the firmness of the neck while also increasing the tension to see if it is a worthwhile investment or not.
Even though electric guitars are easier to play, they can never match the sound quality of an acoustic guitar. Here we will be covering Ariana Guitar, a vintage classical guitar that not many musicians are aware of.
Ariana Guitar
It is a vintage classical acoustic guitar that is primarily available on the second-hand market. This brand of guitar was created by Aria, a Japanese firm, to enable musicians with reasonably priced high-quality string guitars.
Aria's primary objective with this guitar was to penetrate new markets while maintaining its reputation and exceptional tone. This guitar only costs about a few hundred dollars depending upon which model you're buying.
As this guitar was made with beginners in mind, it might be perfect for you if you're looking for an entry-level guitar. The best thing about this piece is that it is equipped with nylon strings. These strings are pretty easy on the hands, and you won't have to worry about hurting your finger while practicing for hours.
So, if you're looking for a classical guitar that you can play without plugging it into speakers and other equipment, Ariana Guitar might be a good option for you.
Even though Ariana guitars are called classical guitars, you can play any genre of music that you like. It will perform perfectly well, and the only reason people call it "classical guitar" is to differentiate it from steel-string guitars.
Compared to other high-quality guitars, the Ariana guitar brings more value to the table as you don't have to deal with a substantial fall-off in quality while paying half as much for the guitar. This efficiency of the guitar makes it perfect for people that want to pursue their passion without spending thousands of dollars on the instruments.
Made in the late 1900s, this guitar brings a clean design to the customers. It is pretty easy to access the lower notes, and you don't have to worry about the frame getting in your way.
Compared to the steel strings, the nylon strings in this guitar bring a softer sound to the musicians. If your art complements this feature, you should try to get your hands on one of the newer models of Ariana guitar.
It is pretty challenging to find an Ariana guitar outside of Japan of good quality. So, you might have to do a lot of digging to reach out to the manufacturers.
The neck on Ariana guitars is a bit wide, and you might have a hard to wrap your hands around this guitar.  However, this also means that the space between the string is somewhat substantial.
If you have small hands, getting used to the broader neck can be challenging if you've never played a classical guitar before. So, before making the purchase, we recommend that you go to an instrument store and ask one of the employees to try a classical guitar. That way, you will get a complete feel of the guitar without having to spend hundreds of dollars on the purchase.
The use of nylon sting in the Ariana guitar does not mean that you can't play an exciting song on it. Once you get experienced enough with the tuning and have more control over the guitar, it will be easier to get through all the pieces you'd like to play. All in all, this guitar is perfect for beginners that want to include this hobby in their schedule.
How To Get Your Hands on Ariana Guitar?
Unfortunately, it can be pretty challenging to acquire a brand-new Ariana guitar outside of Japan. You will have to get into contact with the Japanese suppliers yourself and will have to pay thousands of dollars just to get a guitar that is worth a few hundred bucks.
So, to save yourself some time and money, we suggest that you look towards second-hand markets like eBay. That way, you can buy from auction sites or other platforms at a much cheaper rate.
It is not that challenging to get an Ariana guitar in good condition. However, it would be best to visit the seller and check the guitar thoroughly before purchasing. If you're not experienced with musical instruments, then bring a friend of an expert with you. Doing this will minimize the chances of you getting scammed over the musical instruments.
Other than that, you can't do much if you want a brand-new Ariana guitar. So, if you can't find a reliable seller and are not comfortable with dealing with second-hand markets, then look towards alternatives to the Ariana guitars. Many brands offer a similar sound quality at a reasonable price. All you need to do is get an expert to help you find the perfect fit for your music style.
To Conclude
Ariana Guitars were launched in the late 1700s to offer musicians a cheaper alternative to classical acoustic guitars. The company behind this endeavor is named Aria. Aria is based in Japan and provides a wide range of musical instruments to clients.
Their main goal with Ariana guitars was to penetrate new market segments and increase their customer base.
Sadly, these guitars are only available on second-hand markets, and it is pretty challenging for aspiring musicians to get their hands on these vintage classical acoustic guitars. So, if you want an Ariana guitar, we would suggest that you look towards alternatives that provide the same sound quality in a similar price range.
There are many nylon string guitars out there that are perfect for beginners. All you have to do is to go to your nearest music store and ask the employees to help you try different guitar models.