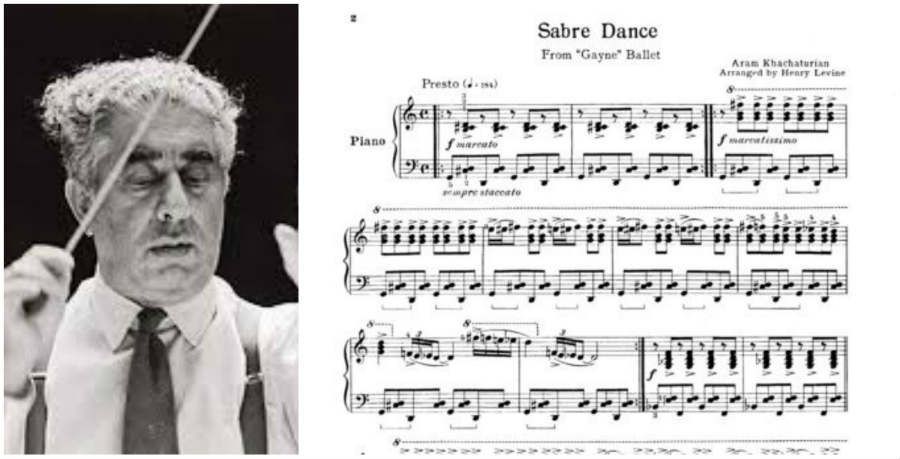 One of the most famous symphonic works written in the 20th century is the Sabre Dance by Soviet-Armenian composer, Aram Khachaturian. This fiery, energetic dance is part of a four-act ballet, Gayane, composed during 1941-42. The dance music has since taken on a life of its own with performances ranging from symphony orchestras, figure skating, motion picture and television background music, and covered by many internationally-known artists such as pianist Liberace and violinist André Rieu.
Khachaturian was born in Tbilisi, the capital city of Georgia, June 6, 1903. Tbilisi was the largest city in the Caucasus during the 19th and early 20th centuries. The composer was exposed to the predominantly Armenian folk music and traditions which he incorporated into his music. After Georgia became part of the Soviet Union in 1921, the folk music of the various ethnic groups was still a part of his compositions.
The story of Gayane revolves around a young Armenian woman (Gayane) who works on a collective farm. Everyone on the farm is loyal and patriotic with the exception of her husband, Giko. Gayane overhears Giko and three smugglers planning to destroy one of the farm's warehouses and to divide the money among themselves that they embezzled. She tries to talk him out of it but he refuses to listen.
He and his three accomplices are traveling through a Kurdish settlement when they are confronted by Gayane's brother who sends some youths to get the Soviet guard for that area. Giko escapes, destroys a warehouse, and injures Gayane. The officer saves her and they fall in love. The Sabre Dance is one of the folk dances celebrating the newly rebuilt warehouse and the wedding of Gayane and the guard.
The Kirov Ballet premiered it on December 3, 1942, while in the Russian city of Perm during World War II. Aram Khachaturian was awarded the Stalin Prize for this work. The ballet was later reworked and focused on the love story instead of the political themes. The composer combined some of the ballet music into symphonic suites but the non-stop, breathtaking Sabre Dance, choreographed with leaps and clashing sabres, is remembered for its unrelenting burst of energy and tribute to folk music and dance.