These Are The 12 Most Expensive Violins Of All Time
All these violins have a great story that continues today. They are known in the music world for their quality of sound, their great value and rarity. For many years violin makers and scientists have tried to find the secrets to their amazing resonance.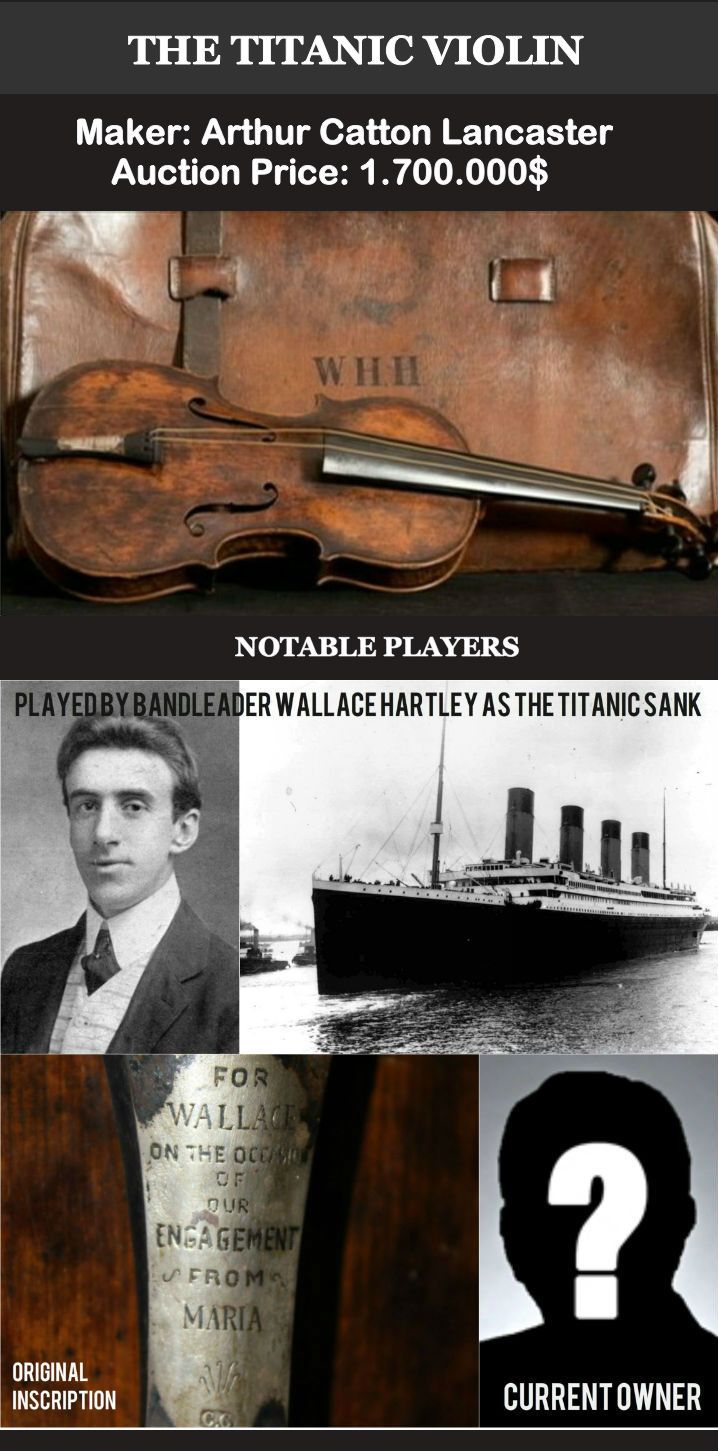 In 2006, this damaged violin was found in the attic of a home in Britain. After two years of in-depth trace analysis it was proved this was the instrument used by Hartley, who played, "Nearer, My God, to Thee" during the Titanic's last moments.

This is an antique violin made by the Italian luthier Antonio Stradivari of Cremona in 1699, one year before the beginning of his so-called 'golden' period. On April 22, 2005, the Lady Tennant sold for a record US$2,032,000 at Christie's auction in New York.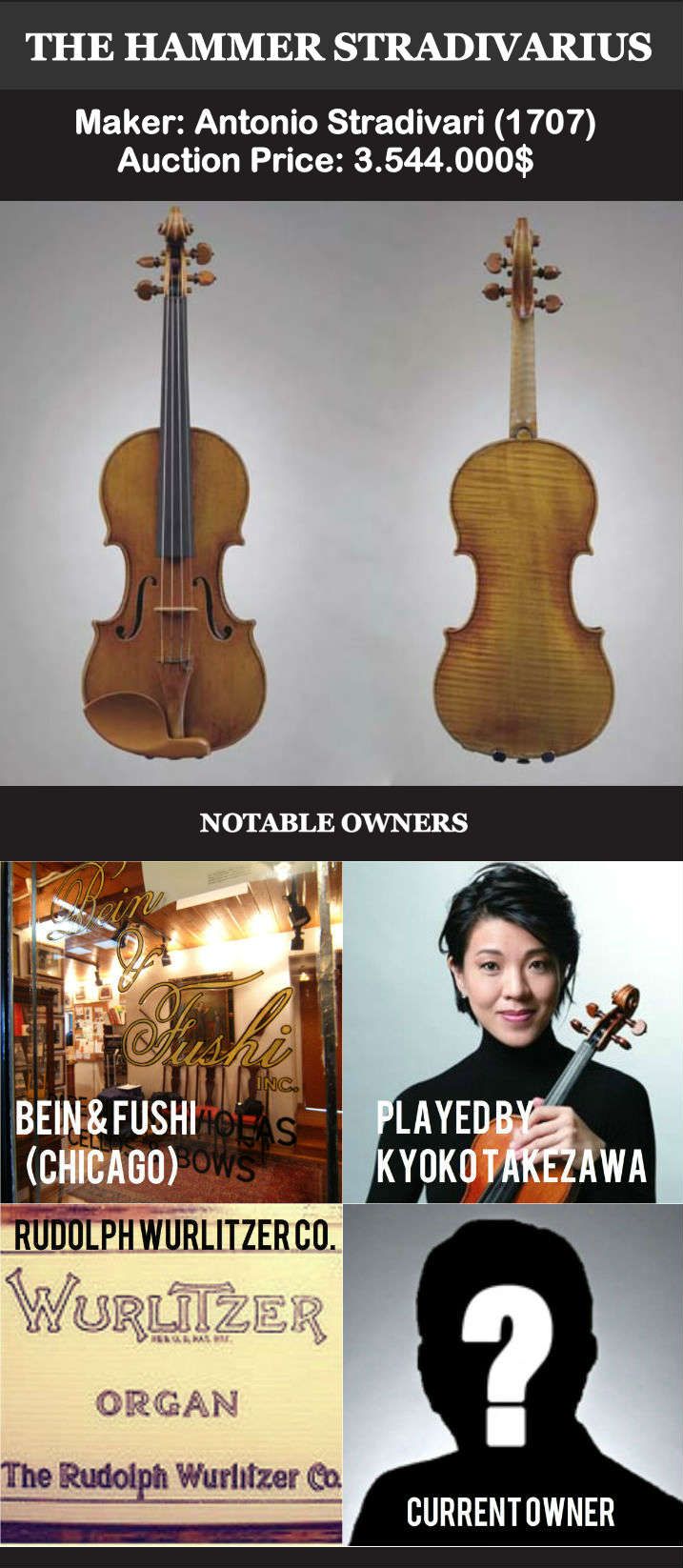 It is named after Christian Hammer, a 19th-century Swedish collector who is its first recorded owner. On 16 May 2006, The Hammer made news when it was sold at Christie's auction to an anonymous bidder for US$3.54 million, with a pre-auction estimated value of US$1.5 million to 2.5 million.

Thought to have been owned by Napoleon Bonaparte, the violin belonged to 19th century Parisian socialite and arts patron Juliette Récamier until 1804, when it came into the possession of a general in Napoleon's army, Count Gabriel Jean Joseph Molitor. It bears the label, "Antonius Stradivarius Cremonensis / Faciebat Anno 1697" and is branded to the lower rib, "Curtis Phila."

The violin received its name from a former owner, the Italian violin virtuoso Niccolò Paganini (1782–1840), because of its power and resonance. The violin got its name Cannone, or its variants, Il Cannone del Gesu, Cannone or Canon from Paganini because of its power and resonance.

The Wilton was crafted in 1742 in the city of Cremona. It was owned and played by the celebrated violinist Yehudi Menuhin from 1978 to 1999. After Menuhin's death in 1999, the instrument was sold for $6 million[3] to well-known collector David L. Fulton, the highest price paid for a violin to that date.

The Mary Portman Guarneri Violin gets its name from a lady who resides in London, by the name of the Honourable Mary Isabel Portman, the builder of "The Kranzbach Castle".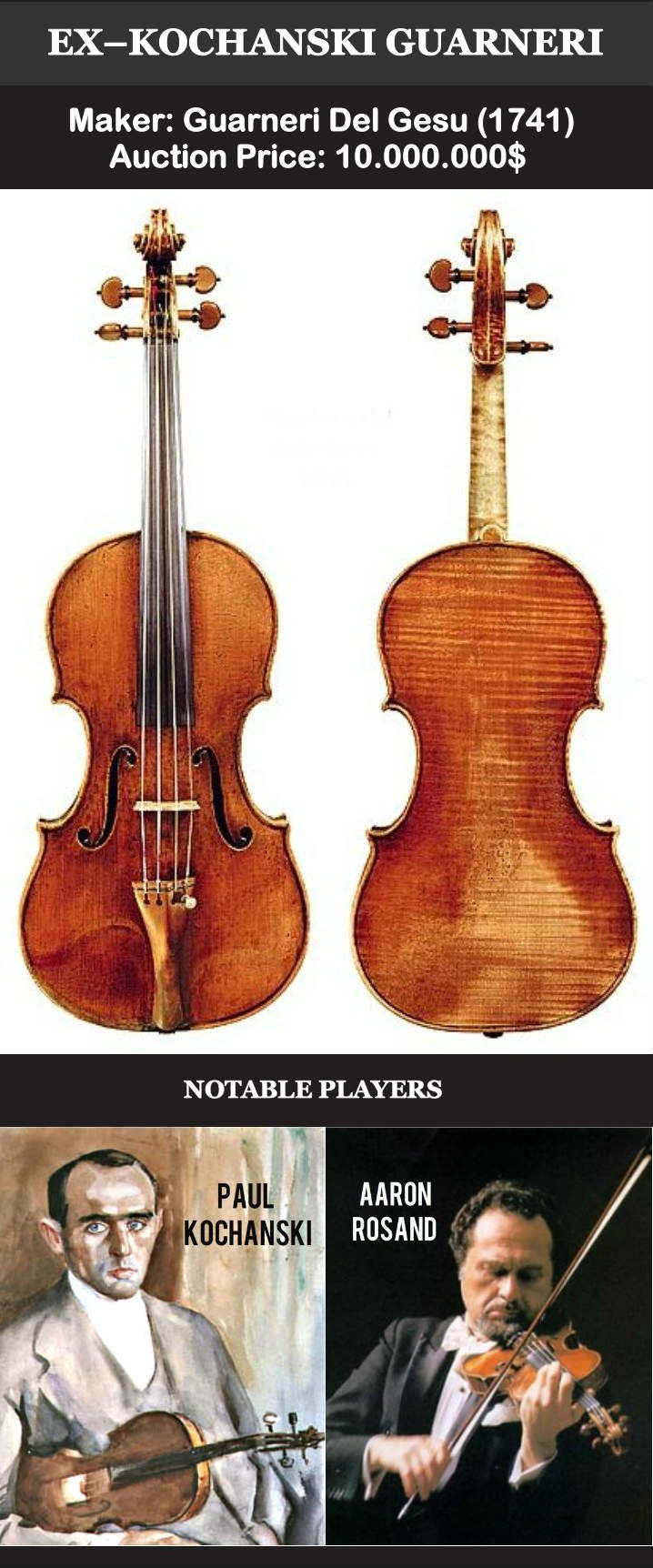 The Kochanski del Gesù has been the faithful companion of Aaron Rosand for nearly 40 years. It has magnificent deep red varnish and is in a wonderful state of preservation.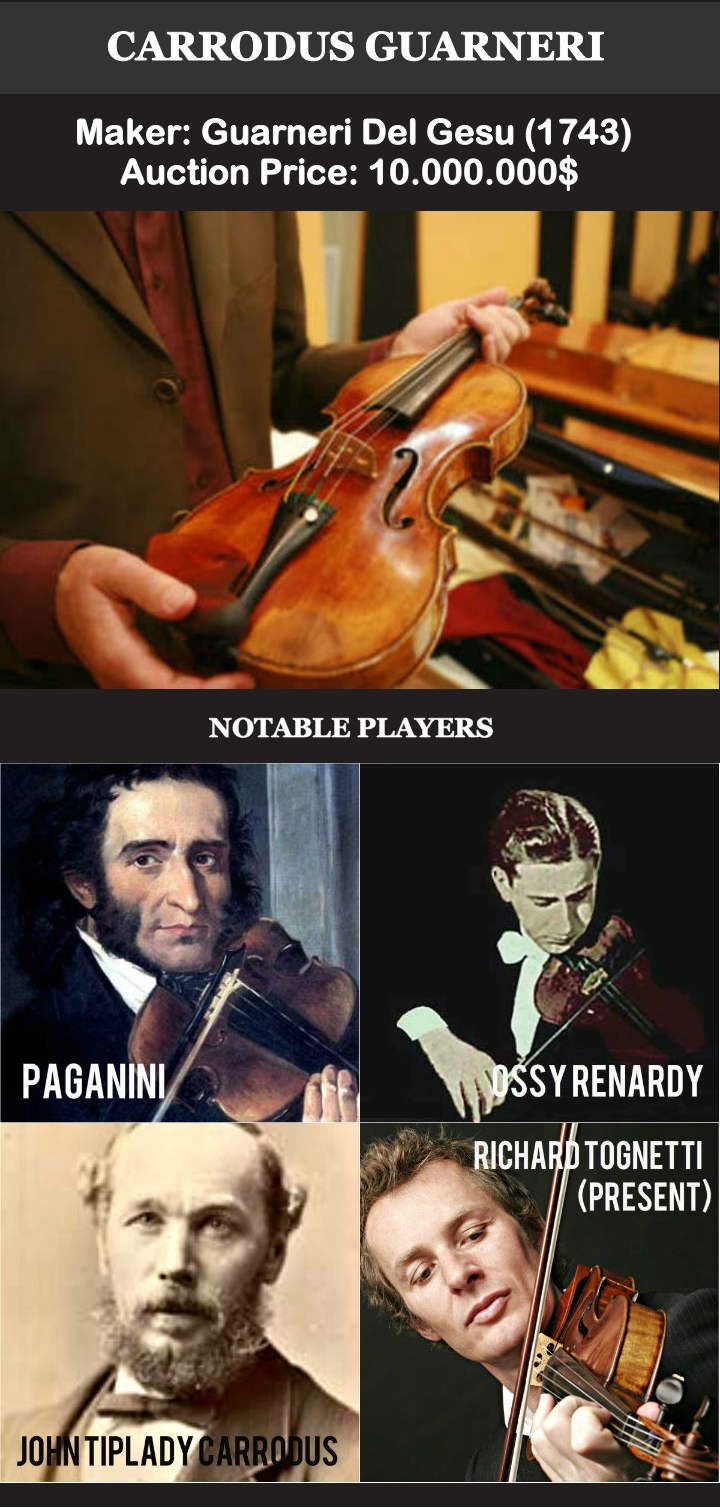 The Carrodus Guarneri is described as "one of the finest violins" made by famous violin maker Guarneri . An interesting fact about the "Carrodus" is it was made from the same tree as as other Guarnerius violin known as the II Cannone.

The violin is named after its first known owner Lady Anne Blunt, daughter of Ada Lovelace, granddaughter of Lord Byron. The Lady Blunt is one of the two best-preserved Stradivarius violins in existence. It has survived, like the Messiah Stradivarius of 1716, in near-original condition since it has resided mostly in the hands of collectors and seen little use.

This Guarneri del Jesu instrument gained its name after being owned by the Belgian 19th century violinist Henri Vieuxtemps. The instrument was later used by Yehudi Menuhin, Itzhak Perlman and Pinchas Zukerman. It recently became the most expensive violin in the world, selling for an estimated $16 million. Its new owner anonymously donated the historic instrument to violinist Anne Akiko Meyers, on loan for the rest of her life.

It is considered to be the only Stradivarius in existence in as new state. It is in the collection of the Ashmolean Museum in Oxford, England. Much of the high value and prestige is due to the fact that it was made during Stradivari's "golden period", and it is one that has not ever been played, after almost 300 years in existence.
Sign Up for the CMUSE Newsletter
Keep up-to-date with what's going on in classical, jazz, rock and more with CMUSE! We send out our lovely email newsletter every week. Thousands of readers have signed up already.