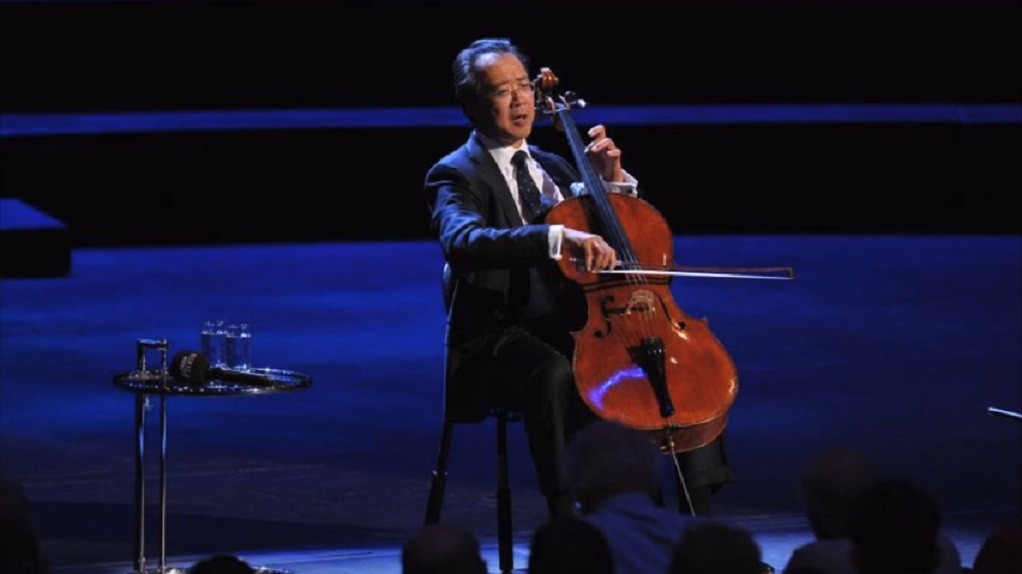 A legendary cellist that was once a child prodigy is Yo-Yo Ma. He is a French-born Chinese American who has been performing since the age of 4. He has recorded over 90 albums and received 18 Grammy awards.
Ma has worked with many renowned artists including the Grammy award winning Jazz singer Bobby McFerrin. His main performance instrument is the Montagnana cello that was made in 1733.
Since 2006, he has been working with United Nations as a Messenger of Peace. He has performed in orchestra and solo all over the world. In this article, we have listed some of his remarkable and treasured concerts and live performances.
Yo-Yo Ma Concert Reviews, Tour and Event List
Let's have a look at his outstanding performances.
Carnegie Hall Concert
Yo-Yo Ma has performed as a solo and with many orchestras around the world. In a concert at the Carnegie Hall, Yo-Yo Ma performed along with many other artists. The 125th Gala was held on May 5th 2016. This performance was no doubt one of the best performances.
Yo-Yo showed his outstanding cellist skills as he performed with Emanuel Ax, Renee Fleming, Isabel Leonard, Itzhak Perlman, Lang Lang, James Taylor, and Michael Feinstein. They played many famous songs in a fantastic way leaving everyone amazed. The audience enjoyed this collaboration of the artists making the event memorable.
Musical Perspectives on Global Cultures
Another great performance by Yo-Yo was in Davos in 2016. The famous cellist brought together the legendary musicians. He was joined on the stage by Odair Assad and Sergio, Johnny Gandelsman, Kathryn Stott, Wu Tong, Sandeep Das, and Cristina Pato.
This was his award-winning Silk Road Ensemble. This was a global concert for celebrating intercultural trust and dialogue. The master musicians left the audience wanting more. This performance was outstanding and unforgettable that left everyone mesmerized.
Live at BBC Proms
One of the best performances by Yo-Yo Ma was at the BBC Proms at the Royal Albert Hall. The concert was held on 5th September 2015. He performed for nearly 3 hours leaving the audience spellbound. The cellist played the Six Unaccompanied by Jonathan Sebastian. This was one of the remarkable performances by Yo-Yo Ma.
The songs he played included Suite I in G Major, Suite II in D Major, Suite III in C Major, Suite IV in E-Flat Major, Suite V in C Major, and Suite VI in D Major. The sound was bright and clear that made the performance more fantastic.
Live Concert of Appalachian Journey
Yo-Yo Ma performed really well in the live concert for the Appalachian Journey. In this concert, he collaborated with other master musicians. The violin was played by Mark O'Connor and bass was played by Edgar Meyer.
Vocals were by James Taylor for the song 'Hard Times Come Again No More'. The guitar was also played by him for the song 'Benjamin'. The vocals for song 'Slumber My Darling' and violin on 'Fisher's Hornpipe' was given by the famous Alison Krauss.
The songs they played included Misty Moonlight Waltz, Indecision, Limerock, Second Time Around, Vistas, 1B, Slumber My Darling, Fisher's Hornpipe, Poem for Carlita, Duet for Cellos and Bass, Emily's Reel, and Cloverfoot Reel.
Live in Boston
Another amazing performance by Yo-Yo Ma was live in Boston in 2009. The cellist master performed with Chris Botti and the Boston Pops Orchestra. He played the Cinema Paradiso that left the audience mesmerized. The arrangement of the concert was outstanding, from lightning to music to stage arrangement.
In this concert, Yo-Yo Ma showcased his exceptional cellist skills. He performed enthusiastically that created the magic that hit everyone. This performance was exciting that unforgettable.
https://www.youtube.com/watch?v=jZWRp4UqyRo
Live Concert in Brazil
Next amazing concert of Yo-Yo Ma was in Brazil on 28th October 2003. He performed with various artists, Odair Assad and Sergio played guitar while percussion was played by Gyro Baptista. Bass was played by Nilson Matta, the piano was played by Kathryn Stott and clarinet was played Paquito de Rivera.
The vocals were given by Rosa Passos for the song Chega de Saudade. The composition of the song was by Antonio Carlos Jobim. This collaboration of the great artists left the audience stunned and spellbound. The artists performed enthusiastically that excited the audience. Everyone enjoyed the exceptional music and swayed on the music.
Elgar Cello Concerto
In 1997, Yo-Yo Ma performed with Daniel Barenboim and the Chicago Symphony Orchestra. The concerto was huge and associated with Jaqueline duPure. In this concerto, Ma displayed his extraordinary cello skills. The performance by Yo-Yo Ma was breathtaking that left the audience amazed.
The conductor Barenboim made sure that everyone has a great time. Everything was perfect from stage arrangement to lighting and sound. Ma is known for his enthusiastic performance that makes everyone sway and enjoys the music. This was one of the best and extraordinary performances by Yo-Yo Ma.
Live in Japan
A great performance by Yo-Yo Ma was live In Osaka, Japan in 1991. In this concert, Yo-Yo Ma played cellist remarkably well. He played along the Kyoto Symphony Orchestra and Michiyoshi Inoue. The arrangement was excellent, lightning was amazing and the music was bright and clear.
The extraordinary performance left the audience awe-struck. Their energetic performance made the audience go crazy. Yo-Yo Ma is a great performer and makes sure his audience has the best time. At the end of the concert, everyone wanted to listen to more music.
https://www.youtube.com/watch?v=z921INvMVPM
Yo-Yo Ma Live Concert Performance
In the end, Yo-Yo Ma has created his own Silk Road Ensemble. This project was to bring together musicians from various countries. The main aim was to promote music and different cultures. His records are available on Sony Classical label.
Moreover, he was named the Judson and Joyce Green Creative Consultant for the Chicago Symphony Orchestra. He introduced the Citizen Musician initiative with the music director Riccardo Muti.
In 2010, his music was used in the documentary, 'Jews and Baseball: An American Love Story'. He has won many Grammy Awards like Grammy Award for the Best Folk Album in 2012. In 2017, he won the Grammy Award for Best World Music Album.