The common attribute to most hit pop songs is that their subject covers mostly sad emotions from heartbreak to loss and misfortune. Whole genres of music have been birthed on the platform of negative experiences. Yet, it's been proven scientifically that upbeat and happy songs are healthy for people to experience.
For this reason among others, the United Nations has released a list of songs titled the World's Happiest Playlist. Heading the push for more encouraging music is one of pop's biggest names, Pharrell Williams, whose song Happy shot him to the top of the music charts and into fan hearts worldwide.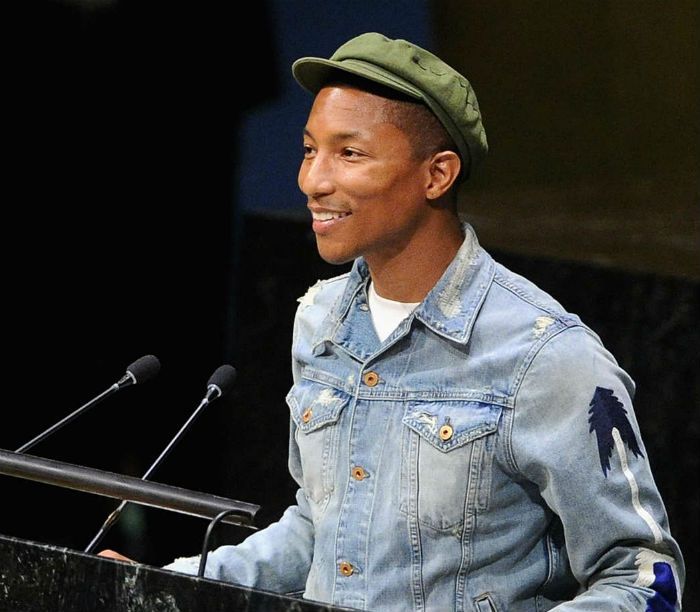 Last Month marked the UN's official International Day Of Happiness. Williams was on hand to speak to attendees of a special concert where the official playlist was unveiled. Surprisingly, Williams' hit tune Happy did not make the list. Hear the full playlist at on MixRadio.
A R Rahman – Infinite Love by A R Rahman
Andra Day – If This World Were Mine by Luther Vandross
Angelique Kidjo – Pata Pata by Miriam Makeba
Ban Ki-Moon – Signed Sealed and Delivered by Stevie Wonder
Britney Spears – Kiss by Prince
Carl Barat – The Who Who Song by Jackie Wilson
Charli XCX – Say You'll Be There by The Spice Girls
Charlize Theron – Every Teardrop Is a Waterfall by Coldplay
Cody Simpson – Three Little Birds by Bob Marley
Cody Simpson – Mambo No5 by Lou Bega
Conchita Wurst – All the Lovers by Kylie Minogue
Damian Lazarus – I Am the Black Gold of the Sun by Rotary Connection
David Carreira – Love Never Felt So Good by Michael Jackson & Justin Timberlake
David Fonseca – Kiss Me, Oh Kiss Me by David Fonseca
David Guetta – Imagine by John Lennon & Yoko Ono
Ed Sheeran – Independent Woman by Destiny's Child
Fatboy Slim – Harvest for the World by The Isley Brothers
Groove Armada – For Once in My Life by Stevie Wonder
Henry Krinkle – Recognise by Oscar and Martin
HMD – Days Like This (DJ Spinna Mix) by Shaun Escoffery
James Blunt – We Are Young by Fun
John Legend – Got to Give It Up by Marvin Gaye
Juan Diego – Florez Largo al factotum by Rossini
Lang Lang – Made to Love by John Legend
Michael Douglas – Zip-a-Dee-Doo-Dah by James Baskett
Midori – The Russian Dance from Nutcracker by Tchaikovsky
Nicole Sherzinger – Three Little Birds by Bob Marley
Paloma Faith – I Feel Good by James Brown
Pharrell – This Must Be The Place by Talking Heads
Mr Vegas – My Jam by Pitbull & Mr Vegas
Rob Da Bank – Your Love Keeps Lifting Me (Higher and Higher) by Jackie Wilson
Tiesto – Red Lights by Tiesto
Tinie Tempah – Shout by Isley Brothers
Yo-Yo Ma – Prelude From Bach Suite No. 1 conducted by Pablo Casals
Yulia Savicheva Nevesta – (Невеста, Юлия Савичева)