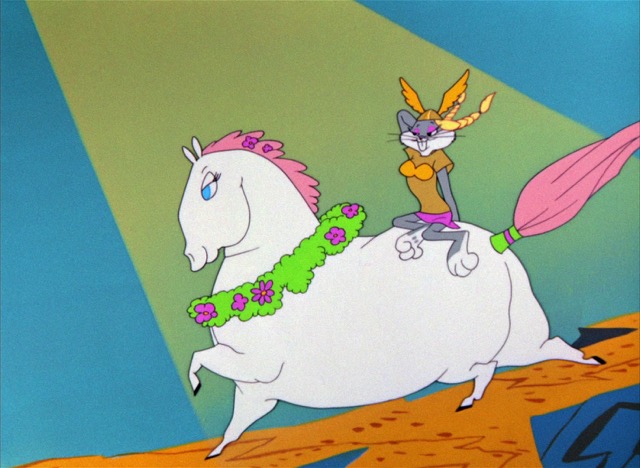 For many of us, Tom and Jerry, Fantasia and  the Looney Tunes were the first foray into the world of classical music and opera. Yet, Fantasia and Tom and Jerry's classical-music themed episodes pale in comparison to The Looney Tunes' What's Opera Doc. This kid-friendly tribute to Wagner's epic work was actually the first glimpse of opera for many would-be opera singers, The Wall Street Journal reports.
In fact, mezzosoprano Elizabeth Bishop, who was cast as Fricka in the current Washington National Opera production of the Ring, thought that Brünnhilde was actually named Bwünnhilde, reflecting Elmer Fudd's speech impairment. In a similar fashion, Washington National Opera's adviser to the artistic director, Michael Heaston, learned to tell stories through music thanks to the same Wagner-themed hunter-and-quarry game between Bugs and Fudd.
The 1957 cartoon sees Bugs Bunny and his speech-impaired nemesis Elmer Fudd loosely reenact scenes from the Ring cycle to a melange of music that also includes the Tannhäuser and The Flying Dutchman. The baby-faced hunter, his bulbous head crowned by a magic helmet, chants Kiww the wabbit!Kiww the Wabbit! to the notes of the Ride of the Valkyries and tries to impersonate Siegfried. Bugs Bunny, in turn, deceives him by donning a breastplate and blond tresses and pretending he is Brünnhilde.Yet, when Elmer discovers the ruse, he summons a deathly combination of storms and earthquakes that leave Bugs-Brünnhilde for dead. The outcome does not make him happy, though: he killed the thing he loved the most, namely chasing the wabbit.
Of course, What's Opera Doc is not the only Warner Bros-owned artistic influence on the cast of the Ring. Another mezzo, Jamie Barton, who plays Waltraute in the same production, first listened to Rossini thanks to the 1949 cartoon "Rabbit of Seville,"where, much like the later What's Opera Doc, Bugs Bunny manages to make a fool out of Elmer by impersonating a barber.