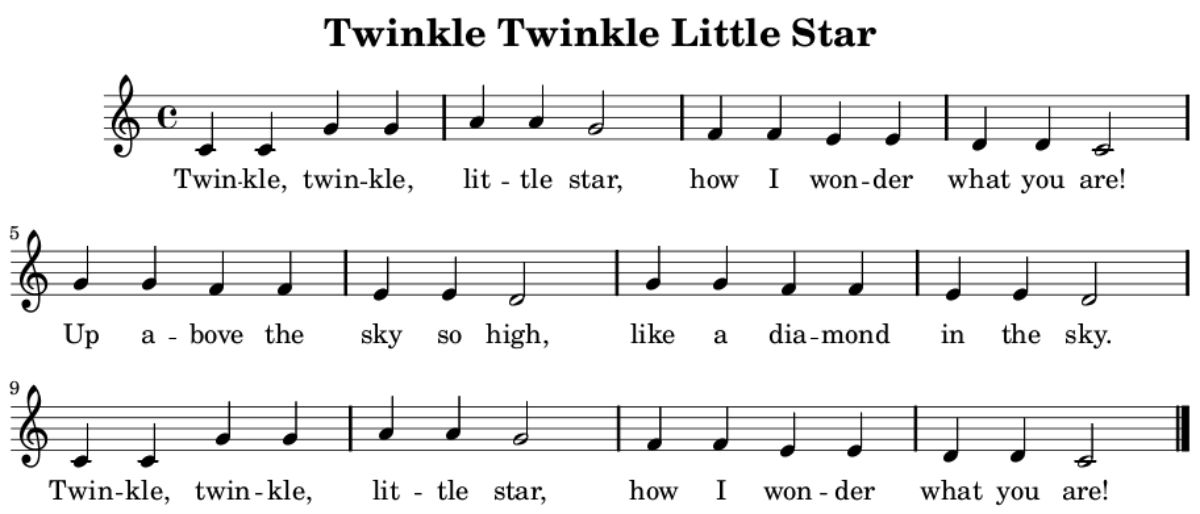 Children's songs and folk music are often handed down through an oral tradition. They seem to spring up without any specific composer yet survive numerous arrangements and different sets of lyrics. This is the case of a folk melody that eventually became "Twinkle, Twinkle, Little Star."
The tune took root in the mid-1700s in France and, in addition to being popular with classical composers, has been used for various children's songs. Lyrics were added later and published in 1761 as "Ah, vous dirai-je, Maman" based on the nursery rhyme about a child explaining that candy is more important than reasoning like a grown-up.
At the age of 25, Wolfgang Amadeus Mozart traveled to Vienna in 1781. While there, he wrote Twelve Variations on Ah, vous dirai-je, Maman (K265 / K300e) in either 1781 or 1782. The work was for piano and written in C major. The first movement is the song in a straightforward manner followed by twelve variations. It was later published in Vienna in 1785.
After Mozart's rendition, other composers followed. One of J.S. Bach's sons, Johann Christoph Friedrich Bach, composed a theme and variations of the children's song in G major, and Joseph Haydn included it as the theme in the second movement of Symphony No. 94, the Surprise Symphony, (1791).
Three English language nursery rhymes started using the French melody during the 19th century. The poem, "Baa Baa Black Sheep," was written in the 1730s but not published with the music until 1879. "The Alphabet Song," used to teach children the English alphabet, was set to the same music and first published in 1835.
English poets, Jane and Ann Taylor, were sisters who wrote children's poems. Their book, Rhymes for the Nursery, was published in 1806 and included a poem of Jane's called "The Star." It was first published with the music in 1838 and later became known as "Twinkle, Twinkle, Little Star."
Classical music composers of the 19th century continued what Mozart had started: using the children's song in their compositions. For example, the composer-organist, Camille Saint-Saëns, used the melody as part of the larger work, The Carnival of the Animals, and Adolphe Adam, included it in his opéra-comique, Le toréador.
Since then, the instrumental melody has been used in several genres from classical to jazz. There have also been numerous adaptations and parodies of the song, "Twinkle, Twinkle, Little Star." Had it not been for Mozart and his variations, the rest of the world might never have known about this tune.