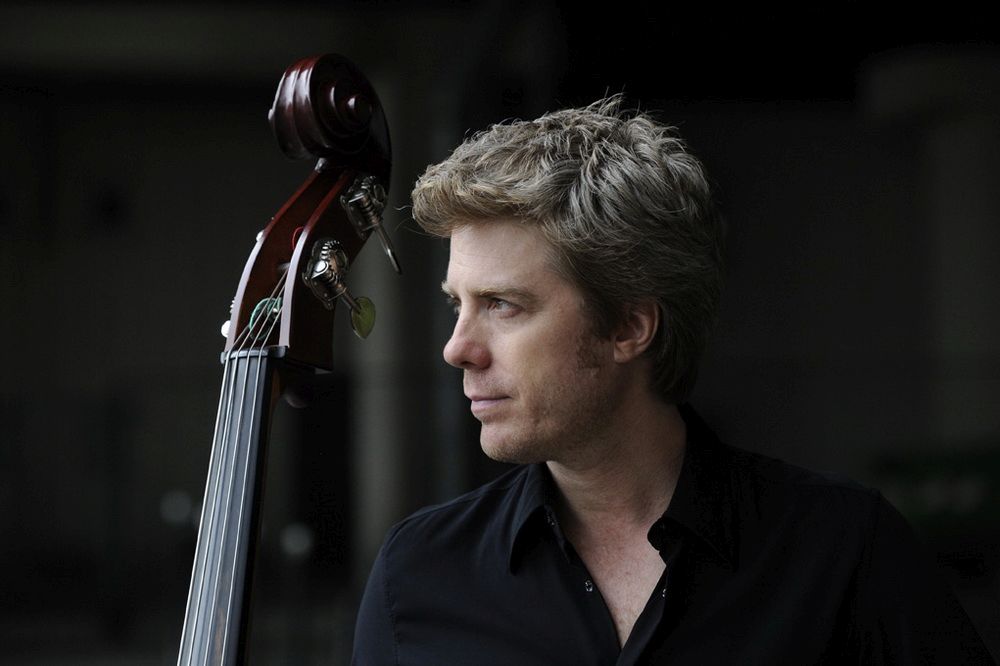 Kyle Eastwood is an assiduous musician. He is a jazz bassist, a composer and a film scorer, frequently collaborating with his Academy-Award winning father Clint on his films' music. He consistently tours all over the world, performing standards and originals from his seven albums, the most recent being Time Pieces, an appealing and accessible yet highly intelligent musical work. This new album is partly an homage to jazz greats of the fifties and sixties, as well as a celebration of the development and sound evolution of Eastwood's own band. Roster-wise, alongside Eastwood there's pianist Andrew McCormack, drummer Ernesto Simpson, trumpeter Quentin Collins and saxophonist Brandon Allen, all essential parts of the album's overall sound. One of the Time Pieces' musical strengths is its reinvigorations of known jazz classics like Herbie Hancock's "Dolphin Dance" and Horace Silver's "Blowin' the Blues Away," causing them to sound new, fresh and relevant.
In a recent set during a three-night Easter weekend stint at the Blue Note in New York, Eastwood could be found onstage, working his way through such originals as the adventurous "From Rio to Havana," the atmospheric "Song for You" and the eloquent "Prosecco Smile." The best performers, within any artistic medium, render their performative actions as simple and easy, when of course they aren't – rather they're the result of hours and hours of study, practice and reflection. The bass instrument is sometimes used as a band's supporting instrument, but Eastwood led his fellow musicians from this supporting place without overtaking them, able to accentuate their musicality and perpetuate his own. He seemed to thrive on the joint efforts of his group, yet he assumed the responsibility of his own talent and put it to good use. Eastwood is a true believer and propagator of the collaborative quality of authentic jazz music. His main goal seems to be one of pure enjoyment in his music, choosing not to wallow but to glide – although his material manages to convey the vast range of human emotions, one of art's most powerful potentialities.
In conversation with Kyle Eastwood, we learn more about the creation and development of Time Pieces, as well as his artistic motivations and musical creeds.
Jude Warne: Congratulations on your new album Timepieces. It's an extraordinary album and seems to stand as a new classic album, by incorporating new interpretations of classic pieces like "Blowin' the Blues Away" and "Dolphin Dance," as well your own original compositions. Could you talk a bit about the album's origins?
Kyle Eastwood: The album consists of pieces that I had been working into the set over the past few months with the band, so I knew I wanted to record those. I also started writing some original pieces for the album. The album soon became influenced by those pieces, from the Blue Note era, out of which came some of my favorite albums. It's such a good time period in jazz. So overall it wasn't really a conscious thing, it just kind of came out that way.
JW: There's a great authenticity to your work. What is your composition process like? Do you find that musical ideas come to you through jamming with your fellow musicians, or through isolated, almost meditative practice on your own?
KE: Sometimes – I'll kind of come up with ideas for about four or five different things, some of them are half-finished, and I'll bring them to Andrew McCormack in my band, and he'll flesh them out a bit more. Some of the tunes we'll bring to the band and we'll all just start playing them – so those are developed before we start recording.
JW: One of the stand-outs of the record for me is "Letters from Iwo Jima," a piece scaled down from your film score. Do you enjoy the process of film-scoring? What do you think it provides to you that your other compositional work does not?
KE: Yeah, I enjoy it. It's a totally different type of thing than jazz. Jazz is all about freedom, playing what you want, about the music in the moment. Film scoring involves sitting at the computer, editing, seeing what works and what doesn't – it's a totally different type of writing process. It's fun and a challenge; it makes you think outside of your usual box, your comfort zone.
JW: Your band is one of the hardest-working bands I've seen in live performance in a while, you do not phone it in – do you feel that you thrive in live performance, as a collective whole? Absorbing the energy of the crowd, and exploring improvisational opportunities?
KE: Yeah, I do. For me, that's the most fun, the most musically satisfying thing, to play live with the band. I enjoy working in the studio too, writing and recording, working on film music. But yeah, that's kind of where that sort of magic thing in the music happens. Playing live, playing to an audience – especially if it's a good audience, which always helps.
JW: You mentioned, during the set that I saw, that you had spent some time in North Africa, which is where you got the inspiration for your beautifully atmospheric piece "Marrakech" – do you find that traveling and touring allows for or corresponds to a musical journey of your own? Are you inspired by the places you perform and visit?
KE: Yeah, that's always been one of the most inspiring things for me actually, in writing, is hearing music in another culture, hearing musicians and types of music you've never really heard before. That's always helped me to be inspired to write, while traveling – which is good when you travel a lot.
JW: I know you're based in Paris – what do you think about the local jazz scene there?
KE: There are so many opportunities to play, in Europe overall really. There are a lot of great festivals in France, and actually all over Europe, there's a lot of jazz appreciation. A lot of great clubs to play, a lot of great musicians – so I enjoy living over there.
JW: Your love of jazz really comes through in your music. What are your major influences from jazz music history? Do you have a favorite musician, composition or album?
KE: Yeah, there's always a lot. The Art Blakey records, off the Blue Note label, from the early sixties are some of my favorites. Herbie Hancock, Wayne Shorter – Charles Mingus is one, who I think of as a bandleader as much as a composer really, and as a bassist. And I'm not just a jazz purist, I like all different kinds of music.
JW: Do you think you would ever venture into other genres of music at this point? Do you think you'd ever do rock or pop sort of stuff?
KE: Yeah, very possibly. I like any kind of music – music that's good. The labels that are put on it don't matter if the music's good.
JW: What I like about the bass instrument is the platform from which it allows a musician to create. It can be an understated instrument, an essential one in collaborative work, the driving force behind many pieces. And to compose from this perspective must be interesting. What initially drew you to the bass, rather than another instrument?
KE: I was always interested in the bass and drums. I remember being very intrigued by drums when I went to one of my very first concerts, the Count Basie Big Band when I went to the Monterey Jazz Festival in 1977. I was very impressed by the drums then, and my ear was kind of drawn to that part of the rhythm section. I studied piano for a number of years when I was young. When I picked up the bass, it just came naturally, so I don't know, maybe it chose me.
JW: I like thinking of it that way. How have your musical or artistic goals evolved over your career? Are they similar now to how they were when you started out, or have they changed a lot, based on what you've learned about yourself and your own artistry?
KE: Well I'm always working to improve really, to grow as a player and as a composer. I'm probably my own worst critic, thinking there's always room to grow, which hopefully I'm striving for.
JW: There's a quote I love by Horace Silver in his book 'The Art of Small Jazz Combo Playing' in which he advises the musician to, "Compose and perform your music free of egotism and with a conscious desire to gratify the listener… strive to write and perform in such a manner that others may be gratified and that you may be fulfilled." Do you endorse these philanthropic possibilities of music?
KE: Definitely, yeah. And I really love Horace, he's always been one of my favorites as well. I really respect him because he's a great pianist and musician, but he's also a great composer. I think for me it's always been interesting to find the right balance between the improvisational side and strong melodies, strong tunes. A nice balance between improvisations and compositions.
JW: Do you know what's up next for you yet? I know you have a lot of touring going on, but have you written any new compositions since the completion of this album?
KE: Not since this album. I've wanted to do some more film music; my sister just directed her second film, so in January and February I was working on the score for that. But I haven't written anything for my own projects recently, yet. Hopefully later in the year I'll get back to writing; I've been pretty busy touring for a while.
JW: Well, thank you for taking the time to talk to me, I appreciate it.
KE: You're very welcome.
JW: And I hope you have a good set tonight.
KE: Thanks. Yeah, we're here one more night in Chicago and then we're going to bounce around the Midwest a bit. Then I'm back to the UK in a couple of weeks. We're playing Ronnie Scott's again in mid-May.
UK Tour Dates 2015
24 April – Fleece Jazz, Stoke by Nayland
25 April – Pizza Express, Maidstone
27 April – The Regal Cinema, Evesham
29 April – The Tivoli Theatre, Wimborne
01 May – The Concorde Club, Eastleigh
20 May – Ronnie Scott's, London
21 May – Ronnie Scott's, London
22 May – Ronnie Scott's, London
23 May – Ronnie Scott's, London
24 May – Taliesin Arts Centre, Swansea