Tilted Axes has a unique approach to making music. More of a movement than a band, it brings together local musicians wherever it chooses to parade through the streets and perform.
Initiated by composer and performer Patrick Grant in 2011, Tilted Axes has toured around the US and internationally. After applying to participate, the successful musicians receive the music to rehearse prior to the performance, which involves a parade along a pre-determined route through city streets. Several days before the show, Grant is joined on location by the Tilt Core to go through final rehearsals.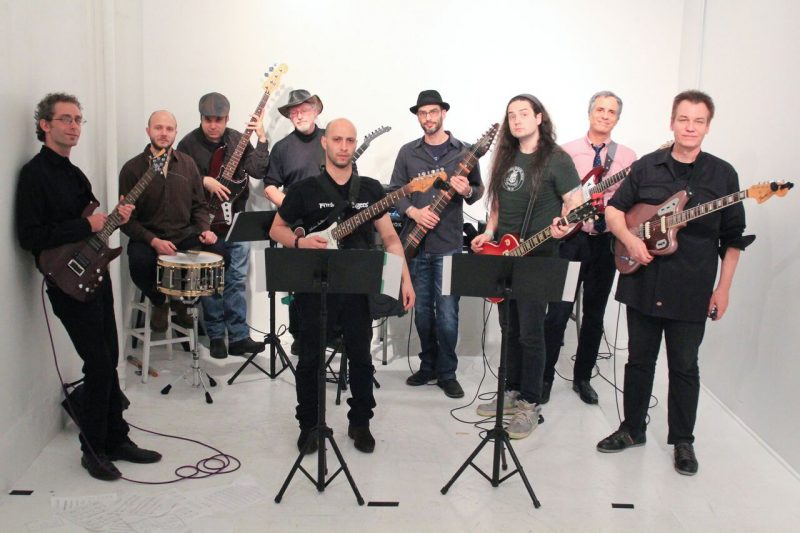 Grant is classically trained and also influenced by Indonesian gamelan music. With Tilted Axes he aimed to take the guitar outside the usual band structure and create a participatory environment so musicians have the freedom to improvise. Grant composes works for each show and players also perform tunes from Tilted Axes' repertoire.
"Music for Mobile Guitars" presents these tunes in studio recorded versions. It's impossible not to imagine the performers striding through a city with amplifiers strapped to their sides when listening to the album. The guitar riffs and solos are generally played at a fast pace with an upbeat, positive feel.
There's moments where Grant demonstrates the diverse musical influences on his compositions, such as on "Circulation in G Maybe," where the guitars almost sound like their playing the part usually reserved for stringed instruments in an orchestra. "Polymetric Patterns" displays unmistakable signs of the gamelan influence, with intricate, rhythmical guitar parts weaving around each other.
"Beaubien Blues" stands out with a memorable melody and because it is one of the few tracks where the pace slows somewhat to let the listener catch their breath.
If there's one drawback to the album (this isn't even really a drawback), it's that some of the tracks set quite a high tempo and would be more appealing in a live show. Tunes like "Shapes 1," "Corridor 84/Crimson Coda" or even "Tilted Axes Theme" cry out for parading musicians to fully do justice to the music, especially since Grant encourages them to improvise as they walk. All the more reason to keep an eye out for when Tilted Axes are next in town.
Find out more about the Tilted Axes project at its website, on Facebook or on Twitter.