The intercommunicative Peter Bernstein Quartet utilized the familiar jazz quartet vehicle to its hilt last Tuesday evening. Onstage at the Jazz Standard, the group was easy-breezy and relaxed yet tightly interwoven and well-aligned, presenting a shared vision of musical clarity. If one found oneself to be present in the audience then and there, it was impossible not to listen with rapt and intense attention.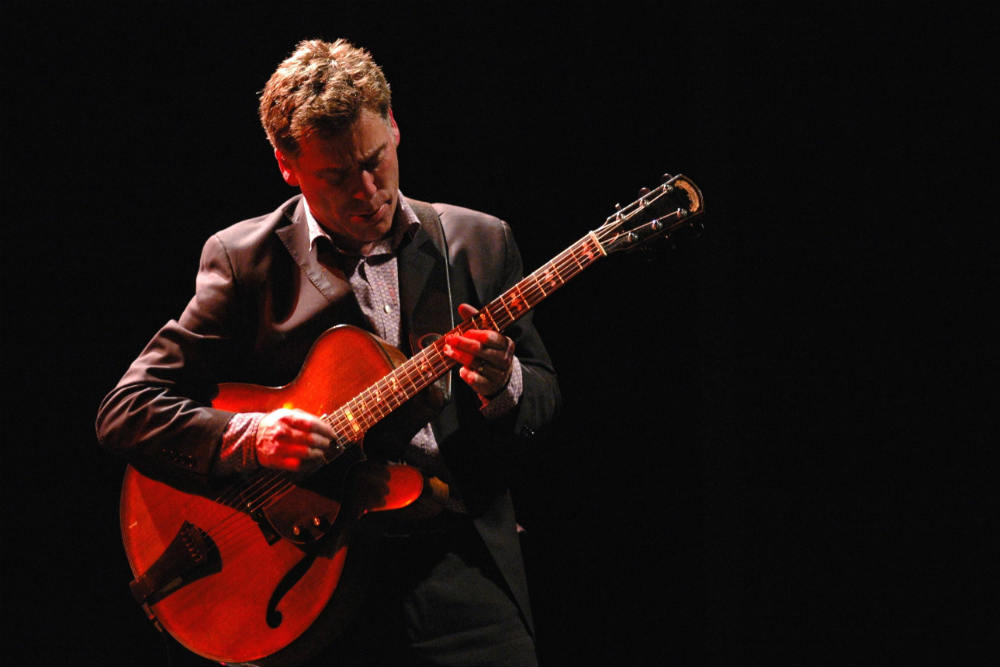 Guitarist extraordinaire Peter Bernstein, who has been a regular on the international jazz circuit since the late eighties, has played with some of The Greatest of Jazz over the course of his musical career: Lee Konitz, Lou Donaldson, Sonny Rollins, and Diana Krall are but a select few. He has nine album releases, as leader, to his name – Monk (2008), which featured Bernstein in a trio with bass and drums courtesy of Doug Weiss and Bill Stuart respectively, was a celebration of Thelonious' work.
Tuesday night's early set opened with "Let's Cool One," a track that also served as the album opener on Monk. This live performance of the piece was a wonderful exemplification of Bernstein's strong and deep connection to Monk's complex music on a soul-level. Monk's "We See," arising a bit later in the set, opened with an impeccable drum bit from the Quartet's Billy Drummond, an ideal lead-in that soon made way for the rest of the players. Here the intercommunication of Drummond's playing and that of vibraphonist Steve Nelson was extraordinary. Throughout the set this musical relationship was apparent, as was Drummond's ability to vacillate easily between a hard forefront sound on the drums and a more supportive, softer background sound.
This ability did not belong to Drummond alone. Apart from being a staggeringly impressive soloist himself, Peter Bernstein is also adept at hanging back musically, accompanying his fellow players with intermittent but perfectly in-time and on-point chords. He is a generous player. The evening's rendition of Jerome Kern's "Yesterdays" opened with a solo ramble from Bernstein that brought to mind the abundant sounds of Master Guitarist Larry Coryell's playing. This piece also featured some exquisite bass work from Peter Washington. "Body and Soul" too demonstrated strong guitar solo work from Bernstein, high-toned and beautiful, a sound reminiscent of Eric Clapton's in his "Layla" solo. This piece opened with a whimsical vibes bit from Nelson; in truth, all of Nelson's musical entrances resulted in establishing a magical aural mood that lasted the entirety of the set.